Workflow Charts Generator

Edraw workflow chart generator is easy to use and backed by customers from different fields. Abundant and amazing templates and symbols are embedded in the program, with a lot more available online.
Introduction of Workflow Charts
Workflow is fundamentally about the process of work. It is a set of actions that coordinate people and/or software. Communicating this process to humans and automated processes is the value-add that workflow provides.Through workflow charts, you can do the followings:
Link all your interrelated processes and procedure documents in the right sequence in a single workflow diagram.
Visually capture the way work is conducted within the organization, combine this with reference documentation such as policies, standards or specifications.
Communicate information of business process management both internally and externally.
Automatic Workflow Charts Generator
With our workflow diagram generator, even occasional users can generate or modify workflow diagrams faster that MS Office experts. We tackle the hard stuff; you just indulge in the accurate, well-laid-out and beautiful diagrams created by yourself.
Draw as fast as lightning. Predefined shapes and automatic generation make Edraw workflow generator fast and fluid. You'll never go back to plugins like Flash when you see how smoothly Edraw runs.
Everything is as easy as pie. Edraw is effective, visually pleasing, and easy to use. Even if you're a novice user, you'll have a great-looking workflow chart within minutes.
Seamless collaboration. Our app offers seamless collaboration that really works. Engage your team members to minimize iterations and wasted time.
Paperless solution. Reduce records storage, paper and printing costs with a completely paperless solution for all documents.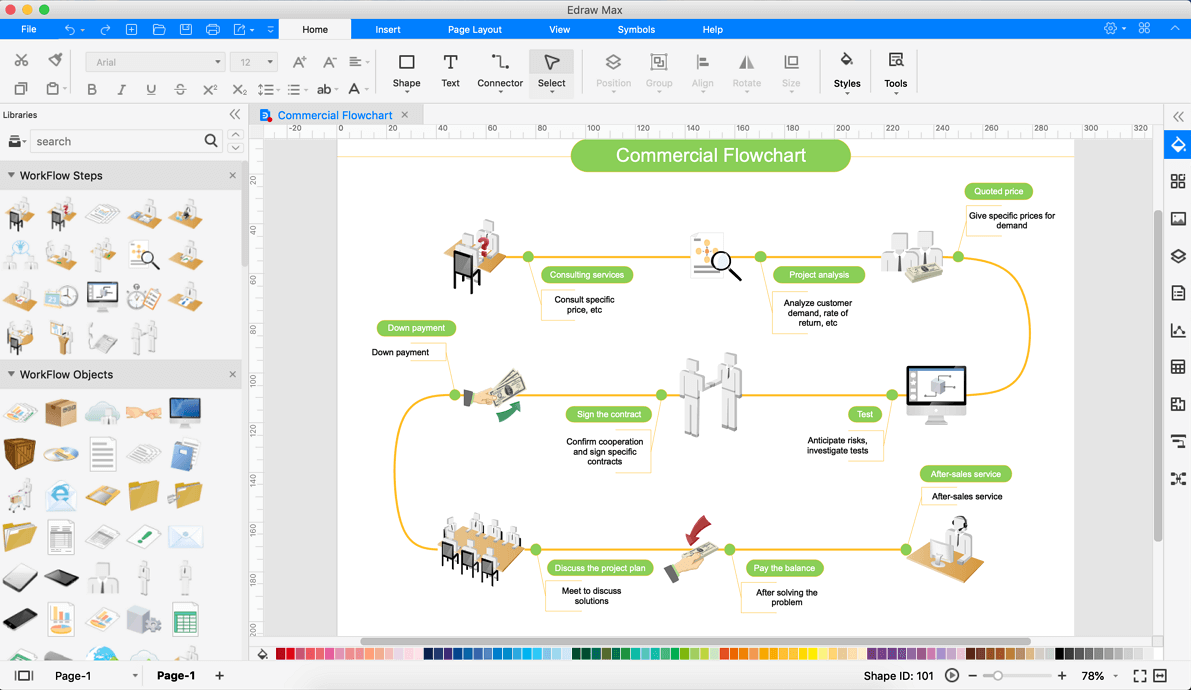 Discover why Edraw is the perfect diagram maker: Try it FREE.
Flowchart maker includes basic flowchart, cross functional flowchart, data flow diagram, business process flowchart, IDEF flowchart, workflow and SDL diagram.
Various flowchart templates, including horizontal and vertical cross-function flowchart, audit flowchart, business process modeling diagram and other diagrams, in both US and Metric paper sizes.
To demonstrate its rich features, a public network diagram template is given, which can be applied any time for your own designs.
Start From Free Edraw Venn Diagram Template
You can begin to create a Venn diagram by choosing a template so that the process becomes easy and fast.