Best UML Diagram Visio Alternative - with Rich Built-in Templates
>
Edraw Tip
>
Best UML Diagram Visio Alternative - with Rich Built-in Templates

Edraw Max can be used as a Visio alternative to create UML diagrams. Powerful yet affordable, it has proved to be the most cost-effective visio replacement.
If you are looking for a visio alternative for designing UML diagrams, try Edraw UML software. Its pre-made uml symbols and templates enable users to create more than nine types of uml diagram effortlessly, with no professional drawing skill required.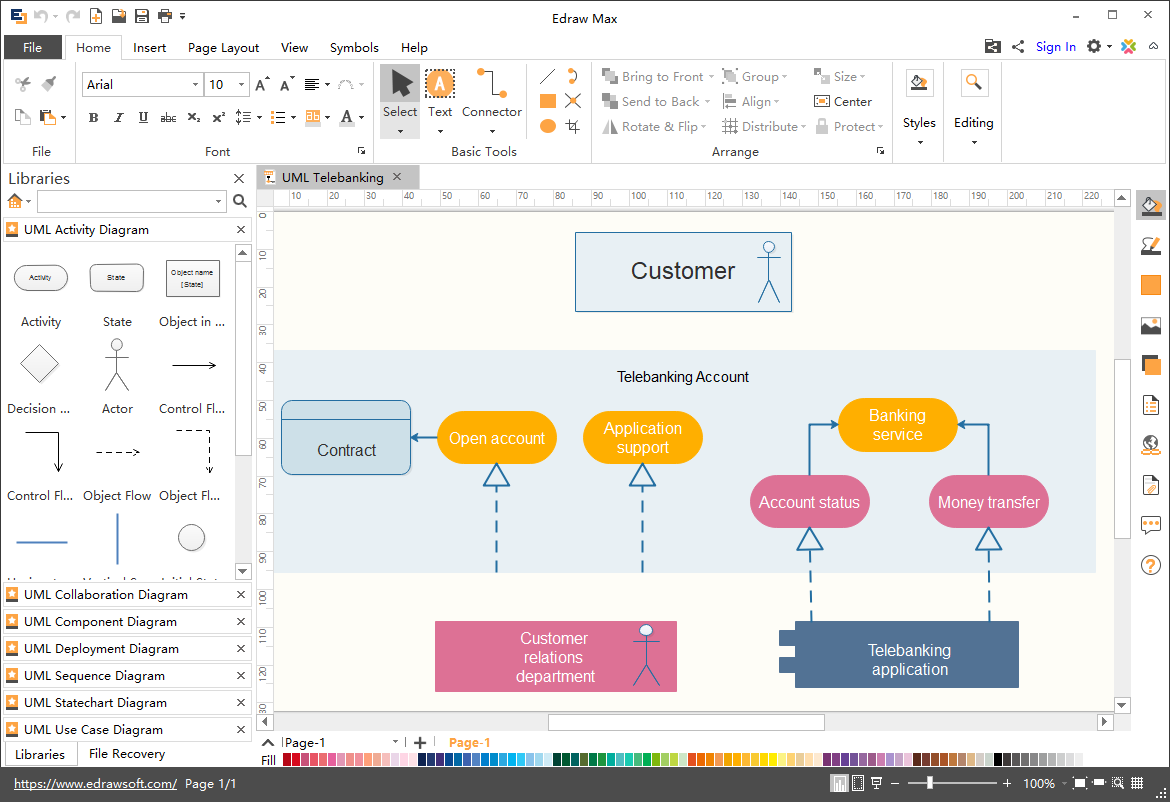 What Makes this Visio-like Software Different:
It provides a drag and drop interface to draw any kind of UML diagram.
It includes a comprehensive collection of UML symbols with vector format.
Automatic alignment for neat, crisp drawings.
Effective connection of shapes with snap and glue feature.
With many built-in themes available to choose; easy to make visually appealing diagrams.
Easy to print or share. Support export for PDF, Html, Word, Visio, PNG, JPG, PPT, EPS, and many other formats.
EdrawMax
All-in-One Diagram Software
Create more than 280 types of diagrams effortlessly
Start diagramming with various templates and symbols easily
Superior file compatibility: Import and export drawings to various file formats, such as Visio
Cross-platform supported (Windows, Mac, Linux, Web)
Security Verified |
Switch to Mac >>
Security Verified |
Switch to Linux >>
Security Verified |
Switch to Windows >>
Why is Edraw More Competitive than Visio in Terms of Making UML Diagrams?
1. Edraw has more symbols and templates of UML diagrams.
Here are three UML diagram types that you can find in Edraw but can't find in Visio- UML Collaboration Diagram, UML Component Diagram, UML Deployment Diagram.
2. Much more affordable than Visio
Edraw offers a reasonable price together with multiple license plans. Once you completed the payment, you will have the priority support service and life-time upgrade, no other fees required. If you are a student or want to buy Edraw for your company, we have other options for you.
3. One license, two computers allowed.
After purchasing Edraw, you are able to install our software on two computers with one license.
4. Free download all of the templates and examples in Edraw.
After we upgrade our templates library, Edraw users can get new templates and examples for free; while Visio users need to pay again to get new templates.
5. Provides better support than Visio
Our CS team will reply any email within 24 hours. Edraw's professional tech support is both legendary and free! As a trusted diagramming software service provider for some of the world's most recognizable brands, Edraw is dedicated to encouraging more people to visualize ideas, data, and information.
FAQs about Visio Alternative UML Diagram Maker
Can I open Visio files and edit them in Edraw Max?
Absolutely yes. Edraw is compatible with Visio files. When someone sends a Visio file to you, you can open it with Edraw easily. Alternatively, you can also convert an Edraw file to VDX format, so that others could open.
How many types of UML diagrams are there in Edraw?
You can create 9 types of UML diagrams in Edraw. They are:
UML Sequence Diagram
UML Component Diagram
UML Class Diagram
UML Collaboration Diagram
UML Deployment Diagram
UML State Diagram
UML Activity Diagram
UML Package Diagram
UML Use Case Diagram
Learn - A genral introduction of all UML diagrams
Does Edraw have any system requirements?
Works on Windows 7, 8, 10, XP, Vista and Citrix
Works on 32 and 64 bit Windows
Works on Mac OS X 10.2 or later
Find More Professional-looking UML Diagrams Template & Examples
Edraw can be used as an easy and powerful UML diagramming tool. It allows you to create professional UML diagrams to model system structure with pre-made shapes and smart tools.
Related Articles:
Software Feature Comparison Between Visio and Edraw