Trusted By Over 25 Million Users & Leading Brands
Why EdrawMax to Make Your Venn Diagrams?
Visual Differences, Dependencies & Similarities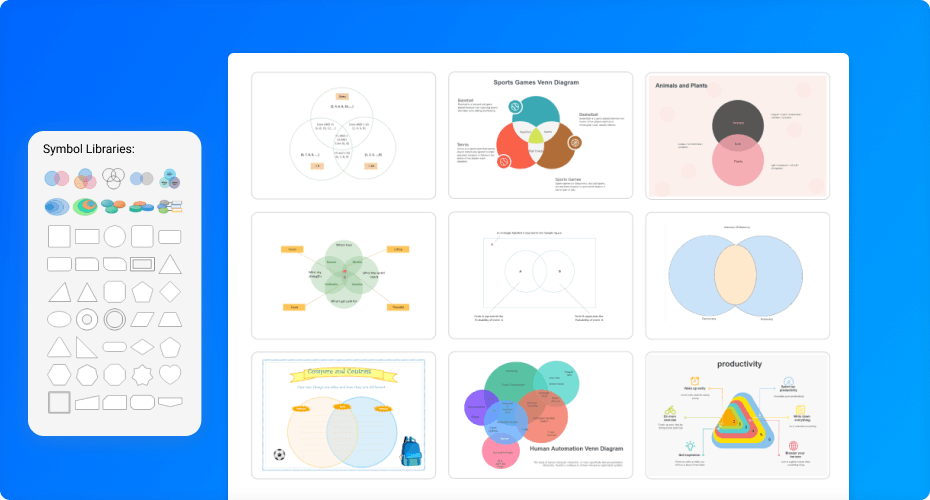 Creating Venn diagrams is a breeze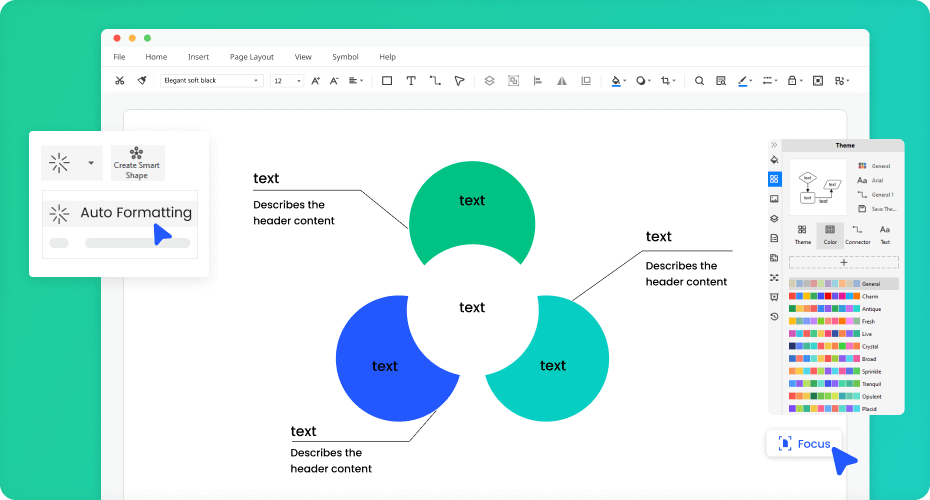 Collaborate with your team effectively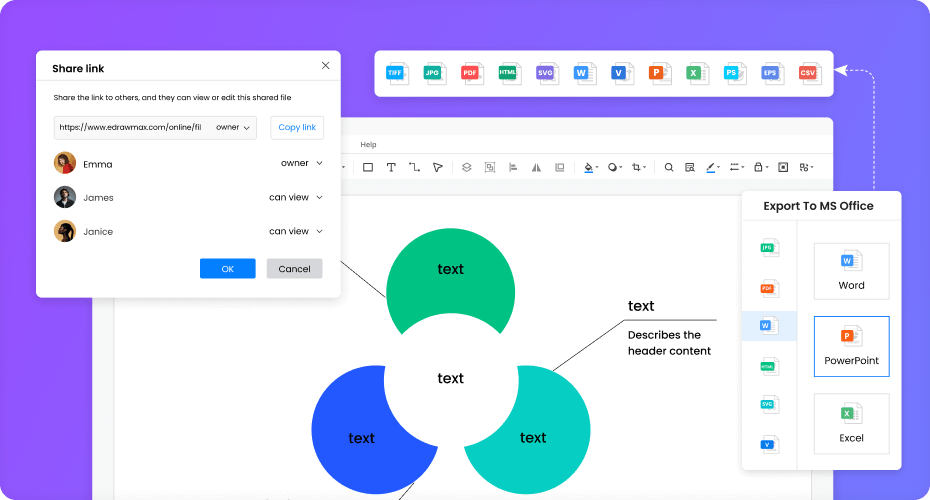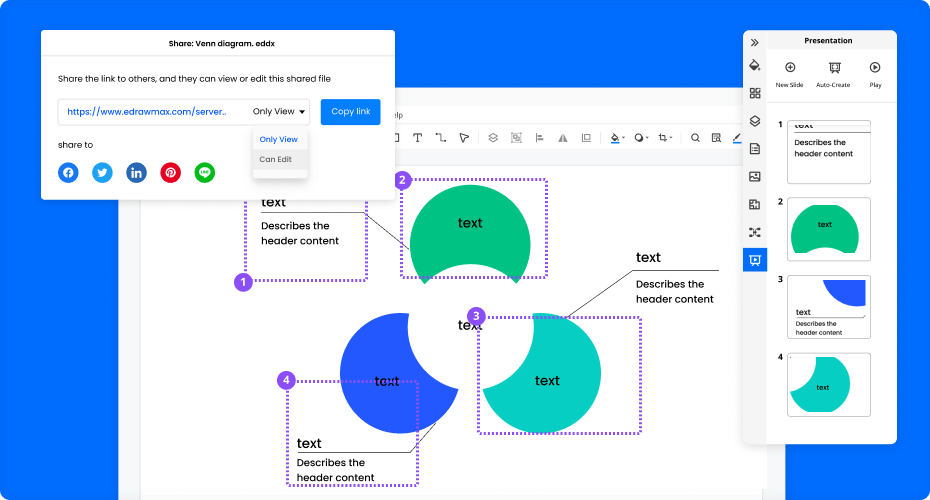 More Features Of Venn Diagram Maker
Visio files import and export
Customized fonts and shapes
Insert images and attachments
File encryption and file backup
The best thing about EdrawMax is that one can easily choose from a variety of templates around. This Venn diagram maker comes with a number of accessible functions on the screen, which helps one customize the Venn Diagram without any confusion. Apart from the ease of use, the one thing about this platform that makes this a favorable option is that it helps create professional-looking Venn diagrams. When I first started to use it, I found some complications, but the easy-to-use videos made everything very clear. I recommend this Venn diagram maker for all your professional-looking diagrams.
As a mathematics teacher, my job dictates me to work on several Venn diagrams. I started using EdrawMax a long time ago and have found it the best online Venn diagram maker. This tool has a number of template options that one can look through and explore as per the requirements. Apart from being the best Venn Diagram maker currently in the market, EdrawMax allows you to create the flowcharts or org charts needed for your presentation. I have even recommended this Venn diagram tool to several of my students who went ahead and got the premium subscription.
The templates offered by Edraw are so well crafted and easy to use that all you have to do is choose the basic template and then fill in the details as required for the elements in the Venn diagram. I found that the interface could have been a little better, but when it comes to the feature it offers, I think that when it comes to designing the Venn diagrams, Edraw is easily the king in the market. It enriches the data visualization and provides a better understanding of things around.
How to Make a Venn Diagram?
Edraw Venn Diagram Templates
Venn Diagram FAQs

Does EdrawMax have any free Venn diagram templates?
Except for the pre-made Venn diagram templates in EdrawMax, you can download and customize Venn diagram templates from our Template Community. All the community-made Venn diagram templates are free to use for Edrawers.

How can I share my Venn diagram with others who don't use EdrawMax?
When your Venn diagram is complete, you can post it on social media, publish on Edraw Template Community, or export the file as Word, Excel, PowerPoint, Visio, PDF, SVG, PNG and JPG. EdrawMax is dedicated to delivering a superior user experience.

How can I find Venn diagram symbols that I need?
No worries. You can find all Venn diagram symbols in the preset symbol libraries. You will see all the pre-made Venn diagram symbols in EdrawMax.

How can I create a Venn diagram from scratch?
You can create a Venn diagram from scratch by dragging and dropping symbols from the libraries. All the symbols in EdrawMax are vector, editable, and catered to different types of Venn diagram.

Is EdrawMax's Venn diagram maker free?
YES! It is free to create different Venn diagrams in EdrawMax. There are free templates, symbols, and editing tools for making Venn diagrams. Just download it and try EdrawMax now. You will love it right now.
More Resources
Unlock your diagram possibilities by exploring more diagram makers here.
Find more ideas, tips and knowledge to help create Venn diagrams.
Need help? Find the instruction or contact support here.