Part 1: What is Value Chain
A value chain is a business model which explains the whole spectrum of activities required to transform a product or a service from an idea to reality. It may take different shapes for different business models. For example, a manufacturing company's value chain includes all steps from conception to the production of goods. In the pharmaceutical industry, the value chain is complex and includes phases from research & development to manufacturing and retail distribution.
Part 2: Purpose and Benefit of Using Value Chains
Value chains help increase a business's efficiency to deliver the most value for the least possible cost.
The value chain creates a competitive advantage for a company which is a result of increased productivity wkeeping costs reasonable.
The value-chain theory is based on a firm's five primary activities and four support activities.
Part 3: Components of a Value Chain
Business management consultant Michael Porter introduced the value chain concept in his book, Competitive Advantage: Creating and Sustaining Superior Performance. Porter divided business's activities into two categories, "primary activities" and "support activities", in his concept of a value chain.
Primary Activities
Primary activities have five components. All these components are critical for adding value and creating competitive advantage:
Inbound logistics. Inbound logistics have functions like receiving, warehousing and managing inventory. This also covers relationships with suppliers. So, this is about raw materials.
Operations. Operations are one of the most critical parts of the process. It includes procedures for converting raw materials into a finished product.
Outbound logistics. Outbound logistics include activities to distribute a final product to a consumer. This includes delivery of the product along with storage and distribution systems that can be external or internal.
Marketing and sales. This includes strategies to enhance visibility and target appropriate customers, for example, advertising, promotion, and pricing.
Service. It includes activities like customer service, maintenance, repair, refund, and exchange. These activities are done to maintain products and enhance the consumer experience.
Support Activities
Support activities help to make the primary activities more efficient. When the efficiency of any of the four support activities increases, it helps at least one of the primary activities. The four support activities are procurement, technological development, human resource management and infrastructure.
Procurement. It is about the acquisition of inputs, raw materials or resources for the company. It concerns how a company obtains raw materials and includes finding and negotiating the best prices with suppliers and vendors.
Technological development. It is used at the company's research and development (R&D) stage. It supports designing and developing manufacturing techniques and automating processes.
Human resources (HR) management involves hiring and retaining the most suitable employees who will fulfil the firm's business strategy and help design, market, and sell the product. This also has a role in compensation policy, conflict management between the company and employees and promotes training and skill development.
Infrastructure. This support activity includes the firm's systems and the composition of its management team. Examples are planning, accounting, finance, and quality control.
Part 4: What to Do before Making Value Chain
Identify secondary activities related to each primary activity. You must decide which secondary activities support each primary activity and choose the one which adds the most value. The sub-activities include direct activities, indirect activities and quality assurance.
a. Direct activities help to create value individually.

b. Indirect activities help direct activities run more smoothly. It includes human resources management and accounting.

c. Quality assurance ensures that direct and indirect activities are up to the mark with the required standards and follow compliance.
Identify secondary activity related to each support activity.You must identify sub-activities to provide value according to secondary activities, the way you did for the primary activities.
Identify the connection between the activities.This is the most challenging phase. Here you will connect the pieces of the puzzle already identified. The key is to connect them in a way to create a competitive advantage.
Part 5: How to Make Value Chain in EdrawMax
Step 1: Launch the EdrawMax Software
Step 2: Go to New>Strategy and planning.Now, select the value chain analysis tile. You will see a plus button in the panel in the section below.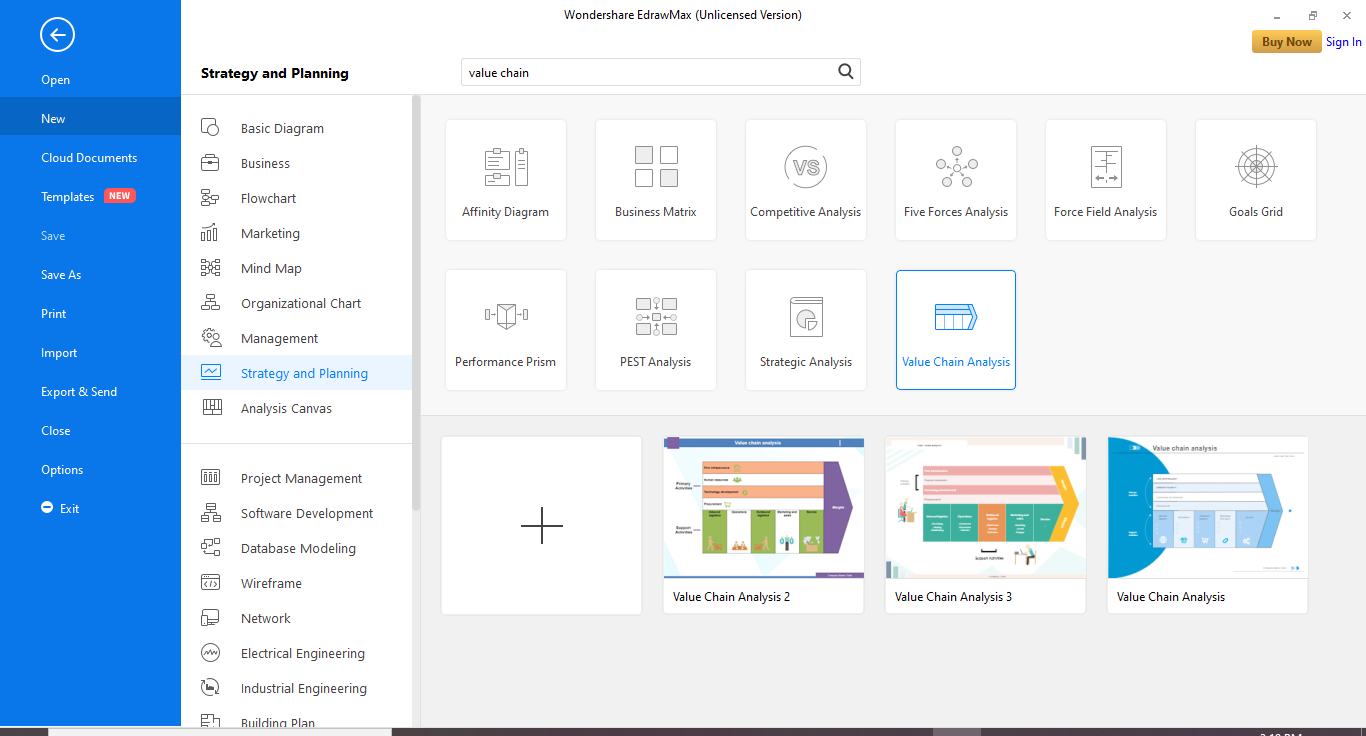 If you want to make your own thing, you can use the "+" button to open a new document and start creating your own Ishikawa diagram from scratch. You will use the symbols in the Symbol Library on the left.
Step 3: Drag the foundation of the value chain diagram in the central pane. You can now customize the diagram according to your needs.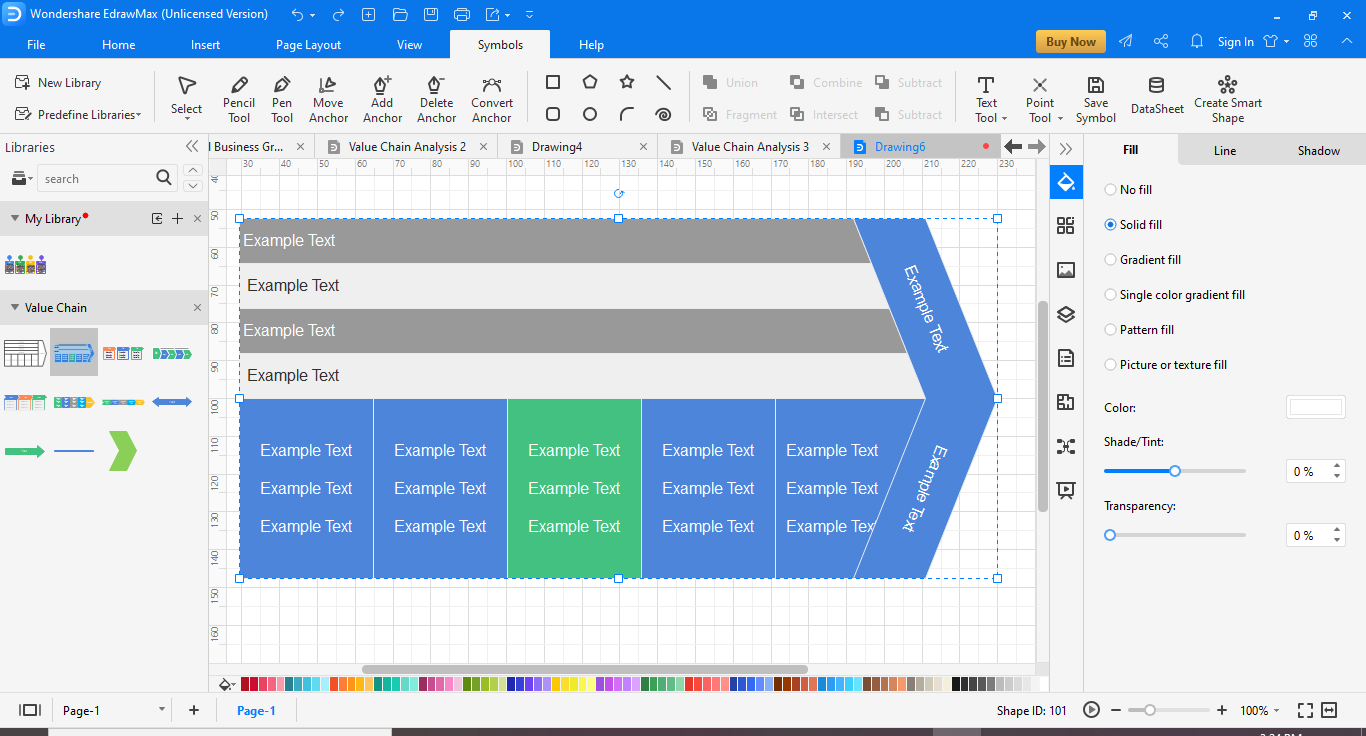 Step 4: if you want to use a pre-crafted template, click on your chosen template according to your requirements. You can add more elements and update it to make it more personal.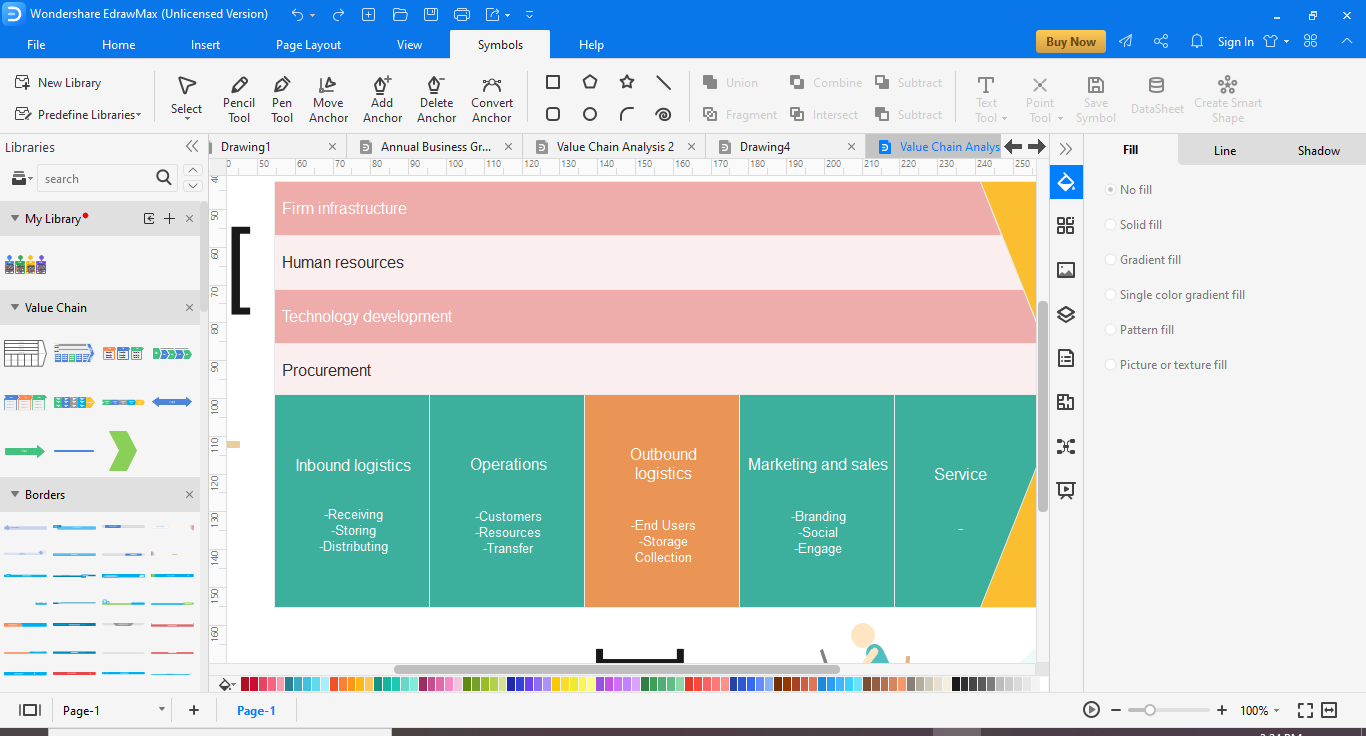 Step 5: once you have included all your information in the diagram and are satisfied with the result, save the document. You can even export it in different formats to make distribution easy.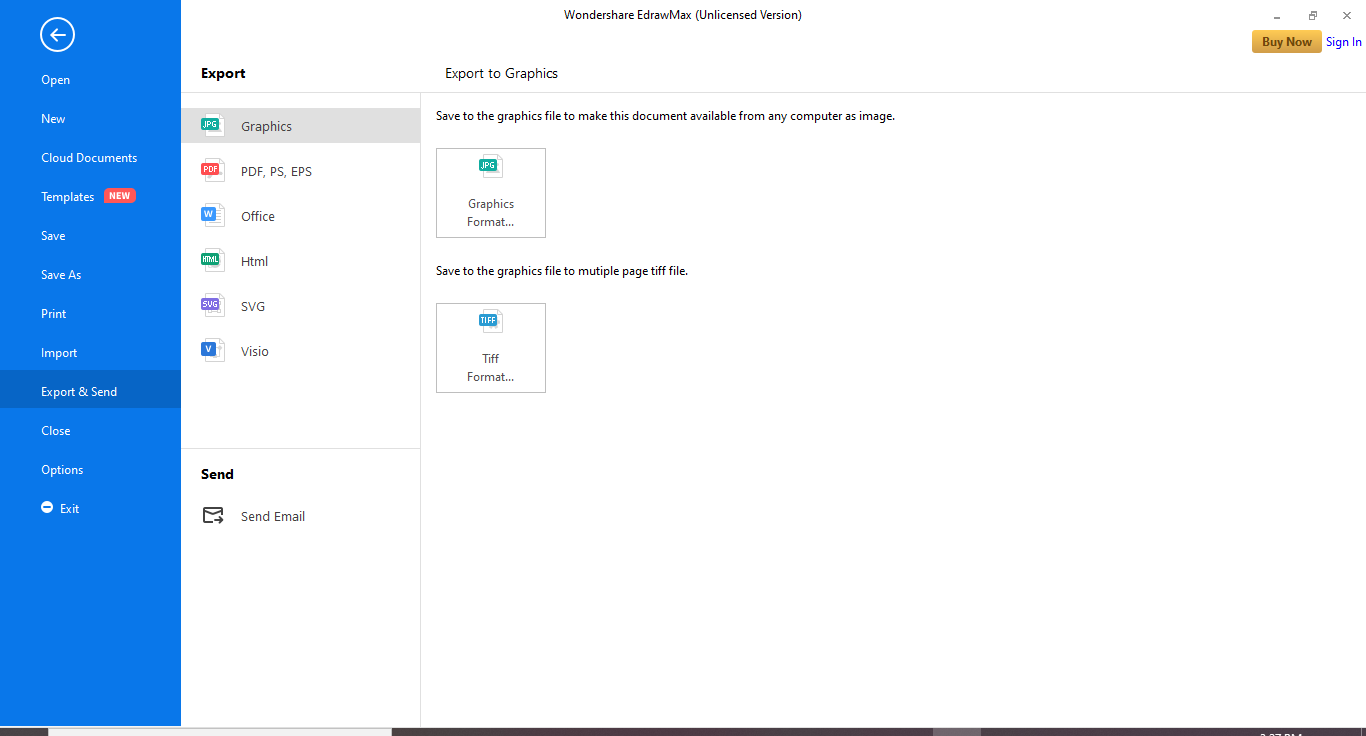 EdrawMax
All-in-One Diagram Software
Create more than 280 types of diagrams effortlessly
Start diagramming with various templates and symbols easily
Superior file compatibility: Import and export drawings to various file formats, such as Visio
Cross-platform supported (Windows, Mac, Linux, Web)
Security Verified |
Switch to Mac >>
Security Verified |
Switch to Linux >>
Security Verified |
Switch to Windows >>
Part 6: Tip for Making Value Chain
The process of creating a value chain includes analyzing the five primary and four secondary activities. It assigns a value to those activities. You will also look for sub-activities for each of the main activities: direct, indirect and quality assurance.
The best tip is to work on identifying the connections between the secondary and primary activities too. It would be best if you created a value chain so that each support activities help and support one or more primary activities. Another best practice is to find ways to shorten the value chain. This will eventually help an enterprise meet evolving customer needs to deliver more excellent value to the customer. So, this is a way to gain a competitive advantage.
Part 7: Examples of Value Chains
Profit Value Chain Example
An egg production value chain template is provided for the good of our users. Download this customizable file and save it for your own use.
Profit Value Chain Example
An elaborately made value chain example is well prepared on the right. It will save you lots of time to start a new value chain using this ready made template.
Profit Value Chain Example
Profit Value Chain Example
We provided this company value chain template for your convenience. Start your drawing journey with more creative ideas, and Edraw will help make your ideas come true.
Profit Value Chain Example
Profit Value Chain Example