Story Mapping: An Ultimate Guide

A story map is a web map that has been carefully made, contextualized, and accompanied by supporting details to become a stand-alone resource. It includes maps, icons, text, images, and video, as well as features like swipe, pop-ups, and time sliders to help users navigate the material. It's an intelligence product that's ready to use.
In this article, you will know the advantages, uses, and tips related to story mapping; in short, this is the complete and ultimate guide about story maps.
Part 1: What is Story Mapping?
Story mapping is a technique for organizing user stories to get a better picture of how they fit into the overall user experience. A story map gets its name from the fact that it helps visually to map out user stories and other backlog objects. The vertical dimension signifies priority, while the horizontal dimension reflects the steps a consumer takes to perform actions in the method.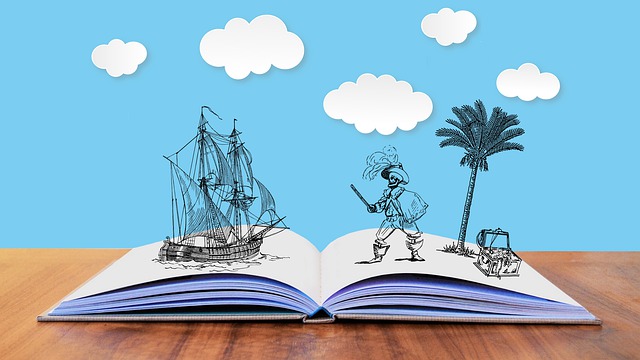 This technique was at first used by Jeff Patton. Also, he wrote a book named User Story Mapping. This innovation arose from the realization that written documents are vulnerable to misinterpretation while holding a real discussion is much more likely to result in a shared understanding and the delivery of a product that meets the needs of its target purposes.
According to Jeff Patton, a story map consists of the following structural elements:
Backbone
The map's backbone is its foundation. It is made up of epics or themes that define the system's overall user behaviors, such as searching for items. Epics are organized horizontally since they represent the steps a user takes when engaging with the product, which is essentially a simple representation of the user journey.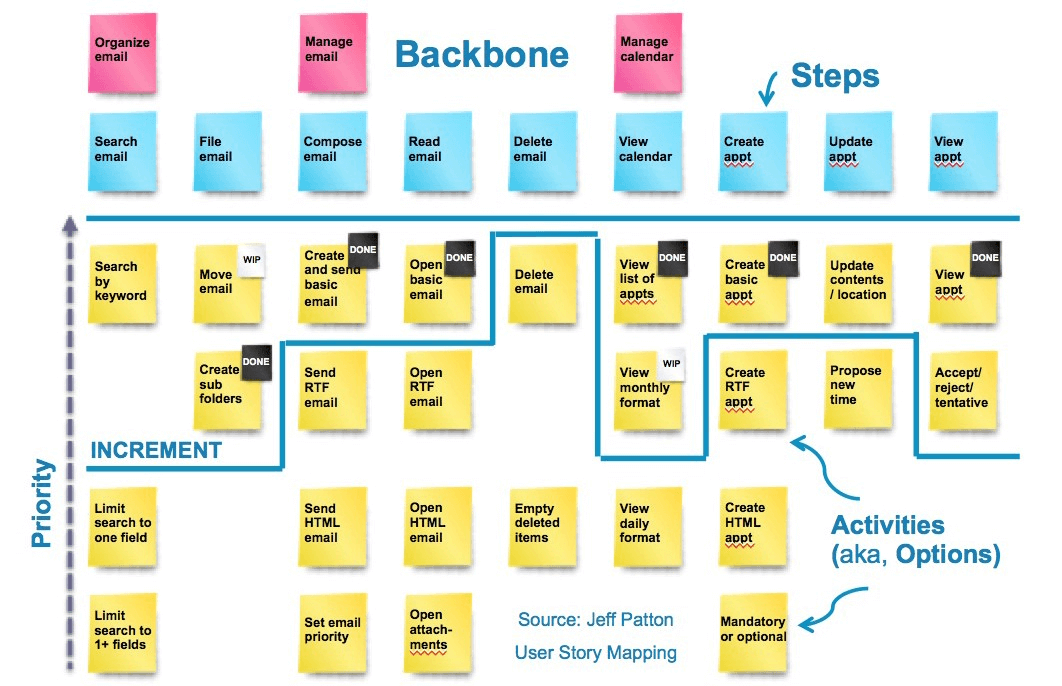 Stories
User stories are arranged in two dimensions: vertically and horizontally. User stories are organized into epics that describe more complex tasks that a user can require. If an epic is about a search process, it might include stories about simple search, product filtering, advanced search, and so on.
User Personas
Some made-up people will use the product and follow the measures outlined in the user stories. The user personas describe who the users are and how they might communicate with the product. On the story map, personas are assigned to specific epics in which they will participate.
Ideas or Nice-to-have
A story map can also include parts such as ideas or nice-to-have features to depict a complete image. These will take into account user stories that aren't yet needed or defined in the initial specifications but still affect the price.
Part 2: Advantages of Story Mapping
Story mapping is a versatile and straightforward method of communicating product concepts. Jeff Patton's story map has numerous advantages. Some of these are listed below.
Clear Objectives
The basic layout of a story map makes it simple to prioritize each story while maintaining the connection between large and small objects.
Excellent Interaction
A single person, the product owner, creates product backlogs. Story maps, on the other hand, are created during a mapping workshop that includes a large number of team members. This makes it easier to start talking about the product right away.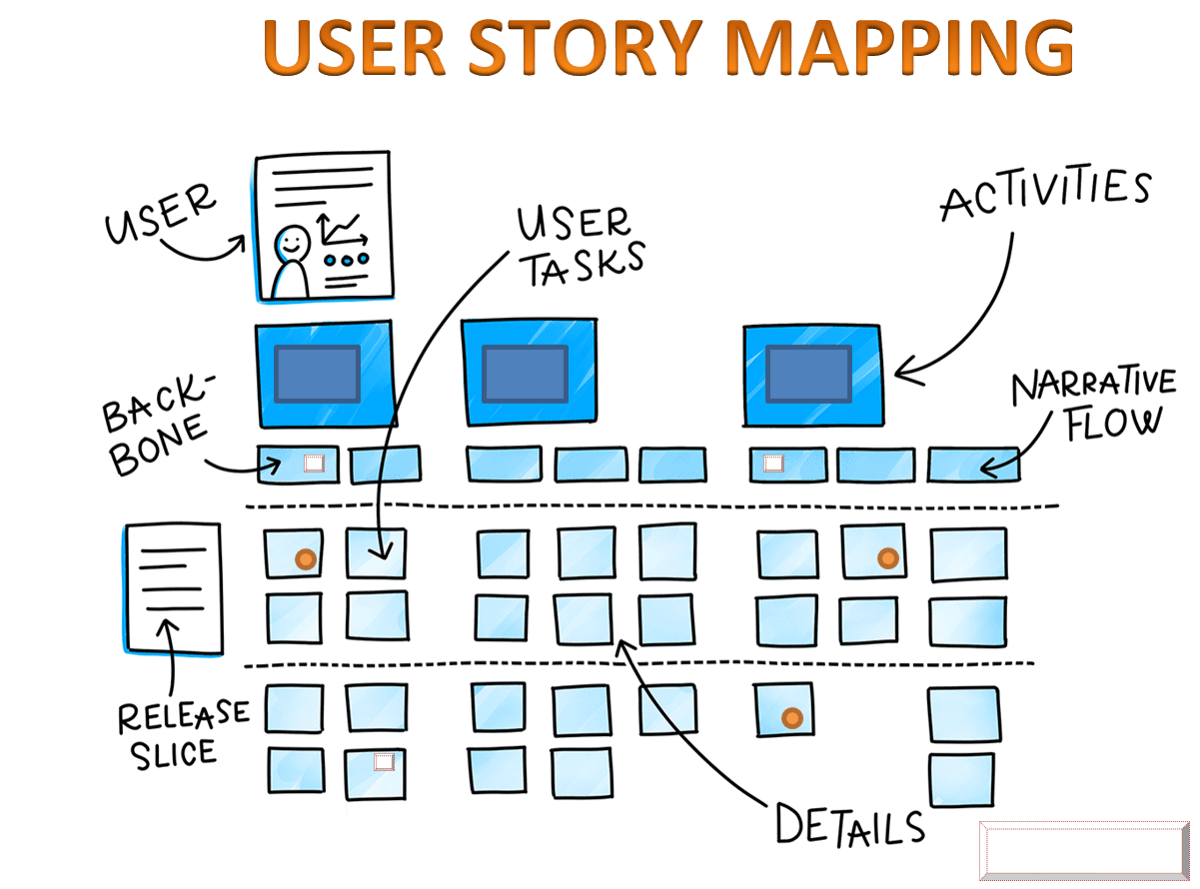 Product objectives and vision are visible
A story map is a living document that will evolve with the product. The team will comprehend the vision of the product and how to execute it on a practical level if they have a clever eye view of the project and know where it begins and finishes.
Part 3: When to Use the Story Mapping Technique
There are a few important reasons to use story mapping. It depicts the whole image of how a product is used, which is often overlooked in the reality of feature creation, where most teams are focused on specific tasks rather than the "big picture" most of the time. Since they can visually highlight flaws in the user interface, they can also find holes in functionality or areas to work on.
Besides, a story map can also be useful for prioritizing, both for an MVP (what is the bare minimum needed to achieve the ultimate goal) and subsequent releases (what is lacking that must, should, or could be included). It is an excellent technique that you can use to solve several problems - the most common ones listed below:
It can be difficult to decipher the needs of stakeholders. Not only does story mapping encourage constructive debate within the product team, but it also aids product/project managers in involving a stakeholder (business owner) in the process.
Verbose, difficult-to-understand definitions are common in requirement documents. They have an excessive number of technological solutions and integrations. Story maps are ideal for breaking down large tasks into smaller chunks that can be easily digested by a group.
With the use of a story map, team members can determine what is most important right now and include it in the MVP update.
EdrawMax
All-in-One Diagram Software
Create more than 280 types of diagrams effortlessly
Start diagramming with various templates and symbols easily
Superior file compatibility: Import and export drawings to various file formats, such as Visio
Cross-platform supported (Windows, Mac, Linux, Web)
Security Verified |
Switch to Mac >>
Security Verified |
Switch to Linux >>
Security Verified |
Switch to Windows >>
Part 4: How to Create a Story Map on EdrawMax
One of the most efficient ways of drawing maps and diagrams is to use a software, gone are the days where we used to draw them manually with pens and pencils. On the same note, EdrawMax is one software by Wondershare that allows you to conveniently draw diagrams, maps, and charts. It is compatible with both macOS and Windows devices .
Here's how you can use EdrawMax to create a Story Map:
Step 1: You can either start from scratch or use one of the many already-made story map templates. To select a template, head over to the template section and type in the search bar. You will see a huge collection from where you're ought to find the best one for your requirement.
Step 2: Click on the '+' icon if you want to work on a blank page. On the left corner, you will see a range of basic shapes and tools that you can use to draw your story map. Start drawing by simply dragging and dropping.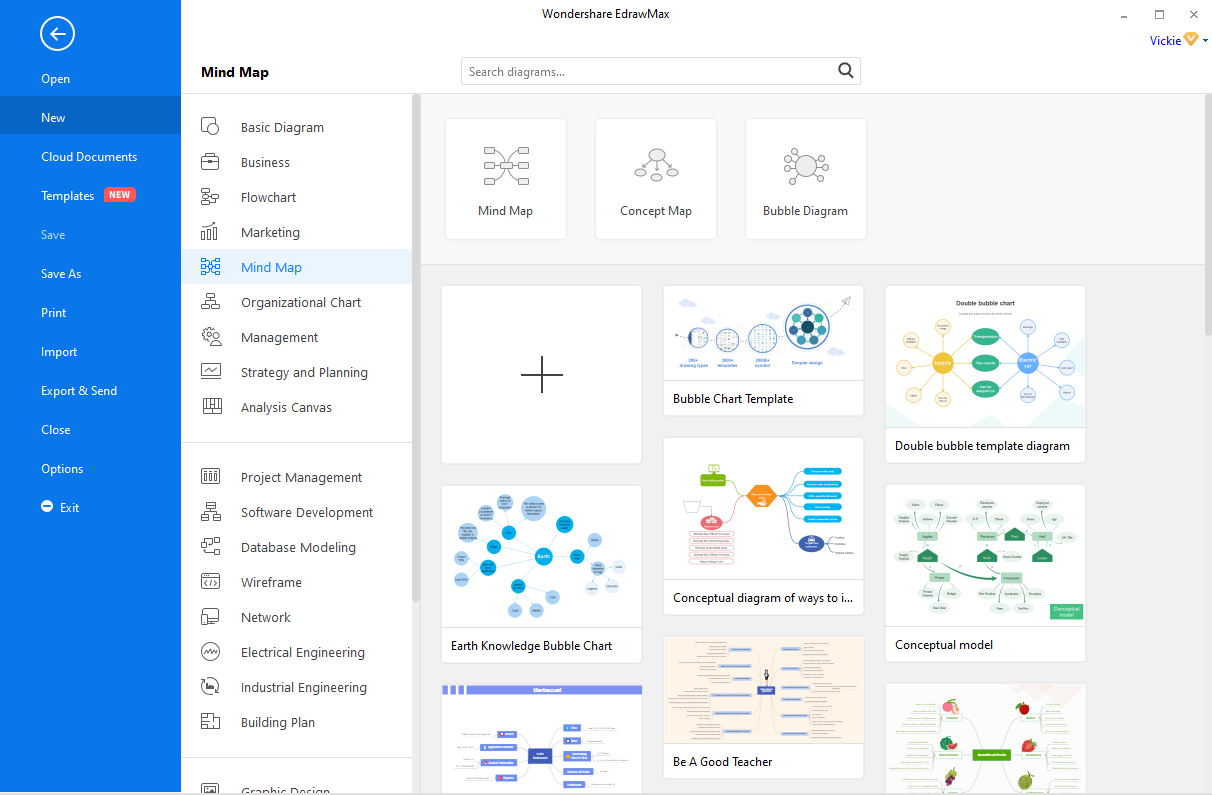 Step 3: double-click to type your text in the middle. Furthermore, you can add a variety of features such as colors, connectors, effects, etc to make your story map look even better. However, make sure to only add relevant information to increase readability as well as the appearance.
Step 4: when you are done completing your story map and are happy with how it looks, it's time to save it. By selecting the File tab, you can save your file for future editing or sharing.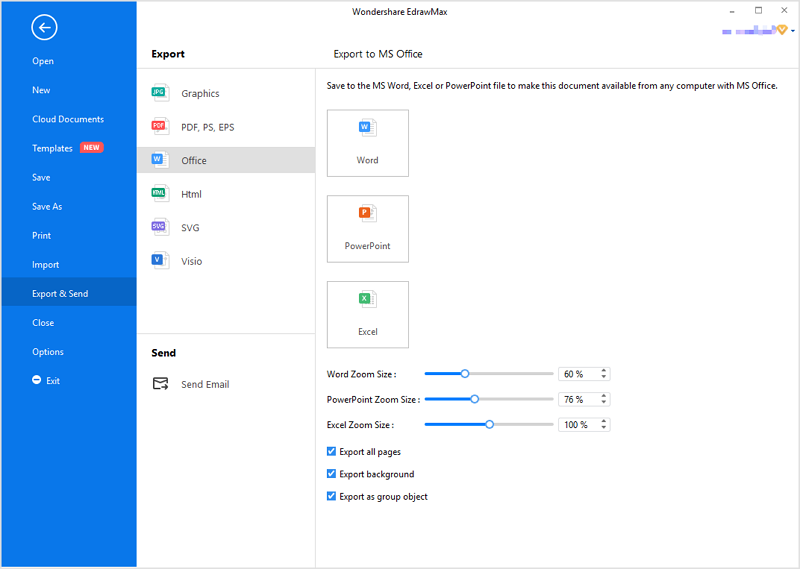 Part 5: Tips for Making a Story Map
The story map isn't fixed. Over time, it will necessitate proper management. Make sure to add relevant and interesting features. You can do the following:
Craft your story creatively
Simplify and refine information for better understanding
Ensure to choose the right software with necessary tools and elements
Part 6: Example of a Story Map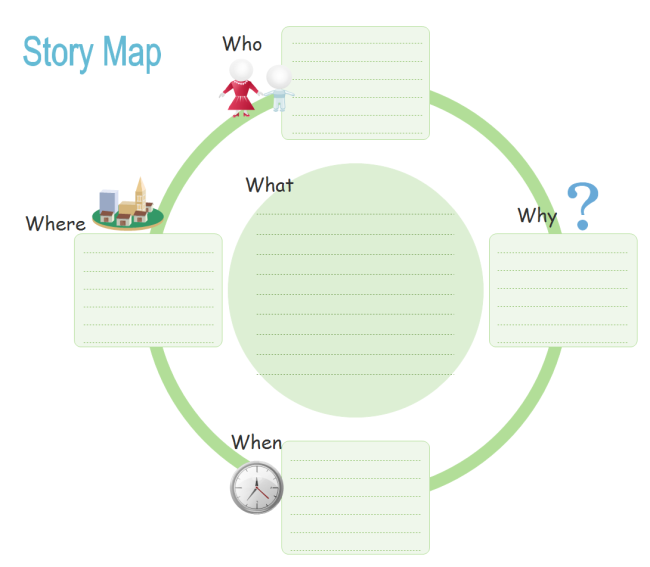 Above is an example template for Story Map easily available on EdrawMax. With its use, you can manage and organize important details such as Who, When, Where, Why, and followed by What in the middle.
Part 7: Conclusion
In conclusion, a story map is a must-have for every organization as it can help in properly managing important data. Not only will it enhance user experience but also help to incorporate different ideas. Visit EdrawMax to create yours today!