Part 1: What is a Spider Diagram?
Spider Diagrams are commonly used logical illustrations that can help you with brainstorming or for depicting any concept more simply. You can even consider Spider Diagrams as specialized mind maps that follow a simpler structure.
As the name suggests, Spider Diagrams are based around a central idea that forms the main topic of the map (and is placed in the middle). You can have different branches and sub-branches of the concept that would look similar to a Spider.
While branching off, you can use different color schemes to further distinguish topics and sub-topics to make your illustrations look interesting. For instance, let's consider the following example of a Spider Diagram that is made on Modern Art. The illustration explores different types of modern art categories and even further classifies their prominent styles in a Spider Diagram.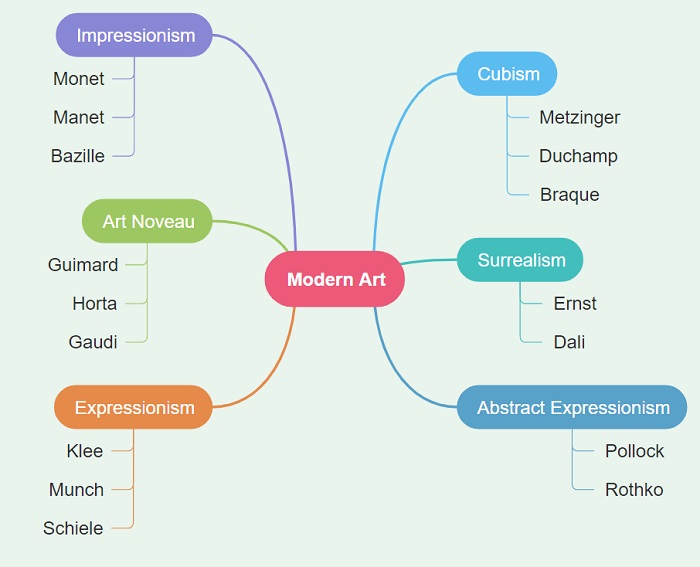 Part 2: Purpose and Benefit of Spider Diagram
Just like mind maps, Spider Diagrams are also considered a vital brainstorming tool. From exploring a concept or a process to depicting the hierarchy of an organization, Spider Diagrams can be used in almost any situation. Here are some of the expected benefits of Spider Diagrams that make them so popular.
• Extremely Easy to Create
One of the best things about Spider Diagrams is that they are extremely easy to create and won't need any prior technical experience. Since there are no strict rules to follow, you can just implement a simple divide-and-conquer rule to approach them.
• Visually Appealing
Apart from being beginner-friendly, Spider Diagrams are also highly visually appealing. The branching system makes them quite interesting, and you can even make them more appealing by using different color themes.
• Easy to learn and comprehend
Not only for you, but Spider Diagrams would also be extremely beneficial for your audience. It has been observed that visual and brainstorming illustrations help us improve our retention abilities. This will make it easier for your audience to comprehend and remember the shared information easily.
• The sky is the limit!
If you are a creative individual, then there are no limits to creating Spider Diagrams. From explaining the hierarchy of your business to the working model of your website, you can do it all with a Spider Diagram. Needless to say, if you want to spark your creativity with a visually appealing tool, then you should undoubtedly consider exploring Spider Diagrams.
Part 3: How to Approach your First Spider Diagram?
Great! Now when you know the overall benefits and applications of Spider Diagrams, let's consider how to create them. To come up with visually stunning Spider Diagrams, I would recommend using any reliable diagramming tool. Before that, you should know this 3-step universal method that would help you create any Spider Diagram like a pro.
Step 1: Identify The Central Idea
Before you start working on any Spider Diagram, you need to come up with the basic idea. The good thing about Spider Diagrams is that they can be used to seamlessly depict any topic or concept. Once you identify the central idea, you need to place it in the middle of the Spider Diagram.
Step 2: Understand What You Need to Cover
Let's consider this with an example where we need to create a simple Spider Diagram on how we can increase the sales of our product. Now, once we have identified the topic, we need to understand the main things that we need to cover. In this case, it would be the major aspects that can help us like cost reduction, quality improvement, and more.
In case you want to create a Spider Diagram for the hierarchy of an organization, you just need to identify its significant departments like Sales, Marketing, Manufacturing, Finance, and more.
Step 3: Branch-out and Expand
Once you have identified the major topics you want to cover in your Spider Diagram, you can just expand accordingly. For this, most of the experts follow a fundamental Divide and Conquer approach. That is, you need to focus on one topic at a time, explore its sub-topics, and then move to another branch.
In this diagram, we have focused on different factors on how to reduce the cost of our product and then moved to expand its target customers. Ideally, the same approach can be followed for creating any Spider Diagram like a pro.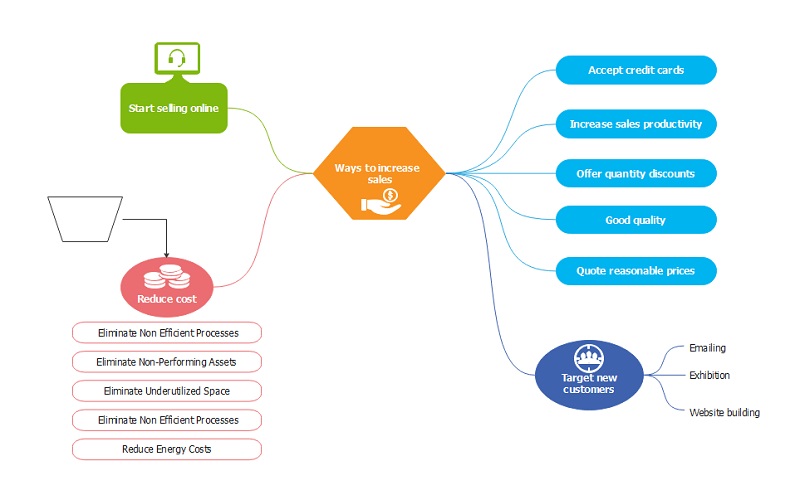 Part 4: How to Create Stunning Spider Diagrams Using EdrawMax?
Now when you know how to approach any Spider Diagram, you can efficiently work on them as per your requirements. For this, I would recommend using Wondershare EdrawMax, which is a highly professional diagramming tool. The application has hundreds of readily available templates in different categories that you can pick and save your time.
Apart from reusing its templates or user-generated resources, you can also create stunning illustrations from scratch. To do that, you can use thousands of vectors and other graphics that are available in the EdrawMax libraries. Later, you can directly export your Spider Diagrams in different formats to use them as per your requirements.
Step 1: Select an Existing Template or Start Fresh
To create aesthetically pleasing Spider Diagrams, you can start by installing and launching Wondershare EdrawMax on your computer. Now, from its Home Screen, you can go to the "New" tab and look for a suitable Spider Diagram template from the available options.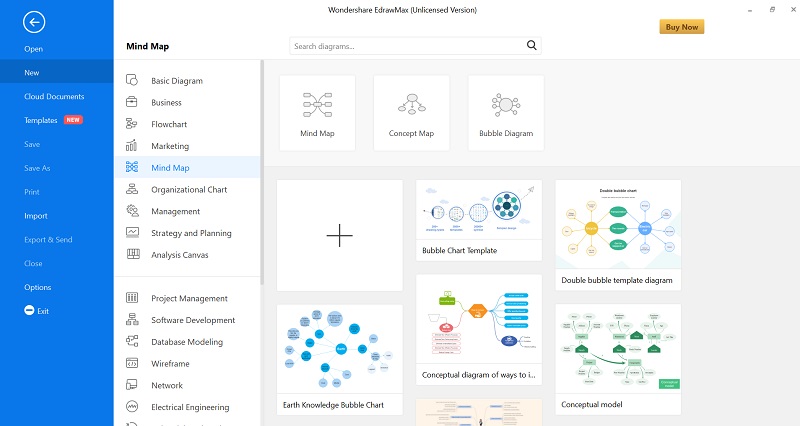 If you want to save your time, then you can readily load an existing template from EdrawMax. Apart from that, you can also click on the "+" icon to load a blank project for the selected diagram type.
Step 2: Start Working on the Spider Diagram with the Available Resources
In case you have selected an existing template, then it would automatically be loaded on EdrawMax. On the sidebar, you can find a wide range of suitable vectors and graphics that you can drag and drop to the canvas.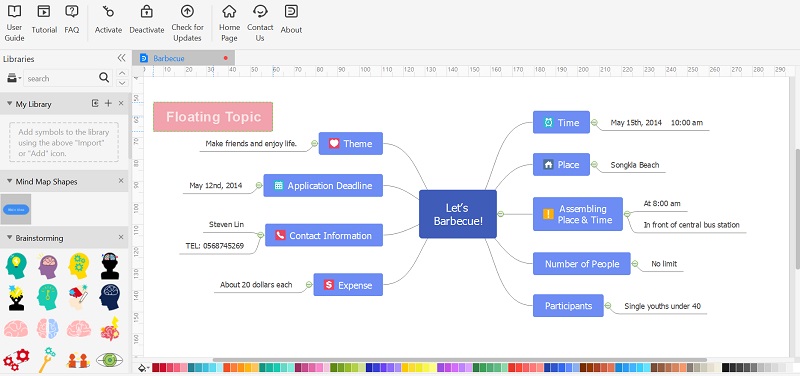 If you are looking for more symbols and vectors, you can go to the "My Library" field from the sidebar and manually include any other dedicated Library on EdrawMax.
Step 3: Edit the Overall Appearance of your Spider Diagram
Using the inbuilt resources of EdrawMax, you can focus on various topics of your Spider Diagram and branch out accordingly.
Once the basic structure of the Spider Diagram has been created, you can just click on any design element. Now, you can explore the available options on the sidebar to change its appearance like fill color, background color, style, and so much more.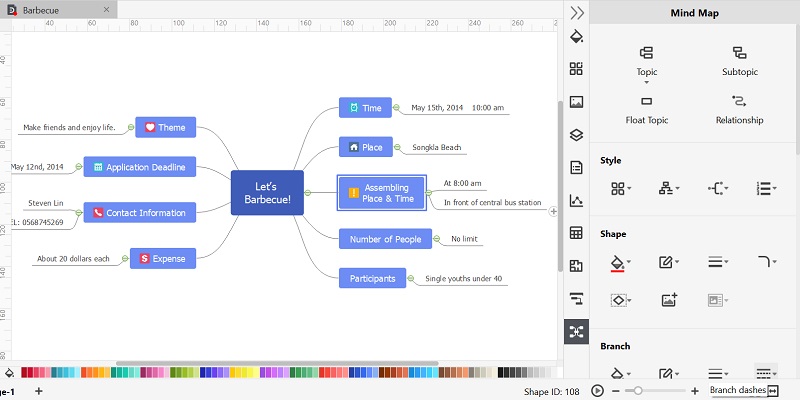 Step 4: Save and Export your Spider Diagram
That's it! In the end, you can save the changes in the Spider Diagram and further click on the "Export" icon right on the top of the toolbar. This will let you select a location to save your Spider Diagram and in different formats like JPG, PDF, SVG, HTML, and so on.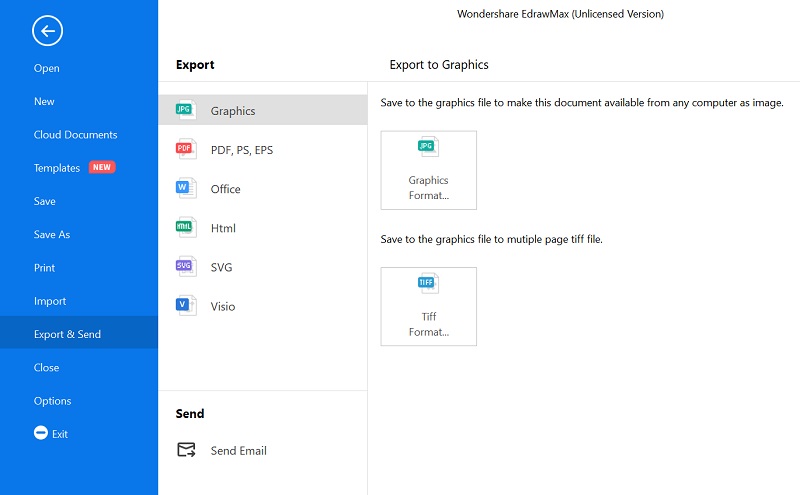 EdrawMax
All-in-One Diagram Software
Create more than 280 types of diagrams effortlessly
Start diagramming with various templates and symbols easily
Superior file compatibility: Import and export drawings to various file formats, such as Visio
Cross-platform supported (Windows, Mac, Linux, Web)
Security Verified |
Switch to Mac >>
Security Verified |
Switch to Linux >>
Security Verified |
Switch to Windows >>
Part 5: Expert Tips for Creating Appealing Spider Diagrams
If you want to create impressive Spider Diagrams in less time, then I would recommend the following tips:
Start from the basics and firstly identify the topic that you need to cover.
Always try to include one topic and explore it instead of mixing multiple issues in a single diagram.
Try to focus on one branch at a time to avoid any confusion in the Spider Diagram.
While you can stylize your diagrams in different ways, try not to overdo it.
Consider using a professional tool like EdrawMax that would make the entire process easier and fun.
Part 6: A Simple Spider Diagram Example to Learn From
Before we sign off, let's quickly consider another Spider Diagram that you can create on EdrawMax to know more about it. Here, we have explored the concept of growing healthier plants and vegetables. Once we have identified the topic, we have covered what we need to develop healthy plans – tools, seeds, seeding, and aftercare. Subsequently, we have focused on all these topics one by one to know all the vital things to consider for growing healthier plants.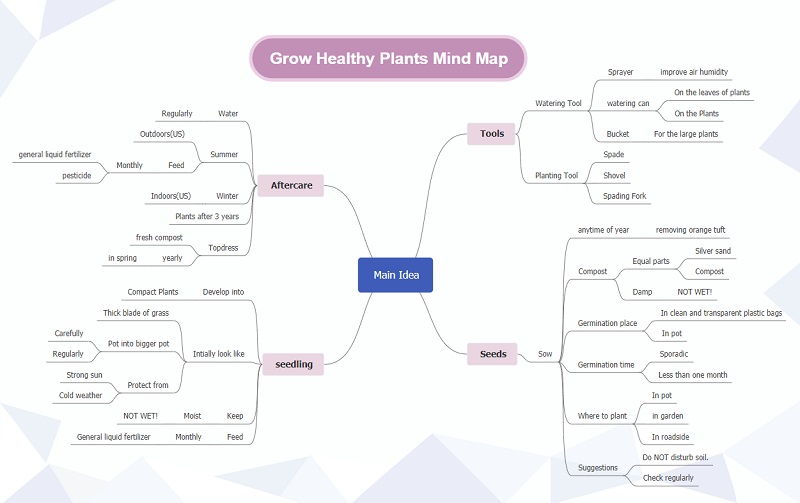 There you go! After reading this beginner-friendly guide on Spider Diagrams, you must be able to learn their basics. Apart from their benefits, I have tried to develop a practical approach to creating Spider Diagram. To make your job easier, you can even use a tool like Wondershare EdrawMax. A complete diagramming tool, it would let you come up with all kinds of visually appealing illustrations like Spider Diagrams without any trouble.