P&ID Process Heating Symbols and Their Usage
>
Edraw Symbol
>
P&ID Process Heating Symbols and Their Usage

Pre-drawn process heating symbols represent batch oven, calendar, circulation heater, compensator, condenser, evaporator, expansion loop, heat exchanger, etc. Vector symbols help develop accurate and presentation-quality diagrams and documentations.
From the P&ID process heating symbols library, you will gain a great range of high-quality P&ID process heating symbols. These symbols are great resources when you create piping and instrumentation diagram. Here you will have a general overview of the symbols on how they look and how to use them in diagrams.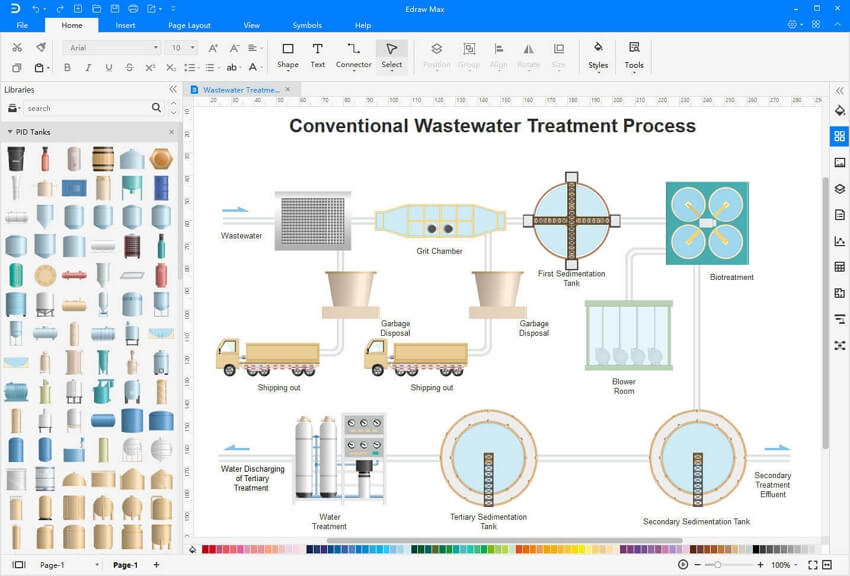 Free Download P&ID Software and View All Examples
Process Heating Symbols
The following picture shows a screenshot of the process heating symbol library in Edraw. It has a comprehensive collection of vector P&ID process heating shapes. You will find batch oven, calendar, circulation heater, compensator, condenser, evaporator, expansion loop, heat exchanger, hot oil system, simple condenser, power burner, process heater, steam generator, air pre-heater, rotary dryer, solar collector, etc.
Batch Oven is a type of furnace used for thermal processing.
Calendar is a series of hard pressure rollers used to form or smooth a sheet of material such as paper or plastic film.
Condenser is a device used to condense vapor into liquid.
Heat Exchanger is a piece of equipment built for efficient heat transfer from one medium to another.
Steam generator is a form of low water-content boiler, similar to a flash steam boiler.
Simple Guide on How to Use Process Heating Symbols
Where to get the symbols?
Start EdrawMax, choose Industrial Automation category, and double click Utility-Generation P&ID template to start a new drawing page. This process heating symbol library will open automatically on the left of the canvas together with some other libraries.
If an Edraw document is already open, you can also click the library button in the top left corner, and navigate Industrial Automation -> PID Process Heating.
Drag and Drop Symbols
When you successfully get the symbols, you can drag and drop required shapes onto the canvas.
Color Changeable
If the current color could not fit your theme, you can freely change filling colors.
Tips:
To change the filling color for a part of a shape, first you need to select the sub shape. Click on the sub shape you want to change color for a few times until it is successfully selected (there will be a blue selection frame), then you can change this sub shape with a new color, and with other parts unchanged.
Or you can ungroup the shape first (go to Home menu, and click Ungroup button), and change the color for any sub shape freely.
Shape Separable
To make the shapes tailored to your requirements, you can take out a part or add additional elements easily. To do this, first you need to click Ungroup button to ungroup the shape under Home menu.
Using Process Heating Symbols to Design P&ID
Below are some samples illustrating the usage and application of P&ID process heating symbols. Edraw pre-defined P&ID symbols provides a fast and easy way to design piping and instrumentation diagrams. To discover more examples, you can visit P&ID examples and PFD examples.
More P&ID Design Materials