P&ID Industry Symbols and Their Usage

Pre-drawn P&ID industry symbols represent asphalt tank, asphalt expansion, blow tank, hopper, mother liquor, maturity, shearer, sintering machine, stock bin, etc. Vector symbols help develop accurate and presentation-quality diagrams and documentations.
From the P&ID industry symbols library, you will gain a great range of high quality P&ID industry symbols. These symbols are great resources when you create piping and instrumentation diagram. Here you will have a general overview of the symbols on how they look like and how to use them in diagrams.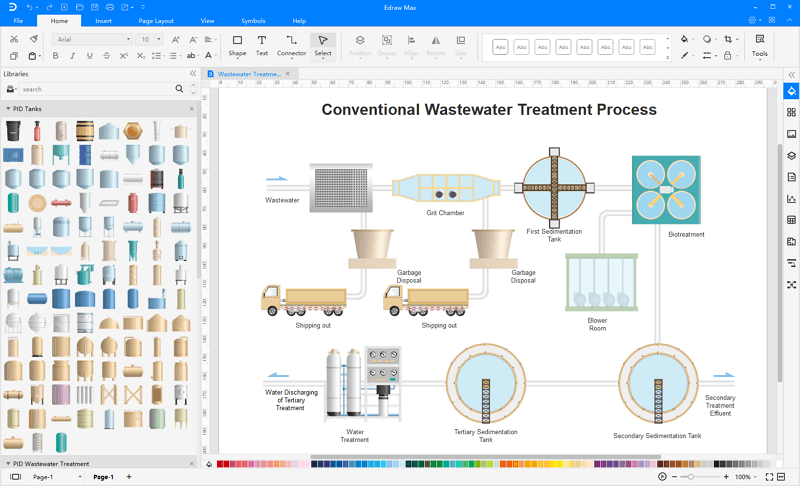 EdrawMax
All-in-One Diagram Software
Create more than 280 types of diagrams effortlessly
Start diagramming with various templates and symbols easily
Superior file compatibility: Import and export drawings to various file formats, such as Visio
Cross-platform supported (Windows, Mac, Linux, Web)
Security Verified |
Switch to Mac >>
Security Verified |
Switch to Linux >>
Security Verified |
Switch to Windows >>
Industry Symbols
The following picture shows a screenshot of the industry symbol library. It has a comprehensive collection of vector P&ID industry shapes. You will find asphalt mixture tank, asphalt expansion, animal manure, chariot liquid slag, blow tank, hopper, dry yeast powder storehouse, high efficiency steam turbine, mother liquor, maturity, shearer, sintering machine, stock bin, and more.

Hopper is a storage container used to collect granular materials designed to easily dispense these materials through the use of gravity.
Turbine is a rotary mechanical device that extracts energy from a fluid flow and converts it into useful work.
Conveyor is a common piece of mechanical handling equipment that moves materials from one location to another.
How to Use Industry Symbols
This set of symbols are included in Industrial Automation category of the symbol library. When you start a Process P&ID drawing template, the symbol library will open automatically. You can drag a required shape from the library and drop onto the canvas.
The shapes you've got are vector graphics, which are highly customizable.
Shape Scalable
You are allowed to scale the shape to any size without loss of the display resolution. There is no blur image anymore.
Color Changeable
You can change the filling color to any color you like.
Tips:
To change the filling color for a part of a shape, first you need to select the sub shape. Click on the sub shape you want to change color for a few times until it is successfully selected (there will be a blue selection frame), then you can change this sub shape with a new color, and with other parts unchanged.
Or you can ungroup the shape first (go to Home menu, and click Ungroup button), and change the color for any sub shape freely.
Shape Separable
It's easy to separate the shapes into parts, and you can take out a component or add new elements to create new symbols. To do this, first you need to click Ungroup button to ungroup the shape under Home menu.
Using P&ID Industry Symbols to Design P&ID
From the examples below, you will see how to use the industry symbols effectively. With these excellent symbols, anyone even novices could make outstanding piping and instrumentation diagrams easily.
More Shapes