Free and Editable Flowchart Templates For Excel
Do You Want to Create a Flowchart in Excel?
One of the prominent tools that most users use is MS Excel, where they tend to create flowcharts that look a lot like Visio. In this elaborated guide, we will walk you through the steps to create a flowchart in Excel and how you can easily import Excel files right in EdrawMax.
When someone asks you how to make a flowchart in excel, it may sound like a very daunting task. However, it is easier than you think. Tools such as Microsoft Excel and EdrawMax make it easy to create a flowchart.
So the question arises what are flowcharts and how to use and draw them? Flowcharts are used to demonstrate the relationship between concepts. They are typically used to help understand business processes. And they are widely used in visualizing the workflow or process. Here, we will show you how to create a flowchart in MS Excel and offer some editable flowchart templates in Excel format for free download. Besides the below listed examples, you can find more flowchart templates including process flowchart, decision flowchart, workflow, BPMN and so on in our Template Gallery.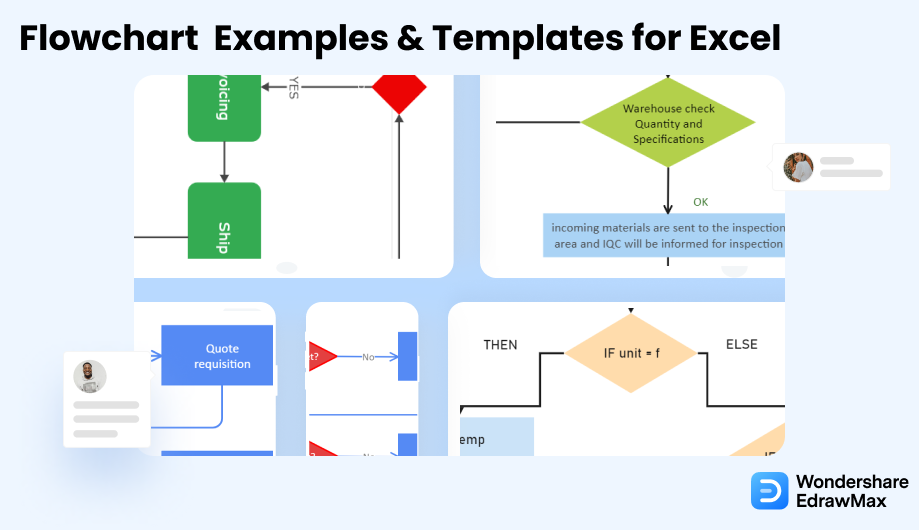 1. How to Create a Flowchart in Excel
A part of the MS Office Suite, Excel is one of the most popular utility tools that let us work on different spreadsheets. Though, you can also use its inbuilt features to come up with all kinds of flowcharts. While the process is not as easy as other designing tools, it will meet your basic needs in the following way.
Step 1: Make changes in the grid

To start with, launch MS Excel on your system or go to Office Live to open a new spreadsheet. Now, select the columns of the sheet and right-click to go to the "Column Width" option. Here, you can change the width to 2.14 so that your rows and columns would be symmetrical.

Furthermore, you can also go to its Page Layout > Align > Snap to Grid option and enable it. This will let you place the vectors on the sheet pretty easily.

Step 2: Insert Flowchart vectors

Once you have set up the canvas, just go to the "Insert" tab in MS Excel and visit the "Shapes" section. Here, you can find various vectors listed in the "Flowchart" category that you can add. You can also go to the "Smart Art" section in MS Excel to readily import an existing diagram.

From the Shapes section, you can select various vectors to add to your flowchart. Later, you can move them around to position them correctly. If you want to customize the diagram, then you can go to the Drawing Tools > Format to change the overall appearance of the vectors.

Step 3: Add Links and Texts

After working on the basic structure of your flowchart, go to the Shapes section under the "Insert" tab, and choose to add links. You can simply connect various entities of your flowchart.

That's it! Now you can select your flowchart, copy it, and paste it on Paint to save it as a JPG file.

By following this approach, you can easily come up with basic flowcharts in MS Excel. Needless to say, the process is a bit time-consuming since this is not the primary application of Excel, but you can still meet your basic requirements by following this approach.
How to Create a Flowchart in Excel:
Install Microsoft Excel;
Locate and Launch Microsoft Excel;
Create a Flowchart;
Save and Export the File;
2. Free Editable Flowchart Templates For Excel
Here are some ready-made flowchart templates exported to Excel. You can click the images to download the templates.
1. Cross Functional Flowchart Template in Excel
This is a Sales Management swimlane flowchart that can be used to represent the cross-departmental collaboration. Click the image to download the template.
2. Simple Process Flowchart Templates in Excel
This is a basic flowchart that can be used to illustrate how to achieve a task. Click the image to download the template.
3. Data Flow Diagram For ATM System
This is a Data flow diagram showing how the ATM system works. It's a visual picture showing where data comes from and where it goes. Click the image to download the template.
4.Cross Functional Flowchart Template in Excel
There are a pretty flowchart template in EdrawMax. You can download EdrawMax and use this template for free. If you want to use it in the Excel, just export it out in EdrawMax that is easy.
5. Swimlane Flowchart
A swimlane diagram is a flowchart that depicts who is in charge of what in a process. A swimlane diagram, which employs the pool lane metaphor to improve clarity and accountability, places process steps within the horizontal or vertical "swimlanes" of a specific employee, work group, or department.
3. EdrawMax - A Solid Visio Alternative
Some of the most common comparison factors between EdrawMax and Excel are:
Draw a Flowchart in Excel:
Excel is an old classic and the first choice of millions of professionals worldwide.

Excel is spreadsheet software that supports main functions like database management, data analysis, and data visualization.

Excel has various licenses and expensive.

Excel doesn't have built-in diagrams.

Excel is an enterprise-level software to handle big data.
Draw a Flowchart in EdrawMax:
EdrawMax is the latest software that has become a favorite choice for creating professional-looking graphics, documents, and presentations.

EdrawMax contains advanced functions that allow users to edit various diagrams and graphs, including flowcharts, network diagrams, process flow diagrams, process chart, and UML diagrams.

EdrawMax is free software, which means you can download and use it for free.

Edrawmax can provide comparatively easy diagrams as the user wants.

EdrawMax offers an array of features that help save time. EdrawMax is designed for beginners in drawing and editing.
EdrawMax
All-in-One Diagram Software
Create more than 280 types of diagrams effortlessly
Start diagramming with various templates and symbols easily
Superior file compatibility: Import and export drawings to various file formats, such as Visio
Cross-platform supported (Windows, Mac, Linux, Web)
Security Verified |
Switch to Mac >>
Security Verified |
Switch to Linux >>
Security Verified |
Switch to Windows >>
4. Free All-in-One Diagram Software
Use EdrawMax instead of pen and paper or other diagramming tools. EdrawMax is helpful for anyone who needs to create simple flowcharts quickly. It has a simple user interface that makes it easy to get started. No complicated steps or long learning curves are required to use this software.
EdrawMax can create professional quality vector graphics without using complicated and frustrating software.
It is useful if you are new to this kind of program and need some help creating beautiful documents.
EdrawMax is the best tool for designing logos, brochures, flyers, business cards, banners, posters, graphs, charts, calendars, illustrations, etc.
The application also allows you to collaborate and edit documents with your team.
EdrawMax has the latest and most advanced vector design tools. EdrawMax is an ideal software for small businesses, home users, and students.
EdrawMax Desktop
Create over 280 types of diagrams
Windows, Mac, Linux (runs in all environments)
Professional inbuilt resources and templates
On-premises software for business
Enterprise-level data security
EdrawMax Online
Create over 280 types of diagrams online
Access diagrams anywhere, anytime
Team management and collaboration
Personal Cloud and Dropbox Integration
5. Final Thoughts
It seems difficult to draw a flowchart in Excel directly. That's why you might need ready-made flowchart templates that can be edited in Excel. EdrawMax has full compatibility with Microsoft Excel, so you can draw a flowchart with it first, then export the flowchart to MS Excel immediately. In fact, you can use EdrawMax to create flowchart and export it to MS Word, Excel, PPT, PDF, Images and so on.
EdrawMax is so versatile that it can be the tool of choice for all sorts of presentations and flowcharts. Whether for creating a complex chart or diagram or simply showing a point-and-click way to explain something, EdrawMax will do the job and come up with impressive results.EdrawMax makes your diagram design more accessible and more efficient. With EdrawMax, you can quickly build a flowchart in any shape and save it to the new style.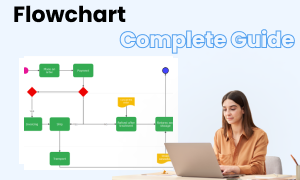 Flowchart Complete Guide
Check this complete guide to know everything about flowchart, like flowchart types, flowchart symbols, and how to make a flowchart.