Free Fishbone Diagram Templates

If you rely on the team's experience to analyze a problem, but you have less quantitative data, try using Free Fishbone Diagram.
A team should work together in sync to successfully discover the possible causes of a particular issue. And for a team to effectively work in sync, a Fishbone Diagram is an ideal tool to use. With it, your team can easily brainstorm ideas while also allowing them to contribute and collaborate at the same time. Furthermore, this diagram helps better understand the root cause of the problem by allowing you to sort the brainstormed ideas into groups.
In this article, we will address the following points:
Fishbone Diagram templates and their usage
How to use the fishbone diagram
Tips for using the fishbone diagram
But, already know what a fishbone diagram is? Let's start with that first.
What is a Fishbone Diagram?
The Fishbone diagram "is a cause-and-effect diagram that helps a team anticipate the consequences with an effect analysis by visualizing all the probable causes of a problem." It is also known as Ishikawa Diagram (named after its inventor, Japanese quality control expert Kaoru Ishikawa) or cause-and-effect diagram is also known as a cause-and-effect brainstorming method.
Now you know what a fishbone diagram is, here are some of its benefits:
Help the teamwork on root causes rather than secondary causes by ensuring you avoid focusing on symptoms and start analyzing the causes.
With this diagram, a team can easily and efficiently work on the causes together rather than independently.
A fishbone diagram is an ideal tool that helps a team create a prompt for brainstorming all possible ideas.
Besides determining, analyzing, and prioritizing root causes, this diagram also helps analyze all other potential causes.
Fishbone Diagram Templates and their Usage
1) Manufacturing
When using a fishbone diagram for manufacturing, knowing the analysis's effect or outcome is essential before adding effect to the diagram. After creating the spine of your diagram, you will need to give it bones in the form of causes. The bones will be categorized into six causes which represent the 6 Ms of manufacturing in your preferred order. These 6 Ms of manufacturing are globally recognized standards, and they include:
Method
Measurement
Manpower
Machine
Mother nature or Milieu
Material
One thing to note is that some industries may have extra Ms that should be inclusive, and for that, you will have to expand it to allow those inclusions.
2) Marketing
Fishbone diagrams also play a major role in the marketing processes in the industry. This diagram offers an effective method to visualize all ideas since marketing is a difficult aspect to gauge. And so with marketing diagram, you will have to include the 7 Ps of marketing, which includes:
Processes
Product
Physical evidence
Price
Place
Promotion
People
3) Sales Process
One thing to keep in mind is that a sales fishbone diagram should always contain the 5 Ss of sales. The 5 Ss of sales are very effective and helpful aspects in analyzing sales of a specific industry. The five branches consist of:
Samples
Schemes
Synchronous
Skin
Search
4) Ishikawa Diagram for Presentations
Ishikawa diagram is a helpful and effective tool when presenting specific issues and solutions to your team. With it, you can use it to present a particular outcome and the better ways to attain it, discover solutions, or deconstruct an issue.
5) Cause and Effect Diagram
A Cause-and-Effect fishbone diagram is another useful diagram. With it, you can use it across any industry, meaning it can also fit several other uses apart from manufacturing, sales, and marketing alone.
Cause and effect analysis gives you a useful way to solve the problem entirely by generating all potential causes and categorizing them in an orderly way. When you use the fishbone analysis, you first brainstorm all of the factors contributing to this problem. Once you've identified all possible causes of the problem, you can do a much more thorough review to find the actual root cause. With the root cause known, you can move forward and solve almost any problem.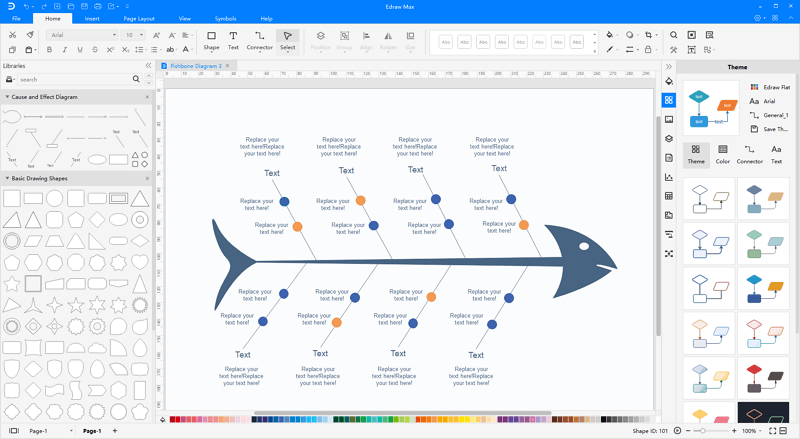 EdrawMax Desktop
Create over 280 types of diagrams
Windows, Mac, Linux (runs in all environments)
Professional inbuilt resources and templates
On-premises software for business
Enterprise-level data security
EdrawMax Online
Create over 280 types of diagrams online
Access diagrams anywhere, anytime
Team management and collaboration
Personal Cloud and Dropbox Integration
Here are some of the free fishbone diagram templates that are editable:
When to use the fishbone diagram
The fishbone diagram is primarily used when trying to identify the main cause of the problem at hand. Other best times of use include:
• Trying to identify the various factors that invest in the problem.
• Collecting additional information on the process behavior.
• Demonstrating and arranging several theories that explain the root causes of the underlying problem.
• Presenting the various incidences of specific elements.
• Focusing the team on the causes instead of the problem or the symptoms.
• Trying to expose the essential relationships existing between variables as well as potential causes.
How to use the fishbone diagram
a) Define the problem statement
The first step always is about identifying the problem to know how to use the fishbone diagram. And for this part, you have to come up with a detailed statement describing what the problem is and how and when it occurs. After defining and explaining it, write that problem on the diagram's left or right side, as the fish's "head," and draw a horizontal line just below it.
Note: Before exploring causes, ensure the team has agreed on the problem definition.
b) Identify the major factors involved.
What factors are part of the problem? In this step, you will have to identify factors involved, which may include external forces, systems, materials or people, and equipment involved with the problem. After that, you can draw the line off the diagram's spine and draw out those factors while brainstorming the situation's effects.
Note: The number of categories should be kept below ten.
c) List out the causes
Once you have factors involved or categories defined, you can start listing each bucket's causes. These will represent the bones used to analyze the main problem (represented by the spine). Using fewer words, write the causes in shorter lines.
Tips for using the fishbone diagram
To fully benefit from using a fishbone diagram, you need to consider the following tips:
Communicate the Objective

Defining the objective of a meeting before a team meeting is a first and principal step. The process of reviewing the meeting objectives is essential because it ensures every member of the team comes in prepared. So, always ensure you have communicated about the objective of the meeting prior.

Show a Fishbone Diagram Example

A well-elaborated example of a fishbone diagram that everyone can understand should be shown right at the beginning of the meeting. Having something that everyone can relate to will help them understand "how the process can go about."

Include the Potential Causes

This step aims to generate a concrete list of potential reasons, which will may rely on brainstorming. This process will be done as a team and without debating and criticizing any raised idea.

Highlighting and Explaining Potential Causes

You will have to ask your member to write down their ideas on potential causes for this part. It would be best to use sticky notes since it will be easier for any team member to share their thoughts. After they are done writing, they should stick on the whiteboard and briefly explain their ideas.

Manage Time

Proper time management will ensure that all potential causes are discussed. And to ensure this, you will have to allocate and divide time accordingly.
Fishbone Diagram Templates for MS Office
Start From Free Fishbone Diagram Template. EdrawMax offers the easiest way to create a fishbone diagram. It only takes a few seconds to choose a fishbone template, edit text, and add the finishing touches. To find a ready-made template, go to the fishbone diagram templates page and choose one that best fits your requirements.
Try Affordable Visio Alternative for Windows and Mac
PowerPoint Fishbone Diagram Template
When you finish creating your fishbone diagram in EdrawMax, one click on the Export button will transfer your drawing into the MS PowerPoint presentation file. You need to consider a few things when creating a fishbone diagram to help define quality problems in a format that is easily understood.
View a Simple PowerPoint Fishbone Diagram Template
Word Fishbone Diagram Template
Once you've completed your fishbone diagram on EdrawMax, you can tap on the "Export" button, which will transfer the figure into the desired Word file you require. Be sure to use a format that is easily understandable and clearly defines the existing problems.
View a Word Fishbone Diagram Template
PDF Fishbone Diagram Template
You can use the free fishbone diagram templates provided by EdrawMax to create the figures easily. All you need is to find a ready-made template best suited for you from the templates page, and within a few minutes, you can edit the text and add your desired finishing touches. Once you're done editing your fishbone diagram template on EdrawMax, you can tap on the "Export to PDF" button, and the diagram will be converted into PDF.
Conclusion
The fishbone diagram is a simple yet very effective tool that improves a process and a commodity's quality. When an organization is persistent with implementing this visual representation of cause-and-effect relationships, it can be proactive in addressing its problems quickly and effectively. Download and edit any fishbone diagram template today and get started on finding a solution to your problem.