Free Fishbone Diagram Templates for Word, PowerPoint, PDF

Edraw offers you a great number of ready-made fishbone diagram templates, which you can use in your drawing for free.
Edraw is used as a fishbone diagram maker coming with ready-made fishbone diagram templates. Edraw Max makes it easy for anyone to create a good-looking fishbone diagram. These fishbone diagram templates are also customizable and free. When you open the templates in Edraw, you can export them into PowerPoint, PDF, or Word documents.
Edraw Fishbone Diagram Templates for MS Office
Start From Free Edraw Fishbone Diagram Template. Edraw offers the easiest way to create a fishbone diagram. It only takes a few seconds to choose a fishbone template, edit text, and add the finishing touches. To find a ready-made template, go to the fishbone diagram templates page and choose one that best fits your requirements. Try Affordable Visio Alternative for Windows and Mac
PowerPoint Fishbone Diagram Template
When you finish creating your fishbone diagram in Edraw, one click on the Export button will transfer your drawing into the MS PowerPoint presentation file. You need to consider a few things when creating a fishbone diagram to help define quality problems in a format that is easily understood.
View a Simple PowerPoint Fishbone Diagram Template
Word Fishbone Diagram Template
In order to save the template as a design template, you need to download Edraw and edit it. All templates in the software gallery windows can freely change in color, theme, and effect.
View a Word Fishbone Diagram Template
PDF Fishbone Diagram Template
All are simple, a single click on the Export PDF button will convert your fishbone diagram template into PDF.
You can view the PDF Fishbone Diagram Template to view the quality.
More Fishbone Diagram Templates
Here are some fishbone templates that you can download and edit. Create a high-quality fishbone diagram with the least time using these templates.
1. Fishbone Diagram Guide
The fishbone diagram guide displays the structure of a cause and effect diagram. The callouts give clear explanation on the usage of each detailed part. You may use it as an instruction to start drawing your first fishbone diagram.
2. Bad Tea Fishbone Diagram
The bad tea fishbone diagram analyzes the cause of bad tea from four aspects - personnel, process, product and physical evidence. This diagram can admonish tea businessmen to avoid making bad tea.
3. Reasons for Resign Fishbone Diagram
The reasons for resign fishbone diagram explains why employees quit. Reasons in the relationship with co-workers, management, workload, environment, residence, welfare, salary, health and self-confidence are key aspects that HR should notice.
4. Root Cause Analysis Fishbone Diagram
Free download the root cause analysis fishbone diagram and customize it to improve your management. Easy-to-use editing tools help you change the design in no time.
Discover the Root Cause through Fishbone Diagram
Cause and effect analysis gives you a useful way to solve the problem completely by generating all potential causes and categorizing them in an orderly way. When you use the fishbone analysis, you first brainstorm all of the factors that could be contributing to this problem. Once you've identified all possible causes of the problem, you can do a much more thorough review to find the true root cause. With the root cause known, you can move forward and solve almost any problem. Edraw's excellent fishbone diagram software is worth trying!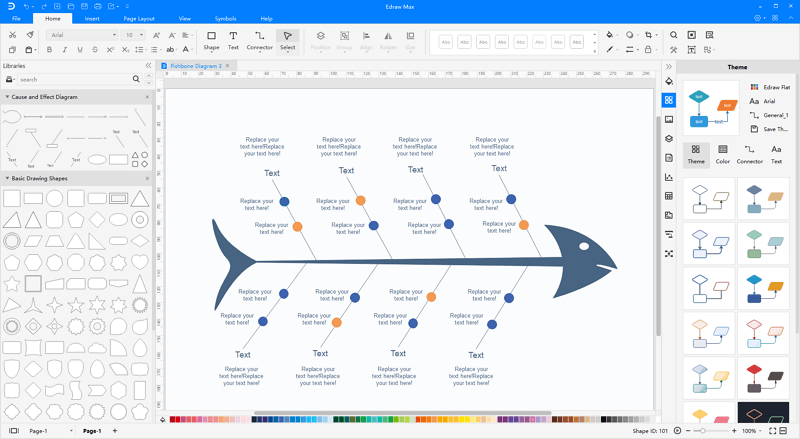 Edraw Max: a swiss knife for all your diagramming need
Effortlessly create over 280 types of diagrams.
Provide various templates & symbols to match your needs.
Drag and drop interface and easy to use
Customize every detail by using smart and dynamic toolkits.
Compatible with a variety of file formats, such as MS Office, Visio, PDF, etc.
Feel free to export, print and share your diagrams.
Discover why Edraw is excellent for creating fishbone diagrams. Try Edraw FREE.