Free Fishbone Diagram Templates for Word, PowerPoint, PDF
>
Edraw Example
>
Free Fishbone Diagram Templates for Word, PowerPoint, PDF

What is Fishbone Diagram?
A fishbone diagram is a cause-and-effect tool that allows managers to track down the possible issues or defects in an organization and brainstorm their reasons for existence. The diagram resembles a fish's skeleton with the head representing the problem being addressed, while the bones feeding into the spine signify the causes of the designated issue.
It is a decades-old concept commonly referred to as Ishikawa diagram and named after its creator, Karou Ishikawa, in 1968, whose main agenda was to improve the quality of management process within the Kawasaki shipyards. The diagram soon because popular all over the region and adapted by managers across many corners of the earth, making Karou one of the founding fathers of modern management.
Fishbone Diagram Templates
There offers a significant number of ready-made fishbone diagram templates, which you can edit, customize and use in your drawing.
EdrawMax is used as a fishbone diagram maker coming with professionally designed fishbone diagram templates, which makes it easy for anyone to create a good-looking fishbone diagram. These fishbone diagram templates are also easily customizable in EdrawMax. When you finish the diagram in EdrawMax, you can export them into images, PowerPoint, PDF, or Word files.
Fishbone Diagram Templates for MS Office
Start From Free Fishbone Diagram Template. EdrawMax offers the easiest way to create a fishbone diagram. It only takes a few seconds to choose a fishbone template, edit text, and add the finishing touches. To find a ready-made template, go to the fishbone diagram templates page and choose one that best fits your requirements.
Try Affordable Visio Alternative for Windows and Mac
PowerPoint Fishbone Diagram Template
When you finish creating your fishbone diagram in EdrawMax, one click on the Export button will transfer your drawing into the MS PowerPoint presentation file. You need to consider a few things when creating a fishbone diagram to help define quality problems in a format that is easily understood.
View a Simple PowerPoint Fishbone Diagram Template
Word Fishbone Diagram Template
Once you've completed your fishbone diagram on EdrawMax, you can tap on the "Export" button, which will transfer the figure into the desired Word file you require. Be sure to use a format that is easily understandable and clearly defines the existing problems.
View a Word Fishbone Diagram Template
PDF Fishbone Diagram Template
You can use the free fishbone diagram templates provided by EdrawMax to create the figures easily. All you need is to find a ready-made template best suited for you from the templates page, and within a few minutes, you can edit the text and add your desired finishing touches. Once you're done editing your fishbone diagram template on EdrawMax, you can tap on the "Export to PDF" button, and the diagram will be converted into PDF.
You can view the PDF Fishbone Diagram Template to view the quality.
More Fishbone Diagram Templates
Here are some fishbone templates that you can download and edit. Create a high-quality fishbone diagram with the least time using these templates.
1. Fishbone Diagram Guide
The fishbone diagram also called the cause and effect diagram. The callouts give a clear explanation of the usage of each particular part. You may use it as an instruction to start drawing your first fishbone diagram.
2. Bad Tea Fishbone Diagram
The bad tea fishbone diagram analyzes the cause of bad tea from four aspects - personnel, process, product, and physical evidence. This diagram can admonish tea businessmen to avoid making bad tea.
3. Reasons for Resign Fishbone Diagram
The reasons for resigning fishbone diagram explain why employees quit. Causes in the relationship with co-workers, management, workload, environment, residence, welfare, salary, health, and self-confidence are vital aspects of HR.
4. Root Cause Analysis Fishbone Diagram
Free download the root cause analysis fishbone diagram and customize it to improve your management. Easy-to-use editing tools help you change the design in no time.
Discover the Root Cause through Fishbone Diagram
Cause and effect analysis gives you a useful way to solve the problem entirely by generating all potential causes and categorizing them in an orderly way. When you use the fishbone analysis, you first brainstorm all of the factors contributing to this problem. Once you've identified all possible causes of the problem, you can do a much more thorough review to find the actual root cause. With the root cause known, you can move forward and solve almost any problem. EdrawMax's excellent fishbone diagram software is worth trying!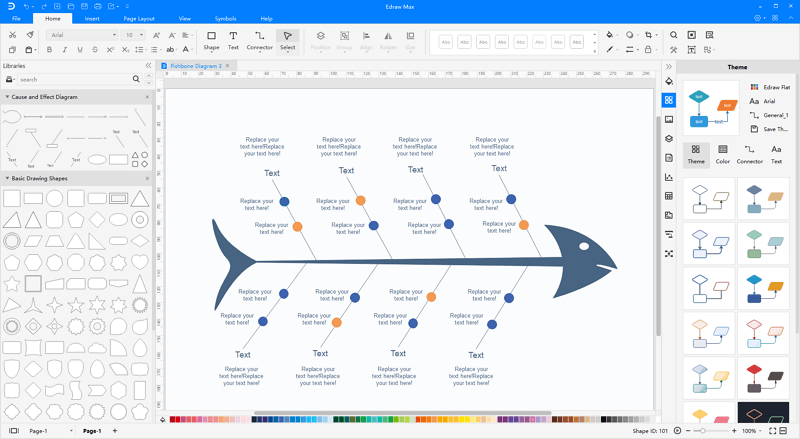 When to use the fishbone diagram
The fishbone diagram is primarily used when trying to identify the main cause of the problem at hand. Other best times of use include:
• Trying to identify the various factors that invest in the problem.
• Collecting additional information on the process behavior.
• Demonstrating and arranging several theories that explain the root causes of the underlying problem.
• Presenting the various incidences of specific elements.
• Focusing the team on the causes instead of the problem or the symptoms.
• Trying to expose the essential relationships existing between variables as well as potential causes.
Conclusion
The fishbone diagram is a simple yet very effective tool that improves a process and a commodity's quality. When an organization is persistent with implementing this visual representation of cause-and-effect relationships, it can be proactive in addressing its problems quickly and effectively. Download and edit any fishbone diagram template today and get started on finding a solution to your problem.
EdrawMax
All-in-One Diagram Software
Create more than 280 types of diagrams effortlessly
Start diagramming with various templates and symbols easily
Superior file compatibility: Import and export drawings to various file formats, such as Visio
Cross-platform supported (Windows, Mac, Linux, Web)
Security Verified |
Switch to Mac >>
Security Verified |
Switch to Linux >>
Security Verified |
Switch to Windows >>
Discover why EdrawMax is excellent for creating fishbone diagrams. Try EdrawMax FREE.