Part 1: What is a Leaflet?
Leaflets are sheets of paper with text and images printed on them to draw an audience's attention to a product, service, or event. It is usually given out to people, such as on the street or in shopping malls. Generally, leaflets are printed on paper of higher quality than flyers, making them more expensive. This means that while leaflets are meant to be physically distributed, the higher cost suggests that they should be distributed to a more specific group of people. Because of this, leaflets are the perfect option for promoting content that has a longer shelf-life.
Part 2: Tips to Make Good-Looking Leaflets
1. Know Your Target Audience: Before you start the leaflet design, the first thing is to identify who are your target customers. Who will buy your product/service? Make sure everything you create will be appealing to them. For example, if your potential customers are young ladies, your leaflet's color should be girly.
2. A Good Headline is the Key: The headline is very important for a leaflet. It will determine whether your audience will continue reading or not. You need to spend time and effort to make your headline appealing. Usually, the headline will contain the key messages of your business. You can also use attractive words to draw people's attention and let them see the inside words. And don't forget to use big fonts to make it visually striking.
3. Avoid Too Many Messages: Keep your content concise and avoid listing too much detail on your leaflet. Remove unnecessary and boring information. Use short sentences and break up big text blocks by using small paragraphs. Make sure it's easy for them to find the key information.
4. Pictures Say More than Words: To make the leaflet eye-catching, images and graphics are indispensable. As we know, images are more straightforward than words. Using appropriate pictures will grab the audience's attention at first glance. Remember that your image should be of high resolution and visually pleasing.
5. Checks and Proofs: Before you print, make sure there no spelling mistakes, and all expressions are easy to understand. The proofread job always requires more than one person. Ask others to check over the leaflet thoroughly and make it perfect.
6. Ensuring a Call to Action: Your leaflet is used to create awareness of your product and make potential customers take a further step to know your business. Therefore, it's important to call them to act. You could offer some special discounts that are only valid before a special date or give a gift for anyone having the leaflet, etc.
Part 3: How to Create a Leaflet
Step 1: Open EdrawMax from your computer, and navigate to [New] > [Graphic Design] > [Flyer].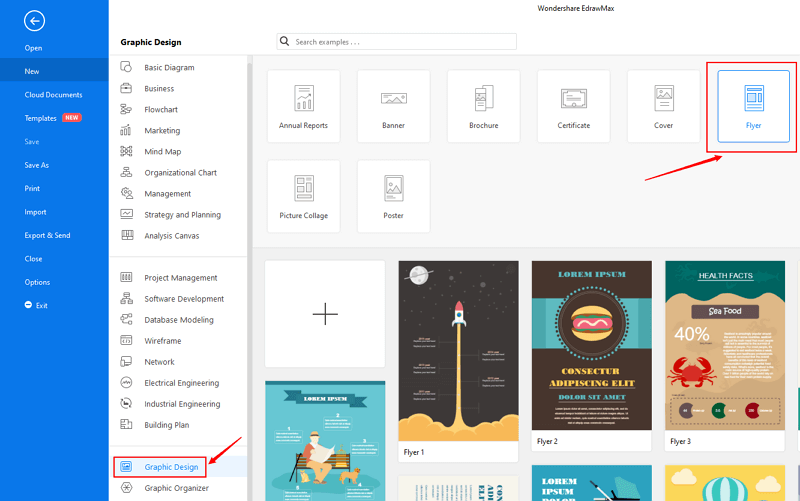 Step 2: Open and make modification on a pre-made template or you can create a new leaflet with the pre-set design elements.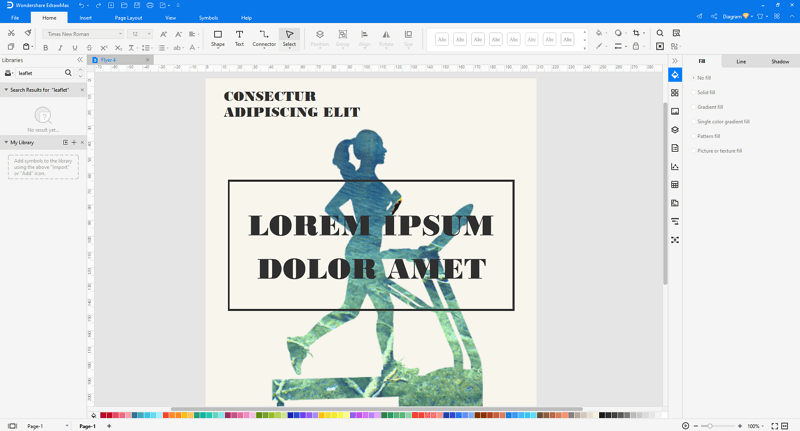 Step 3: When your design of the leaflet is finished, you are able to save and export the creation to graphics(JPG, PNG), PDF, editable MS Office file format, SVG and Visio vsdx file format.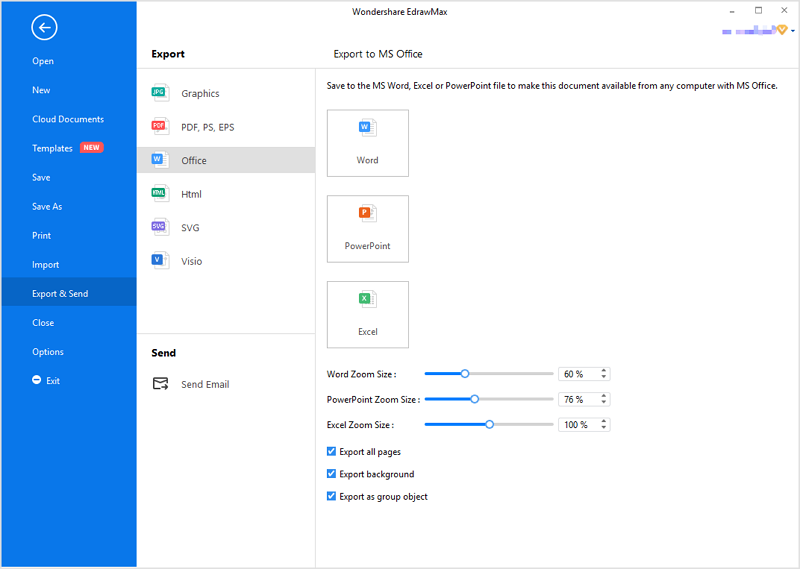 Step 4: Alternatively, you can share your leaflet via social media and sharing links. In addition, you can publish the leaflet into EdrawMax's online template gallery.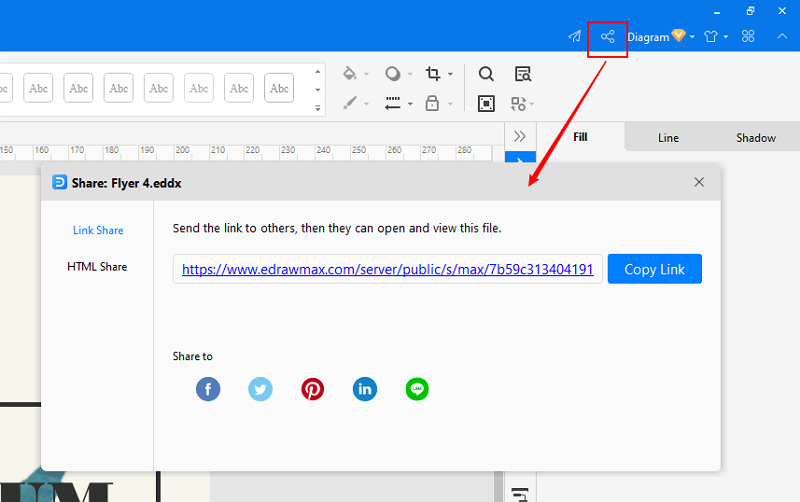 EdrawMax
All-in-One Diagram Software
Create more than 280 types of diagrams effortlessly
Start diagramming with various templates and symbols easily
Superior file compatibility: Import and export drawings to various file formats, such as Visio
Cross-platform supported (Windows, Mac, Linux, Web)
Security Verified |
Switch to Mac >>
Security Verified |
Switch to Linux >>
Security Verified |
Switch to Windows >>
Part 4: Leaflet Examples
Example 1: Coffee Shop Leaflet
Example 2: Shoes Sales Flyer