CCTV Network Software - Create Great-looking CCTV Network
>
Edraw Diagram
>
CCTV Network Software - Create Great-looking CCTV Network

An easy
network software
that helps create CCTV network and graphics with free templates. Support CCTV network and more.
Overview of CCTV Network Design
One of the biggest challenges for CCTV installers and system designers is the massive amount of time and detailed knowledge required. Edraw CCTV Network Software makes the process quick and simple. It helps finding optimal positions for video surveillance cameras. CCTV Design Tool empowers you to save time and money and to design video surveillance system more professionally.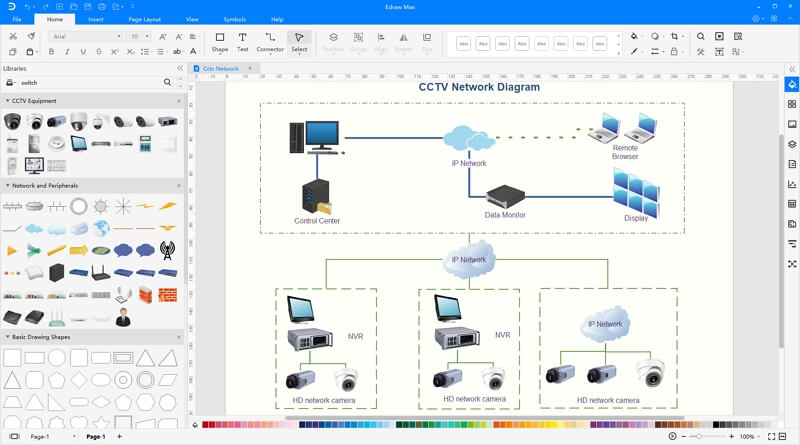 EdrawMax
All-in-One Diagram Software
Create more than 280 types of diagrams effortlessly
Start diagramming with various templates and symbols easily
Superior file compatibility: Import and export drawings to various file formats, such as Visio
Cross-platform supported (Windows, Mac, Linux, Web)
Security Verified |
Switch to Mac >>
Security Verified |
Switch to Linux >>
Security Verified |
Switch to Windows >>
Easy CCTV Network Software - Create Great-looking CCTV Network
Edraw CCTV Network software is used to help visually present security camera wiring diagram, network security systems, surveillance camera wiring diagram, CCTV wiring diagram and schematic diagram CCTV system. For those already accustomed with other Microsoft apps such as Word or Excel, the interface will be very familiar.
Simply drag and drop symbols, apply built-in design themes, and automatically share your finished CCTV network into a presentation or PDF with one click .
We believe that it is really a strong software whose use is indispensable for all those technicians who daily work in CCTV field. We can ensure seamless compatibility with MS Office and optimal performance in the operations. This one-stop solution eliminates the necessity to deal with multiple vendors when any support is needed. One graphic, wide share, infinite benefits.
System Requirements
Works on Windows 2000/2003/2008/Vista/7/8/10 (32bit/64 bit)
Works on Mac OS X 10.10 and later
Compatible with Linux distributions such as Debian, Ubuntu, Fedora, etc
Features of Edraw CCTV Network Software
Easy-to-use CCTV Network design tools with rich examples and templates
Automatic formatting tools like align and distribute
Advanced theme editor
Export to Microsoft projects
Spell Check
30-day product refund guarantee
30-day trial version
Free update forever
Free technology support
In-depth tutorials to help you learn how to draw