Easy Architecture Diagram Software

What is an Architecture Diagram?
The architecture diagramcan help system designers and developers visualize the high-level, overall structure of their system or application, in order to ensure the system meets their users' needs. Using architecture diagrams, you can also describe patterns that are used throughout the design. It's somewhat like a blueprint that you use as a guide so that you and your colleagues can discuss, improve, and follow.
Architecture Diagram Software
EdrawMax provides an easy solution for making architecture diagrams in your software system development process. With extensive premade drawing shapes and a straightforward user interface, you can easily make system architecture diagrams, software architecture diagrams, application architecture diagrams, website system architecture diagrams, UML diagrams, and much more. A large amount of premade shapes allow you to choose, including 2D shapes, 3D shapes, highlight shapes, solid geometry shapes, arrow shapes, and commonly used symbols. With only a few clicks you can finish a good-looking and organized architecture diagram and proceed with your work.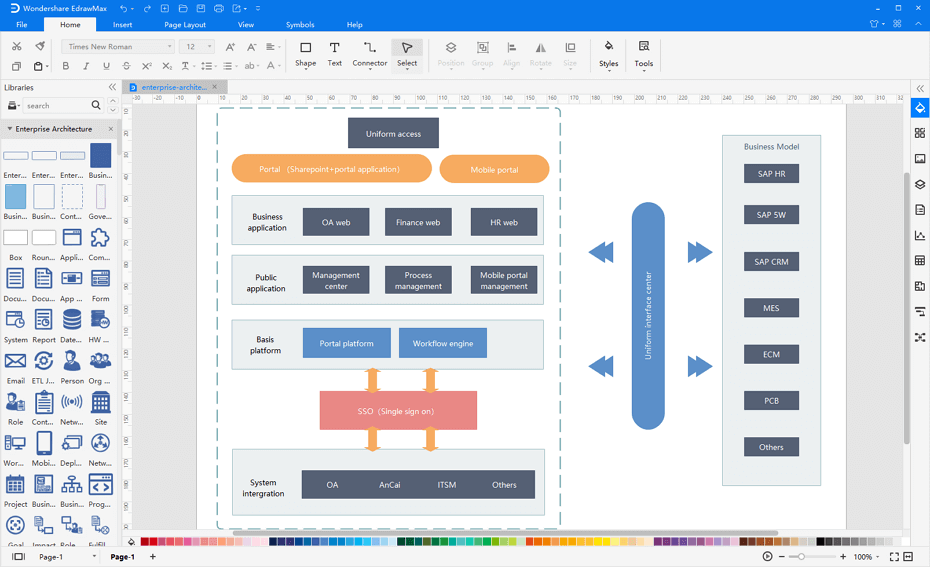 EdrawMax
All-in-One Diagram Software
Create more than 280 types of diagrams effortlessly
Start diagramming with various templates and symbols easily
Superior file compatibility: Import and export drawings to various file formats, such as Visio
Cross-platform supported (Windows, Mac, Linux, Web)
Security Verified |
Switch to Mac >>
Security Verified |
Switch to Linux >>
Security Verified |
Switch to Windows >>
Features of the Excellent Architecture Diagram Tool
Straightforward interface, easy to use, no need to learn.
Just drag the ready-made shapes and drop them on your page.
One click to align, distribute, same size, and group shapes.
Rich pre-made templates allow you to modify from existing templates, rather than start from scratch.
Enhanced export features include BMP, JPG, PNG, PDF, SVG, HTML, Word, PowerPoint and much more formats.
Easy to add photos, images and edit text fields.
Nice-looking themes make it easy to change the whole diagram with just a few clicks.
Architecture Diagram Symbols
A group of vector, built-in architecture diagram symbols for instant use. Just drag and drop them to finish your design quickly. All symbols are editable and sharable. Here are some examples.


A Simple Guide for Making an Architecture Diagram
Open EdrawMax, navigate to Business > Enterprise Architecture and find the built-in diagram templates. Double click on the template thumnail, and the new drawing page will open in the editor, where you can see the Symbol Library pane and preset drawing/formatting tools.
To open a library, click the Library button on the top left corner, and from the drop-down list, choose an appropriate category and open.
To align shapes, select all the shapes that you want to align, and click Align button under Home Tab. Use Tab key to switch the referenced shape.

To distribute shapes, select all the shapes that you want to align, and click Distribute button under Home Tab. Use Tab key to switch the referenced shape.
To add text on a shape, double click a shape and edit text.
To add an independent text block, click Text button on the Home tab, choose Text Block Tool, and use mouse to drag a text block anywhere you want.
To fill a shape, there are three options:

Go to Fill button under Home tab.
Go to Quick Style Bar under Home tab.
Go to quick color bar on the bottom of the canvas. (Note: The color you use from this bar will not change with the theme.

To apply a theme, go to Page Layout tab, Theme gallery.
Company Portal System Architecture Example
Below is a simple system architecture example created with Edraw. An system architecture diagram like this only cost a few minutes. Edraw helps you save time and enhance your work efficiency maximumly.
Software Architecture Example
On the left presents a software architecture template, which is available to download and edit.
Website System Architecture Diagram Example
Anyone need this 3D website system architecture diagram can click the picture and get the download link.