Workflow Diagram Desktop Program

Edraw workflow diagram software allows you to create a workflow diagram at lightning speed and can work on Windows, Mac OS X, and Linux systems.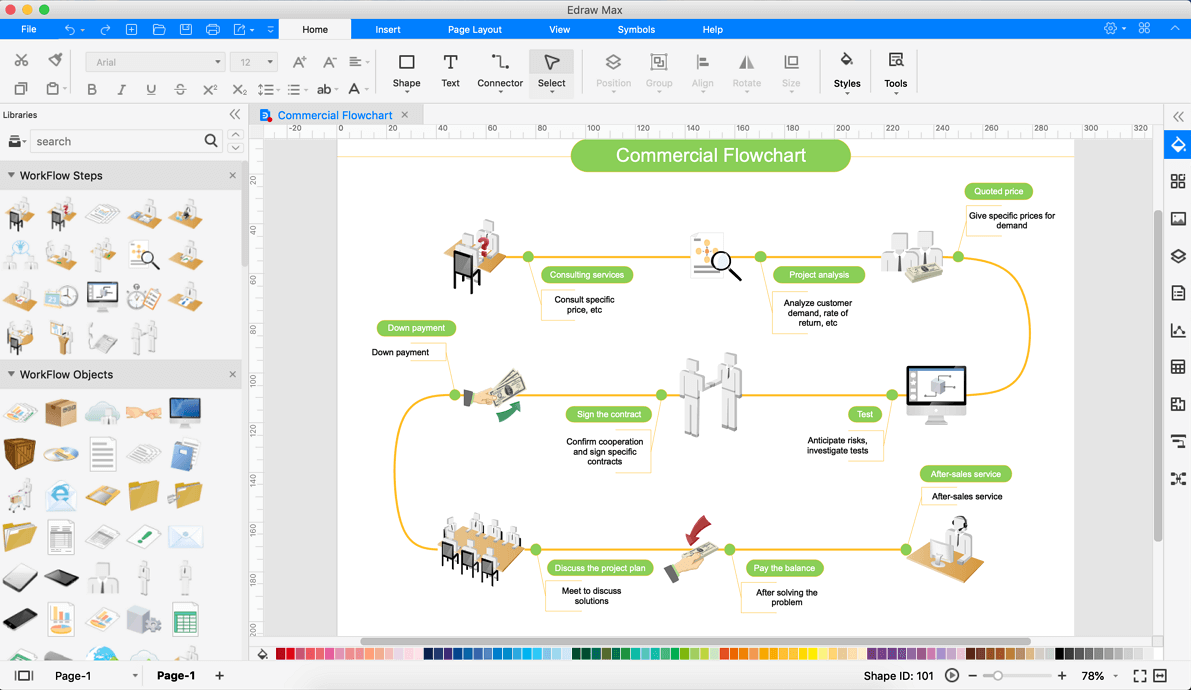 EdrawMax: a swiss knife for all your diagramming need
Effortlessly create over 280 types of diagrams.
Provide various templates & symbols to match your needs.
Drag and drop interface and easy to use.
Customize every detail by using smart and dynamic toolkits.
Compatible with a variety of file formats, such as MS Office, Visio, PDF, etc.
Feel free to export, print, and share your diagrams.
Easy Workflow Diagram Software - Create Great-looking Workflow Diagram
Edraw workflow diagram software is a first-class desktop application, which supports Windows, Mac OS X, and Linux. The Cloud-based feature allows users to sync with diagrams anywhere. It is an easy to use, intuitive, affordable, yet very productive and convincing alternative for Visio. It is a perfect choice to create a workflow diagram with the drag-and-drop function.
Get started as quick as lightning with premade symbols and ready-to-use templates. The flexible import and copy/paste capabilities allow you to input data from many different file formats. Save your diagrams as local files. Edraw also offers a variety of export options, making it easy to share files in the needed format.
Features of Edraw Workflow Diagram Program
A handy workflow drawing tool that is advanced enough for experts and also easy enough for amateurs.
It can make multiple workflow diagrams simultaneously and save them in various formats.
It is accompanied with an ever-expanding collection of shapes and other diagramming resources.
Download thousands of elaborate templates and examples for free.
It can export diagrams in SVG, PDF, HTML, PNG and so on.
All your diagrams and content shared with you, backed up as local files in your computer.
It can also generate Basic Flowchart, BPMN, Swimlane Flowchart and many other kinds of popular diagrams.
Workflow Diagram Examples
Presented below are some samples of our amazing workflow diagram. You can click this link for more templates of various styles. Shapes used in our examples are smart in vector format with floating action buttons. Clicking on those floating buttons can generate connectors automatically.
Material Management Workflow
E-assignment Workflow
Brand Planning Workflow
This workflow document shows how the materials are managed within an organization.
E-Assignment workflow gives a visual representation of the process on sending homework through the internet.
From this workflow diagram, you can learn where tasks, information or documents are passed from one participant to another.