P&ID Ductwork Symbols and Their Usage

Provide various lifelike ductwork symbols, including straight duct, bend duct, junction duct, cross duct, transition, etc. It's easy to represent P&ID process when you have these vector ductwork symbols.
A wide range of pre-drawn P&ID ductwork symbols are included in Edraw. Fully editable, you can use these symbols for making professional and good looking piping and instrumentation diagrams.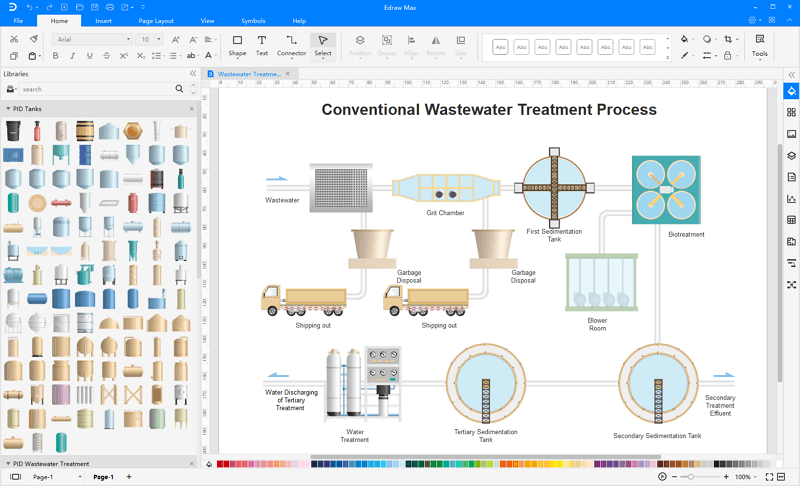 EdrawMax
All-in-One Diagram Software
Create more than 280 types of diagrams effortlessly
Start diagramming with various templates and symbols easily
Superior file compatibility: Import and export drawings to various file formats, such as Visio
Cross-platform supported (Windows, Mac, Linux, Web)
Security Verified |
Switch to Mac >>
Security Verified |
Switch to Linux >>
Security Verified |
Switch to Windows >>
Free Download P&ID Software and View All Examples
Ductwork Symbols
You can find comprehensive duct shapes with a variety of styles, including straight duct, miter bend, junction up, junction bottom, cross, beveled junction, 3 way junction, Y junction, and transition.

Miter bend is a generic term for any offset or change of direction in the piping. Here also means elbow.
Junction up is used when splitting the flow to the upper direction.
Junction bottom is used when splitting the flow to the bottom direction.
Transition is a fitting used to increase or decrease the duct size, or change the connecting direction.
How to Use Ductwork Symbols
This group of symbols can be found in Industrial Automation category. After you start a process P&ID drawing template, the library named pid ductwork which includes all the above symbols will open on the left of the canvas.
Drag and drop a shape onto the canvas to start drawing. The shapes you've got are vector graphics, which are highly customizable.
For this set of duct symbols, you can change the shape length by dragging the selection handles, and change the radius through the floating button. Just as the pictures show below:
You can also change the filling color if necessary. First click to select the shape, then go to Fill button to choose color options.
Need fresh looking ductwork symbols for your design? These ductwork symbols are a cinch to pop in. And their crisp, fine detail will make outstanding, easy-to-understand diagrams and presentations to your customers.
Using Ductwork Symbols to Design P&ID
In order to better understand the application of symbols, here we provide some complete P&ID examples using ductwork symbols. Edraw pre-defined P&ID symbols provide a fast and easy way to design piping and instrumentation diagrams.
P&ID Related Articles