BPMN Diagram Desktop Program

Edraw BPMN diagram desktop program provides pre-made standard 2.0 BPMN notations that make it easy to draw professional-looking BPMN diagrams. It's available for Mac OS, Windows, and Linux.
Many people prefer to use the desktop program rather than the online tool because desktop programs are more stable and smooth. It works regardless of internet connection. The newly released Edraw Max not only supports Windows but also works on Mac and Linux systems.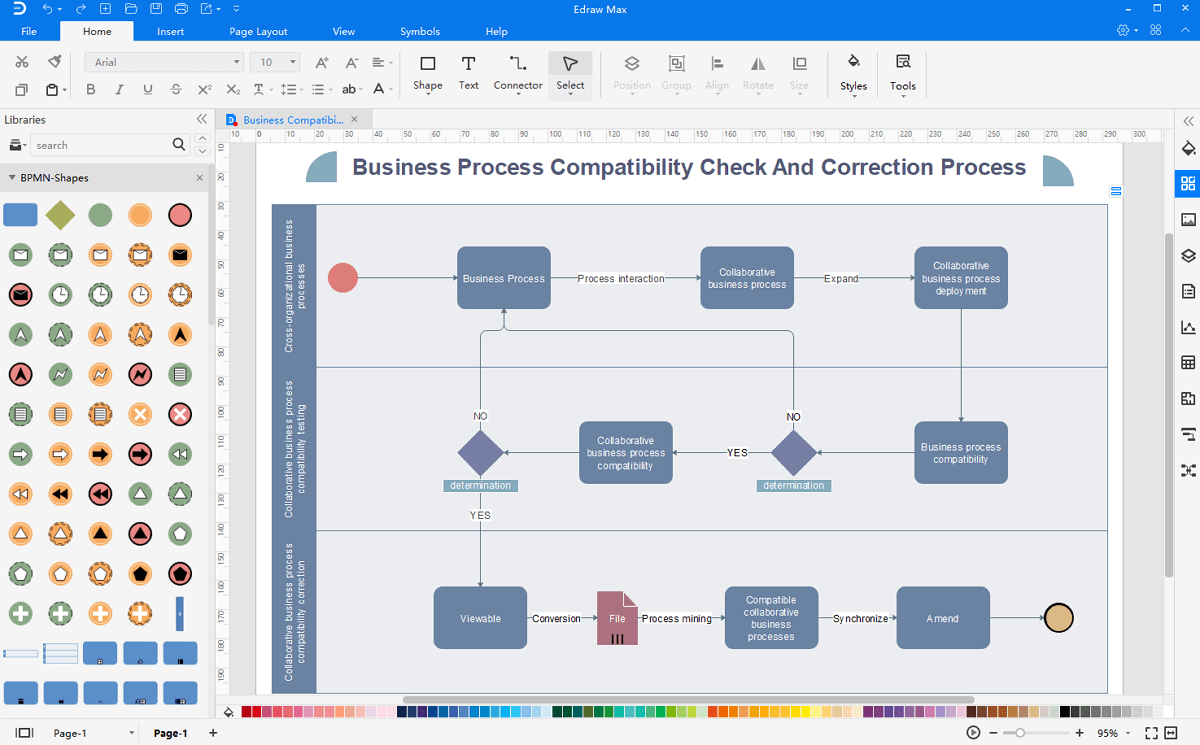 Easy BPMN Diagram Software - Create Great-looking BPMN Diagram
Edraw BPMN diagram desktop software follows BPMN 2.0 standard.
The interface of Edraw is quite user-friendly as it is similar to MS Word. Get started as quick as lightning with premade BPMN symbols and ready-to-use templates. The powerful drag-and-drop tool makes it extremely fast and easy. You can use the color palette or built-in themes to design a visually pleasing BPMN diagram.
Features of the Optimal BPMN Diagram Program
A state-of-the-art desktop application. Supports Windows and Mac OS X.
An easy and fast diagramming tool to produce simple BPMN Diagram within 10 minutes or less and complex BPMN Diagram at any degree.
Support cloud collaboration.
Gain thousands of elaborate templates and examples from Edraw online.
Access and create content regardless of internet availability.
Publish and share the documents with your preferred format: PDF, Word, PPT, Html, JPG, SVG, etc.
EdrawMax
All-in-One Diagram Software
Create more than 280 types of diagrams effortlessly
Start diagramming with various templates and symbols easily
Superior file compatibility: Import and export drawings to various file formats, such as Visio
Cross-platform supported (Windows, Mac, Linux, Web)
Security Verified |
Switch to Mac >>
Security Verified |
Switch to Linux >>
Security Verified |
Switch to Windows >>
BPMN Diagram Examples
Here are some BPMN examples available to download and use. Find more BPMN examples on the BPMN sharing page.
Employment Application BPMN
Book Selling Process BPMN
Auctioning Service BPMN
This employment application BPMN shows the processes and documents required of employment application in a company.
The book selling process BPMN shows the book selling business model with graphical notations.
Auctioning service BPMN use standard BPMN 2.0 symbols to illustrate the process.