How to Make an Evacuation Plan
Evacuation plans are an essential part of building construction and architecture, working as a guide map for safe exit in case of a calamity or hazardous situation. Building Codes in all countries require the contractors or building developers to submit a well-defined evacuation plan to get compliance with the codes of safety against fire incidents, hurricanes, flooding, earthquake, etc. The same also applies to human-made emergencies like riots and mobs. From schools, amusement parks, commercial and residential buildings, to hospitals and factories, the plan applies for a wide range of properties. Whenever there is a need for evacuation, you are going to need a plan!
You Can Make an Evacuation Plan on Your Own
The goal of an Emergency Evacuation plan is to give individuals a handy guidebook as a route to safety in adverse situations like a fire emergency or natural disaster like an earthquake. Since it is going to be read by anyone, even children, it is necessary that the plan is simple to look at, and it is easy to understand the directions. Building regulations have a specific set of guidelines for architects to present the fire escape plan according to the site. An architect may need several versions of the evacuation plan for specific utilities.
With the help of ready-to-use diagramming software, architects or building developers can create well defined and professional-looking Evacuation Plans much faster than what it takes for hand drawings. For having instant access to numerous graphics and symbols, high-quality graphical fire escape plans can be created that may be elaborate and exquisite at one go.
A Versatile Fire Escape Plan Maker - Edraw Max Online
The Edraw Max floor plan maker is a versatile diagramming software that also works as a fire escape plan maker with numerous built-in templates of floor plans specifically designed for diverse emergency evacuation plans and settings.
You may choose the ideal layout according to the site you are designing for, such as commercial buildings, school buildings, shopping malls, hospitals, private houses, or housing complexes.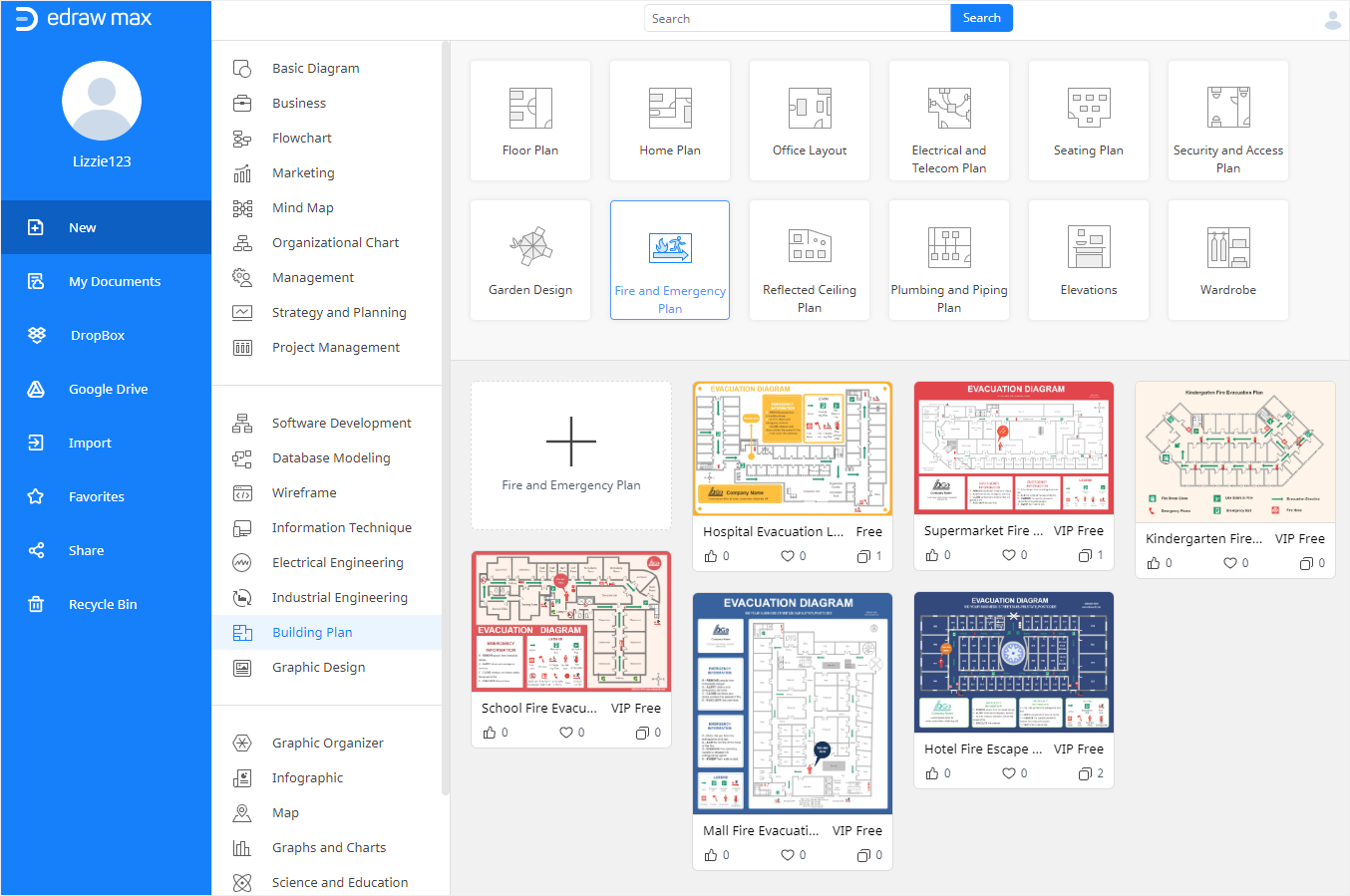 Refer to the numerous Emergency evacuation plans are pivotal for getting building compliance. Learn how to make an evacuation plan or fire escape plan using the Edraw Max Online. Just drag and drop the elements to assemble them as one, you may customize the size and shapes of the blocks, add elementary graphics, icons, symbols, and personas to simulate the actual site plan. The concise and quick diagramming software is the ultimate illustration assistance you can have.
Things to Consider Before Making an Evacuation Plan
Diagramming emergency evacuation plans are needed to be in sync with real-time actions. Therefore, the designer must take into consideration the time taken to reach the safe zone, the number of people that can pass through the given spaces all at once, and the additional safety vaults or fire extinguisher joints that come in the way. It not only has to be definite but has to mirror the real picture so as sure as it can be.
Time - When you are working with fire escape plans, your design should base on the fact of how fast can you direct the reader towards safety. So first, it goes time.
Simple To Read - With all the corridors looking all the same in the evacuation plan, it might create confusion for a person who is not familiar with the building, to readily decipher the exit numbers and hall numbers. It is a good idea to assign the designated spaces and how they are going to be used by the masses. If you are diagramming a shopping mall, then use the shop names to point out the directions, or if you are diagramming schools, point out the classes and sections.
Expectations - It is best to diagram emergency evacuation plans following a practical evacuation drill, taking into consideration that how fast a normal person can pass through, would usually take longer for a disabled or senior individual.
How to Make an Evacuation Plan
To use Edraw Max Online, you can enter this URL: https://www.edrawmax.com/ into your browser without the limitation of devices. Then you can sign up for a free account and start to try it!
Step 1: Launch Edraw Max Online and go to your dashboard. The in the New File section, select Floor Plans.
Step 2: Under the Floor Plans option, you will find the stencil of the Fire and Emergency Plan. Click on it to launch the blank drawing page.
Step 3: In the stencil, you can find the libraries- Dimensioning, Structure, Wall, Shell and Fire and Emergency. Gridlines are set on default, to give you straight-line drawings. You have to drag the lines to place them into the position, as is relevant for your plan. You can enlarge or shorten them by dragging the corners.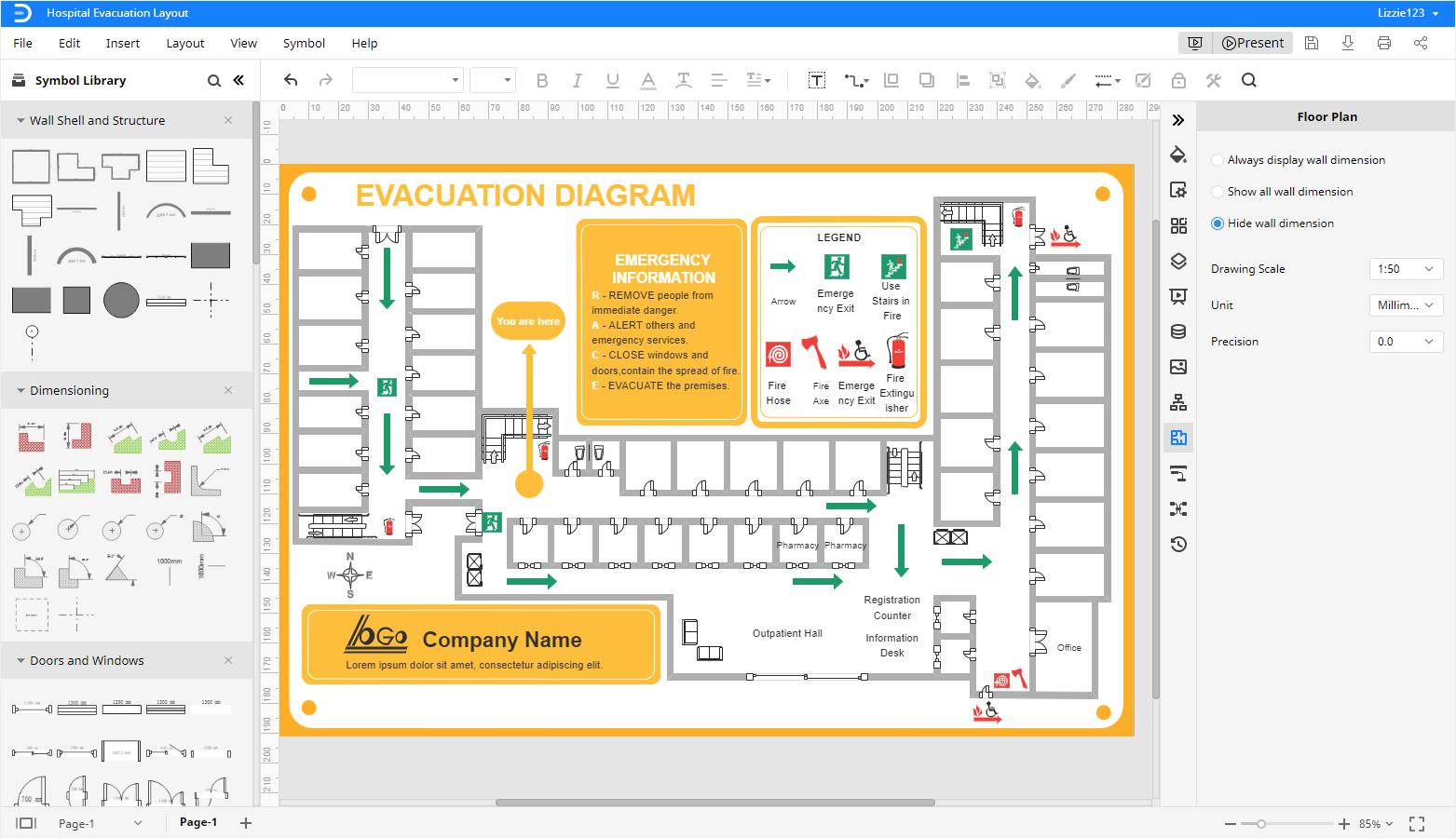 Step 4: Now you may symbols under the Fire and Emergency section, to drag and drop and appropriate locations of the diagram.
Step 5: Once you have achieved all your goals, you can now export or share the diagram, then and there, by clicking the share button on the top right. You can email it, save it to your drive or share via social media.
Tips for Creating a Good Evacuation Plan
Introduce all the possible fire escape routes in case one is blocked the other may be used.
Consider involving as many people as possible when planning an emergency fire escape.
Hang the escape plan at visible spots. It is best to keep them at eye level so that kids too can look at it end-to-end.
Use several fire drills to familiarize as many people as possible to the evacuation plan.