10+ Free Timeline Templates
---
Whether you are trying to teach students the process of the Second World War or making a basic plan for your upcoming project, there is one tool that will help you visualize data and organize your project orderly. With the help of timelines, your students will find it easier to remember the whole process of a historical event and your team members will have a clear view of your project progress.
You may worry about creating a timeline will cost you a lot of time because of no design skills. However, if you start with an appropriate timeline template, creating a perfect timeline is much easier than you think. In this post, we have rounded up a variety of free creative and visually engaging templates for you to create your ideal timelines.
User-friendly Timeline Maker – Edraw Max Online
A powerful timeline maker will greatly speed up the process of making stunning timelines. If you don't want to waste time downloading software, an online timeline creator will be the best alternative – Edraw Max Online. What makes this timeline maker different?
Easy-to-use: simply drag and drop the symbols you want in the user-friendly interface
Abundant templates: choose from over 8000 templates to get started quickly
Customize everything to match your needs
Generate time automatically
Information security: Edraw Max Online is always dedicated to keeping every user's information private and secure.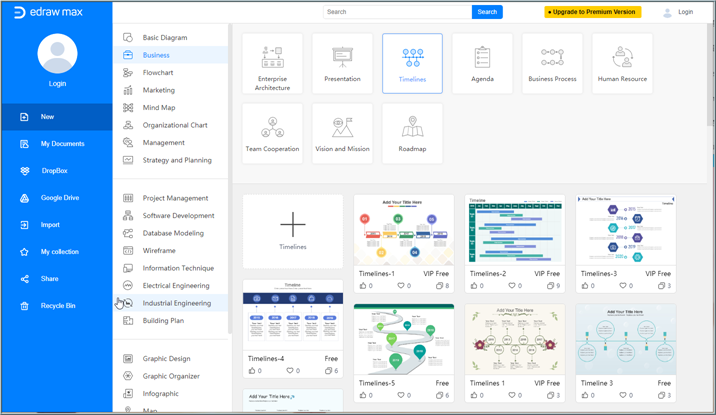 What Type of Timeline Template Do You Need?
Different types of timelines satisfy various needs. Here, we simply break our timeline templates down into five types. All of them are free to use.
Horizontal Timeline
This is the basic type of timeline, which is widely used in various situations. Usually, a horizontal line is in the middle of the canvas, which supports all of the events. In the meantime, each of the events is organized chronologically and further explained in the dialogue boxes below or above the horizontal line. Let's take a look at the following horizontal timeline templates and you can undoubtedly get them for free!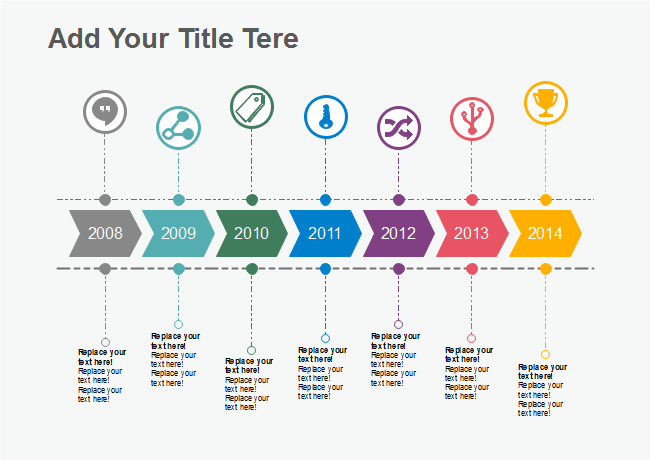 This timeline template is the most common timeline that can be applied to nearly every situation. Continuous arrows in the same direction represent the different phases of the project or the event from start to finish. Below the arrows, lies the further explanations of every part, while the symbols representing every part are above the continuous arrows correspondingly.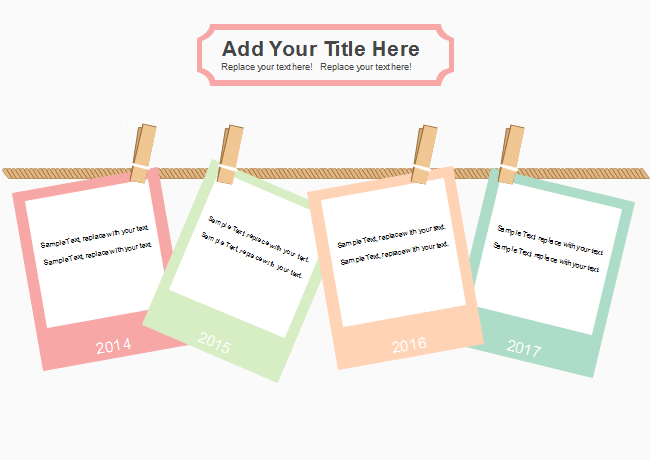 Just like the previous template, this interesting timeline is also a horizontal timeline in the form of a photo string. Instead of using symbols to represent every part, this timeline template allows you to insert pictures to capture every precious moment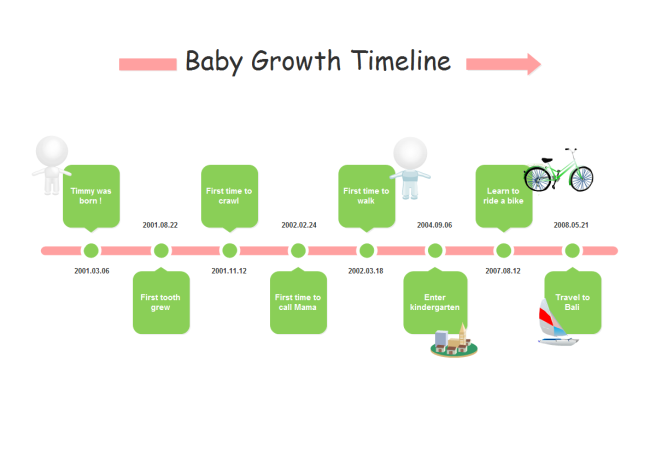 "First time" really matters for everyone because it brings excitement, surprise and unforgettable memories to us, which makes our life splendid. Fortunately, a simple horizontal timeline can help us record every precious "first time". Isn't it worth a try?
Vertical Timeline
Just like horizontal time, there is another popular way to represent the linear concept of time – vertical timeline. Normally, the vertical line lies in the middle of the canvas, the events and their corresponding symbols or explanations are on the left or the right in a chronological way. Read the following vertical timelines to get a better understanding about them.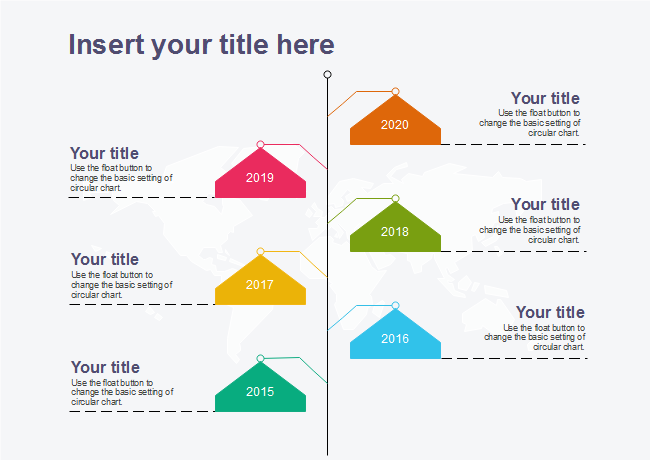 Similar to the previous brochure template, this is also a simple yet professional-looking company profile brochure with good taste. The clean and neat layout makes it more attractive and easier to impress your potential clients.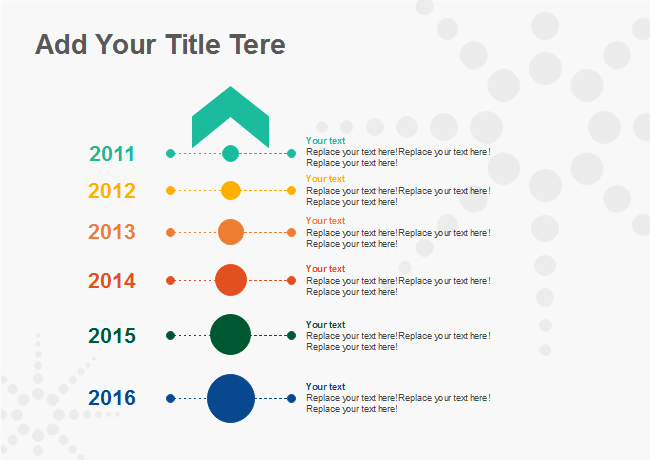 This is another stylish and trendy timeline template for you to show the chronologically sequenced events or every step of a project. Add your content and change the time, a brand new vertical timeline will be created in no time.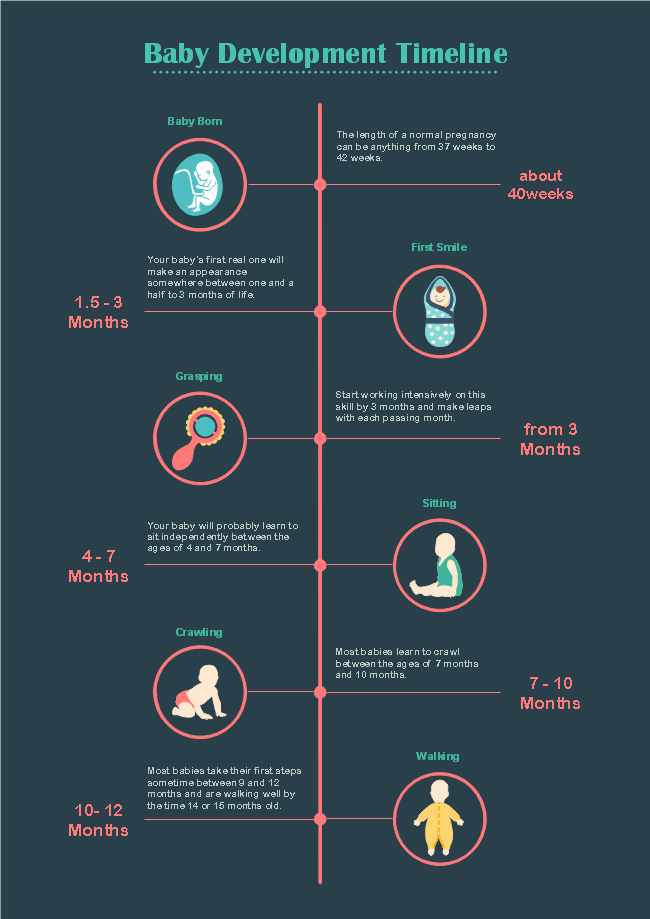 Recording every milestone of baby growth is important for parents. Except for a horizontal timeline, a delicate vertical timeline is also a good choice. Insert your lovely baby's photos to start creating yours in no time!
Upward Timeline
This type of timelines looks like a stair, so we should pay attention to the trend of the timeline. Obviously, the start time is on the bottom and it develops along the upstairs.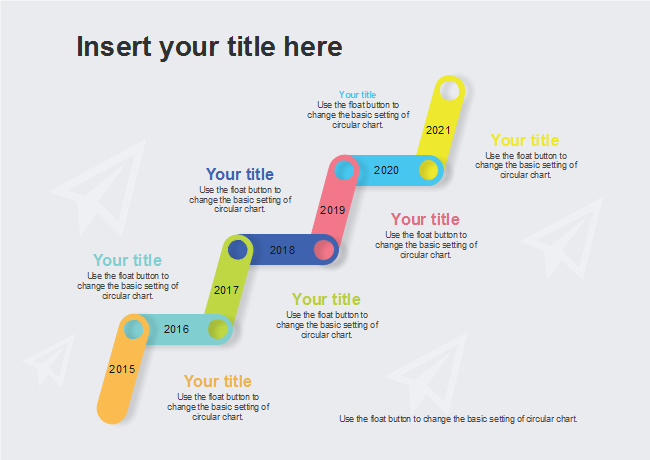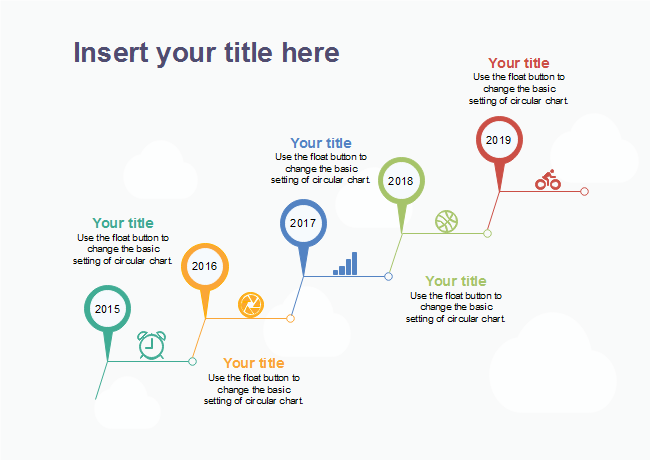 Neat and stunning upward timeline template consists of clip arts, lines, and geometry shapes. Get these upward timeline templates for free to visualize your successful project!
Curved Timeline
Sometimes, not every event is shown on the canvas due to the limited length of a horizontal or a vertical timeline, therefore, choose a curved timeline to visualize the data seems to be a better option.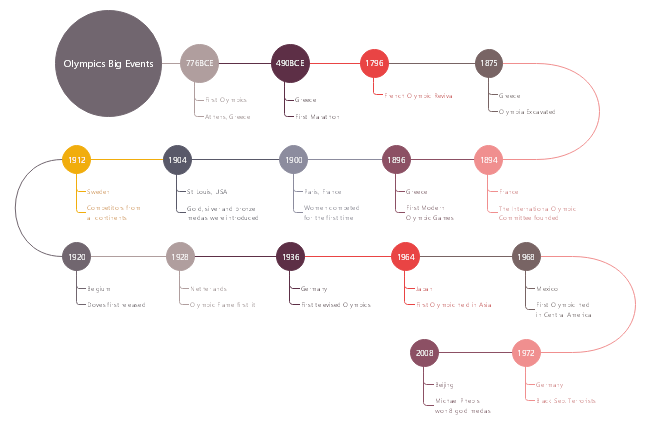 This is an incredible Olympic history timeline showing the development of Olympic Games from ancient Greece to modern times.
This curved timeline template is perfect for narrating a person's lifetime. Marked as colorful round shapes, every milestone in his life is demonstrated on the whole timeline. The template above is a life timeline of a great genius unprecedentedly in the world.
Circular Timeline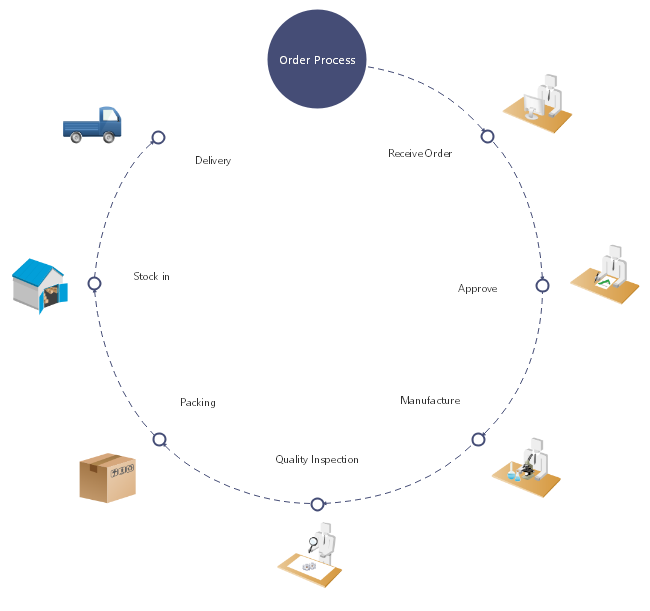 Unlike traditional timelines, this trendy circular timeline template is suitable for presenting the process of a project chronologically.
Creating Timelines in Minutes with Awesome Templates
Whether you're looking to create a timeline for teaching history lessons or planning your to-do list, there is no need to waste time to start creating a timeline from scratch, because we've got you covered. With a variety of creative templates, creating your own timeline is no more difficult. If you are looking for more templates of various diagrams, you can go to Edraw Template Center to get what you want. If you have any suggestions or funny templates, feel free to share with us!