Automated Workflow Modeling Software

An amazing automated workflow modeling software saves both time and energy. With abundant predefined symbols and rich templates, drawing workflow diagram is super easy.
Introduction of Workflow Modeling Software
Edraw is an easy workflow tool with auto-generation function. The workflows representing an organization's structure, such as information technology, teams, projects, and hierarchies, are all predefined elaborately. In this way, even novice users can draw workflow diagrams easily and quickly. They are smart shapes with floating action buttons, enabling auto connection. All templates and examples are available for free download, which can be transferred into various formats.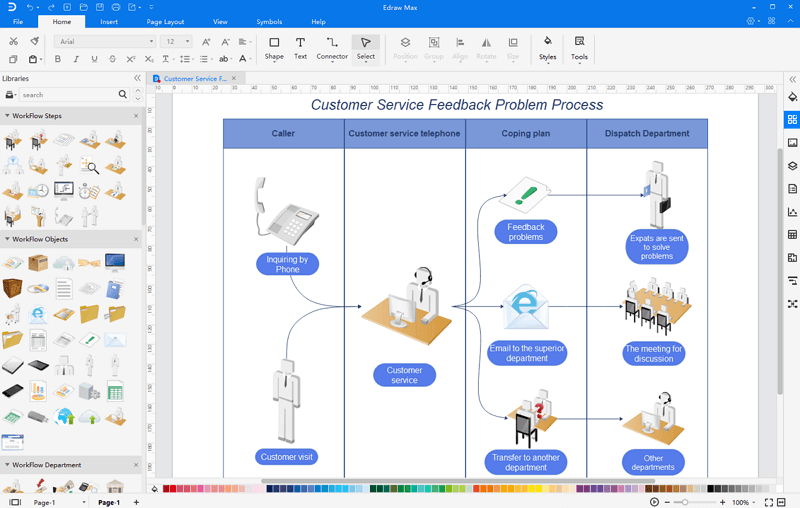 System Requirements:
Works on Windows 2000/2003/2008/Vista/7/8/10 (32bit/64 bit)
Works on Mac OS X 10.11 and later
Compatible with Linux distributions such as Debian, Ubuntu, Fedora, etc
Features of Workflow Modeling Software
See the advantages of Edraw as a workflow modeling software below.
Edraw has built in a set of nice-looking themes with advanced effects. It's easy to change the overall style by changing the active theme with only one click. You don't have to be an expert in designing to gain professional-looking results. Click here to learn How to Apply Themes.

Some workflow shapes are 3D symbols with floating action buttons allowing easier connection. The flow process can be clearer and more visualized. See more detailed introduction about Workflow Shapes.
All workflow diagrams made by Edraw are vector graphic files with high clarity and available for review and modification.
A set of smart modeling software are provided for automatic formatting. You can easily arrange, rotate, group and align objects with these smart modeling software.
Edraw offers various customization options, through which you can adjust line width, line color, line style, font size, font style, text color, and much more.

| | | |
| --- | --- | --- |
| | | |

It's also very easy to insert hyperlink, note and attachments.
More Related
How to Create a Workflow Diagram
Benefits of Using Workflow Diagrams
Business Workflow Examples, Free Download
Classical Workflow Diagram Software - Create work flow rapidly with rich examples and templates