Online Document Storage Workflow
>
Flowchart
>
Online Document Storage Workflow

A 3D workflow diagram depicts the online document storage visually. Try a useful and easy workflow diagram solution freely.
Introduction of Online Document Storage
Online document storage enables users to access files anytime anywhere and allows longer and safer retention taking less physical space and saving more money. See how it works in the following workflow diagram.
Paper files received during the normal course of business (for example a signed contract) can be scanned and converted into electronic formats by using a compatible scanning device. And then the electronic information can be securely uploaded to an online document storage cloud. See a Scanning Service Workflow Example. Selected electronic document can also be uploaded using a computer or electronic files and folders can be uploaded automatically. Once a document is stored on cloud, it is instantly accessible from any location via Internet access.
Workflow Diagramming Software
Service provider of online document storage and other similar service can use intelligent software to diagram their service process. Edraw is such a tool that is designed with abundant drag-and-drop shapes and diversified templates and examples. It aids users in promoting their businesses and service better in an easy to understand and visually attractive way. For more visual information about document management see Document Management Workflow Template.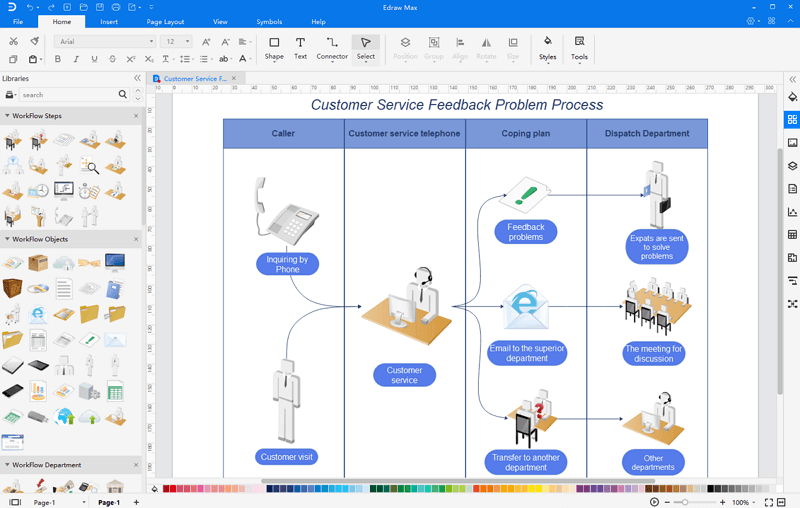 Features of the Workflow Diagramming Tool
Edraw has built in a set of nice-looking themes with advanced effects. It's easy to change the overall style by changing the active theme with only one click. You don't have to be an expert in designing to gain professional-looking results. Click here to learn How to Apply Themes.

Some workflow shapes are 3D symbols with floating action buttons allowing easier connection. The flow process can be clearer and more visualized. See more detailed introduction about Workflow Shapes.
All workflow diagrams made by Edraw are vector graphic files with high clarity and available for reviewing and modifying.
A set of smart tools are provided for automatic formatting. You can easily arrange, rotate, group and align objects with these smart tools.
Edraw offers various customization options, through which you can adjust line width, line color, line style, font size, font style, text color, and much more.
It's easy to insert hyperlink, note and attachments.
| | | |
| --- | --- | --- |
| | | |
More Resources
Simple Steps to Make a Workflow Diagram
Classical Workflow Diagram Software - Create work flow rapidly with rich examples and templates.
Create and Design Your Own Workflow Diagram
Workflow Shapes - Rich 3D look workflow shapes for drawing workflow diagrams