Unleash the Power of Ideas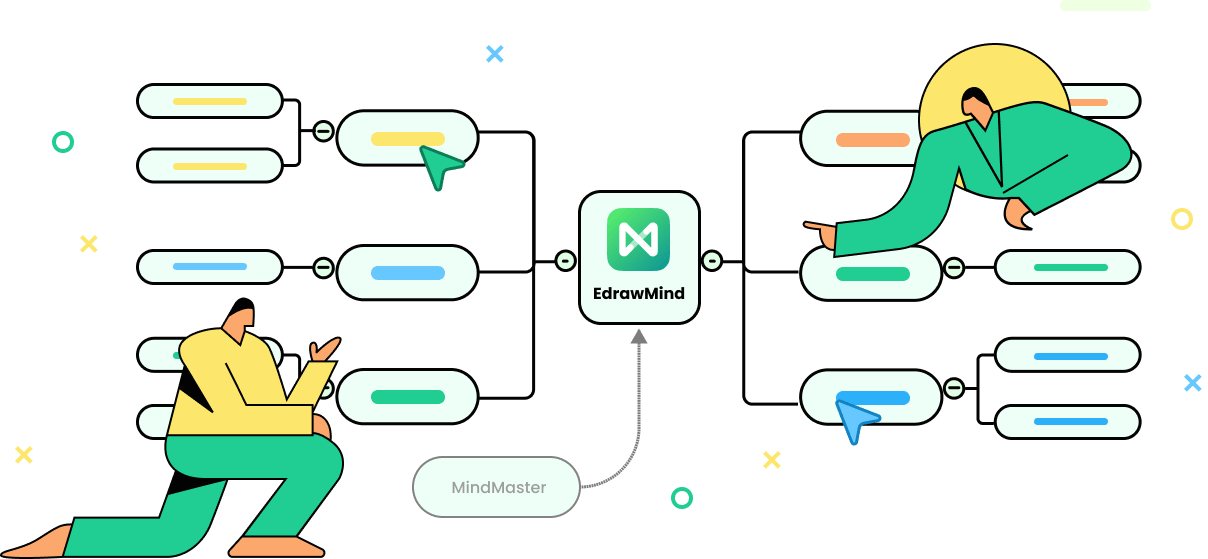 We're excited to announce that
we have a new name and brand identity:
MindMaster is now EdrawMind!
We, at Edraw, always strike for excellence and provide numerous features to unlock all sorts of diagramming possibilities. We found how vital brainstorming and mind maps can help us generate and visualize ideas, and to make it easier for our users to create mind maps, in 2017, we came up with a dedicated tool -
MindMaster
.
Gradually, the tool evolved to become a resourceful solution to create mind maps, brainstorm, project planning, and help our users improve work and life productivity by turning complexity into clarity, resolving problems, brainstorming ideas, and presenting logically in team works.
Our users are our top priority, and they have inspired us to keep evolving our products to elevate the overall user experience. After extensive and deep research on users' feedback and the trends in products, we decided to develop MindMaster to a product that more than a mind mapping tool.
So on July 30, 2021, we are re-introducing MindMaster as EdrawMind.
EdrawMind is dedicated to helping people in generating ideas and sharing seamlessly. And help the team working together to break through boundaries and achieve more goals.
Why did we choose EdrawMind as the new name? While rebranding,
we aimed to align MindMaster with other tools of the Edraw Suite.
Since the suite already has several popular products, such as
EdrawMax
,
EdrawInfo
, and
EdrawProj
, we wanted to name MindMaster to go with our brand's overall tone and image. The new name, EdrawMind, is aligned with other products of the toolkit and the entire suite as well. What's more, we want our users to have a sense of belonging as an Edrawer.
It has made several changes to complete the rebranding process.
"We believe the new brand identity can inspire people to share their ideas, work together to take challenges, and create amazing things. And we are excited to see tons of changes would implement on this collaborative mind mapping software," said Edwin Wang, the Product Director of the Edraw.
In the coming weeks, you'll start to see things change.
First, we have moved the official website of EdrawMind to www.edrawmind.com instead of the previous MindMaster website. Second, the all-new EdrawMind 9 has been released on June 30, 2021, with Outline 2.0, branches free positioning, and other cool features that are worth checking out.
Besides that, we are well on our way to developing user-friendly and high-utility powerful software. We have invested 70% more in Research & Development team than we did last year. We believe these changes will turn EdrawMind from a simple mind mapping tool to a real-time collaborative workspace where you and your team would spark ideas and solve big challenges.
Business grows with EdrawMind
Scale your team brainstorming session