The Actionable Guide: How to Plan an Event (8 Steps)
Outline all of the elements of a meeting, race, ceremony, or other events.
Event management is a prerequisite for almost all organizations nowadays. Proper layout is a top necessity for planning a meeting on a small scale or organizing a large conference. The higher the event's level, the bigger the challenges would be adjoining it to run smoothly.
Planning an event is quite a tedious job but can be made simpler through proper planning, be it finance, target audience, means of publicity, or anything similar.
As it is said, "proper planning is the key to success"; the same goes here too. With that said, this article will guide you on how to plan an event and let you analyze all the requirements to get started.
Types of Events
Events can primarily be classified on the bases of their styles, sizes, and contexts. Majorly, events are categorized under either of the following three types:
1. Private
Weddings
Marriage receptions
Kitty parties
Birthday celebrations
Anniversaries
Festival celebrations
Private events are hosted by individuals who want limited guests and need privacy. These events have monetary constraints; they are not organized on a large scale as corporate events. Private events have limited invitees, and the venues are not open for all.
2. Corporate
Seminars
Conferences
Board meetings
Shareholders' meetings
Promotional events
Corporates events are held with the motive of enhancing business relations between employees, employers, managers, shareholders, stakeholders, financial bodies, and other internal and external parties.
3. Charity
Sports events
Volunteers' auctions
Society ballsmeetings
Charity events are used to raise funds for charity purposes. Sometimes the sponsors are involved in charity events, such as sponsored races, sponsored walks, sponsored dance competitions, sponsored cycling, and sponsored wrestling.
The charity events' industry is quite diverse as it has several branches. Anyone who wants to do charity can go to a charity venue and contribute according to their will. Contributing to a charity firstly gives a sense of satisfaction to the contributors, and secondly, they gain goodwill in the community.
Charity contributors also benefit through the contacts made, and the relationships build due to their kind gesture. Many people nowadays want to contribute, especially in:
Schools
Nursing homes
Orphanages
Cancer patients
Aids patients
Survivors of flood, drought, cyclone, etc.
Survivors of artificial calamities like terrorist attacks.
Sponsorship is a give-and-take action between businesses and NPOs. Businesses donate the amount to the NPOs, and in return of that, they get marketing and promotion of their companies at a feasible cost.
Steps to Plan an Event
From the day of conceiving an idea of organizing an event to the event's day, great vigilance is required in each phase. The successful function is both cost and time effective that involves the following 8 steps:
Step 1: Creating a Checklist
A thoughtful and wisely created checklist can go a long way in event management. An event planning checklist can help the organizers and their team members to keep a check on the fulfillment of requisites, choosing the cheap mode of availability, and executing the event smoothly and flawlessly.
Furthermore, a complete and comprehensive checklist can remove the doubts beforehand, thus reducing the chances of forgetting anything.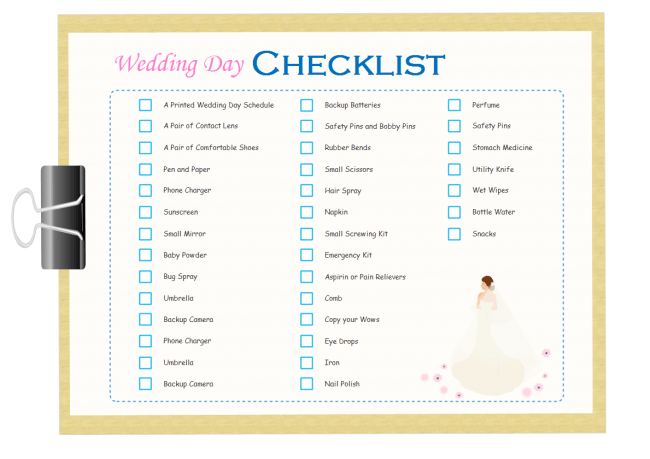 Image Source: edrawsoft.com
Step 2: Setting a Goal for the Event
Establishing a goal is a prerequisite for planning an event. Goals can be diversified as they can be revenue-oriented, media seeking, launching a new product, raising finance, etc. Goals must be purposeful and must adhere to SMART Criteria i.e.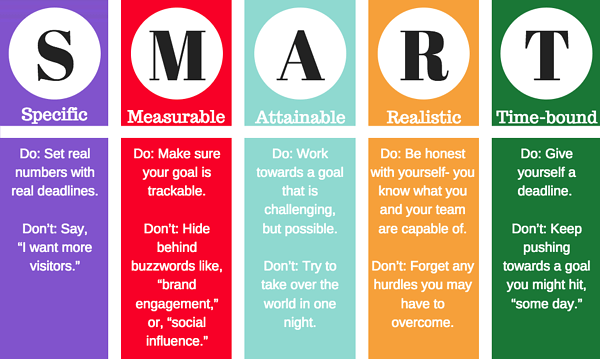 Image Source: hydratemarketing.com
Step 3: Organizing Your Team
The smooth functioning of an event depends on competent and efficient team members. Team members must be such on whom you can rely convincingly without any doubt.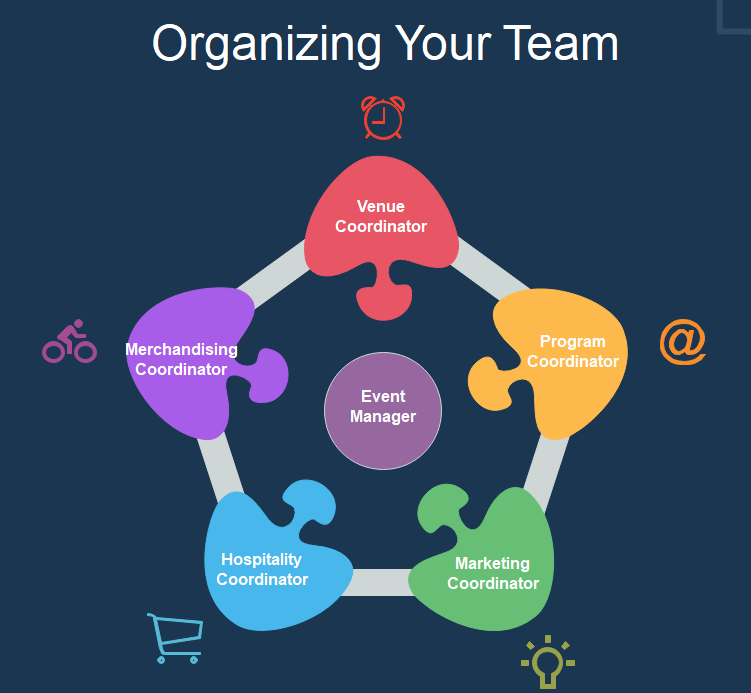 Created by EdrawMax
Delegating the duties is not all, and they must be aligned with authorities as well. Event management also requires proper communication between various parties involved to remove the hurdles, if any. Controlling the performance of team members is carried out in the following 5 stages:
Setting the goals and delegating the duties accordingly.
Reviewing the performance of the members.
Comparing the performance with the set standards.
Analyzing the deviations.
Measures to remove those deviations.
Deadlines are assigned to each member so that time constraints can also be taken care of.
Step 4: Establishing Your Budget
Budget consideration is of utmost importance before planning an event as the event's scale depends on it. It is always advisable to prepare a rough estimate before planning an event to know whether you can afford them.
Venue – Includes payment on account of rent for space, security deposits, parking lots, etc.
Staff – Includes expenses for staff meals, transportation, etc.
Food and Beverages – Includes expenditures for catering, food, water, tea and coffee.
Entertainment – Expenses for orchestra, DJs, or musicians.
Decorations – Expenses for flowers, lights, etc. of the venue.
Marketing – Expenses to publicize the event either via social media campaigns, posters, and/or pamphlets.
A/V – Includes audio equipment like speakers, projectors, etc.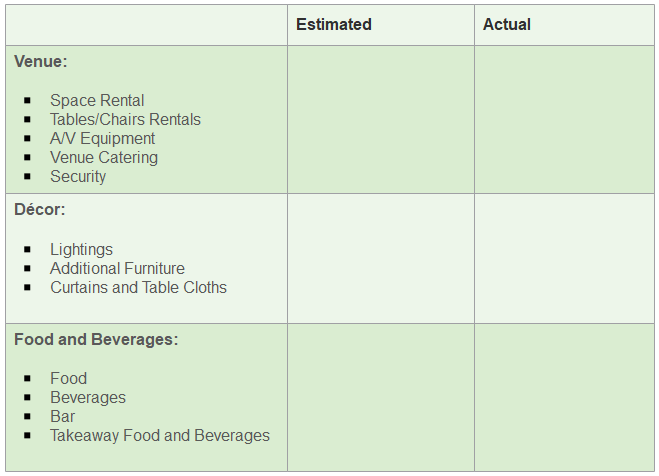 Step 5: Setting a Date and Venue Booking
Sometimes the date of an event is preset, whereas, in other instances, you may have to set a schedule as per your convenience and requirement. While deciding the date of an event, the following points must be taken care of:
Religious and statutory holidays
Weather updates and forecast
Availability of the main participants of the event
Once the date is decided, the venue decision is the next step. Even in this case, some points must be considered cautiously:
Availability of the venue on the due date.
Payment and refund policies
Whether the venue is A/V and Wi-Fi-equipped?
Is the seating arrangement proper?
Parking facility.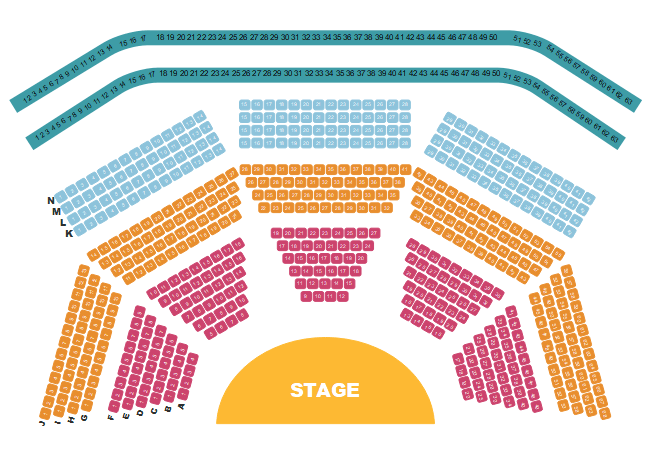 Step 6: Identifying Partners and Sponsors
Identifying like-minded sponsors and partners is imperative. Such people help you in advertising your business and widen your audience.
Step 7: Promoting the Event
The event can be promoted in various ways in order to approach the target audience. Some commonly used promotion methods include email marketing campaigns, TV advertisements, Social Media campaigns, etc.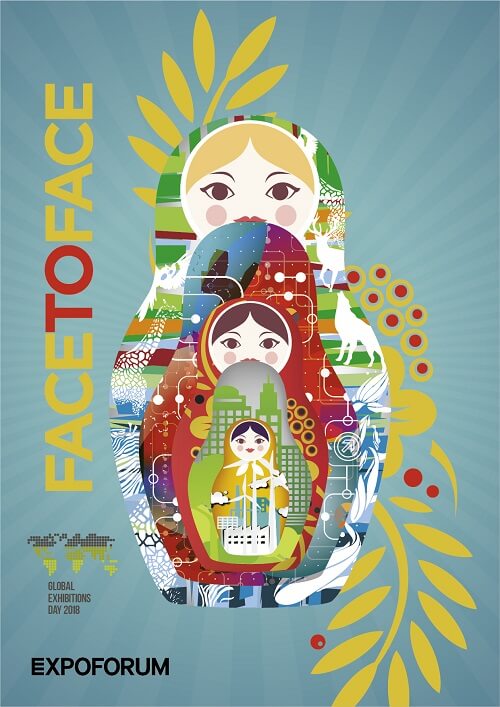 Image Source: ufi.org
Step 8: Final Preparations
In order to avoid last day setbacks, a few things need to be confirmed beforehand:
Communicate with the caterers about the food items, time of serving, etc.
Contact the venue manager about the setup, decoration, etc.
Check and testing the audio/visual equipment so that the event runs smoothly.
Create an event schedule for all the attendees.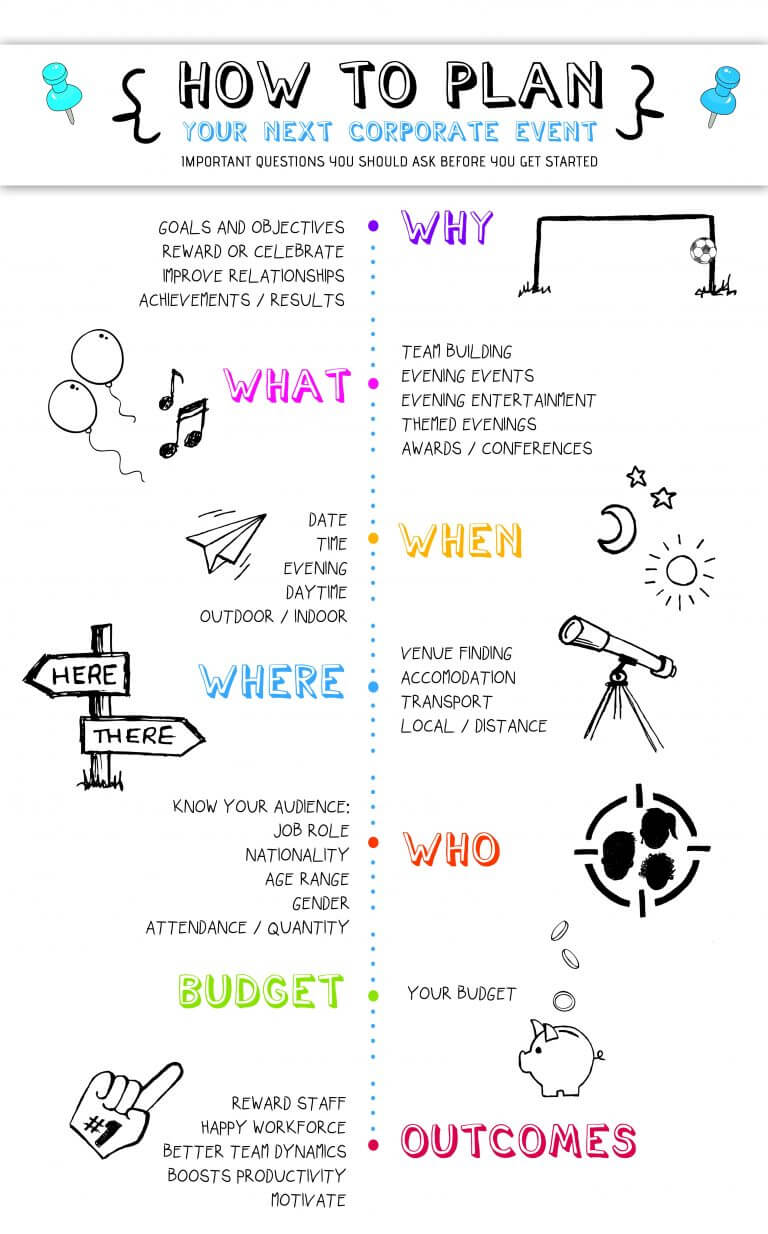 Image Source: kdmevents.co.uk
Getting Started
Event management can prove to be quite effective, goal-oriented, and highly successful by following the 8 steps discussed above. Once you have thoroughly understood how and where to apply what you learned, it is now time to assemble all the spare parts. And prepare a piece of durable yet efficient equipment. Make sure you have all the appropriate tools and programs like EdrawMax to plan an event, and you are all set to go!
EdrawMax
All-in-One Diagram Software
Create more than 280 types of diagrams effortlessly
Start diagramming with various templates and symbols easily
Superior file compatibility: Import and export drawings to various file formats, such as Visio
Cross-platform supported (Windows, Mac, Linux, Web)
Security Verified |
Switch to Mac >>
Security Verified |
Switch to Linux >>
Security Verified |
Switch to Windows >>