How to Improve Writing Skills - Use Graphic Organizers
>
Edraw How-To
>
How to Improve Writing Skills - Use Graphic Organizers

How to Improve Writing Skills - Use Graphic Organizers – EdrawMax
Essay writing is inevitable for students in every academic year. To many, it's a chore. However, to teachers, it's a test to watch how organized one's thoughts are and how beautifully a student writes it down. This is precisely where the issue lies. Students find it challenging to outline a proper structure before jotting down random thoughts and often score lower grades in the class assessments. Other blocks are losing oneself in a sea of words and failing to keep track of research.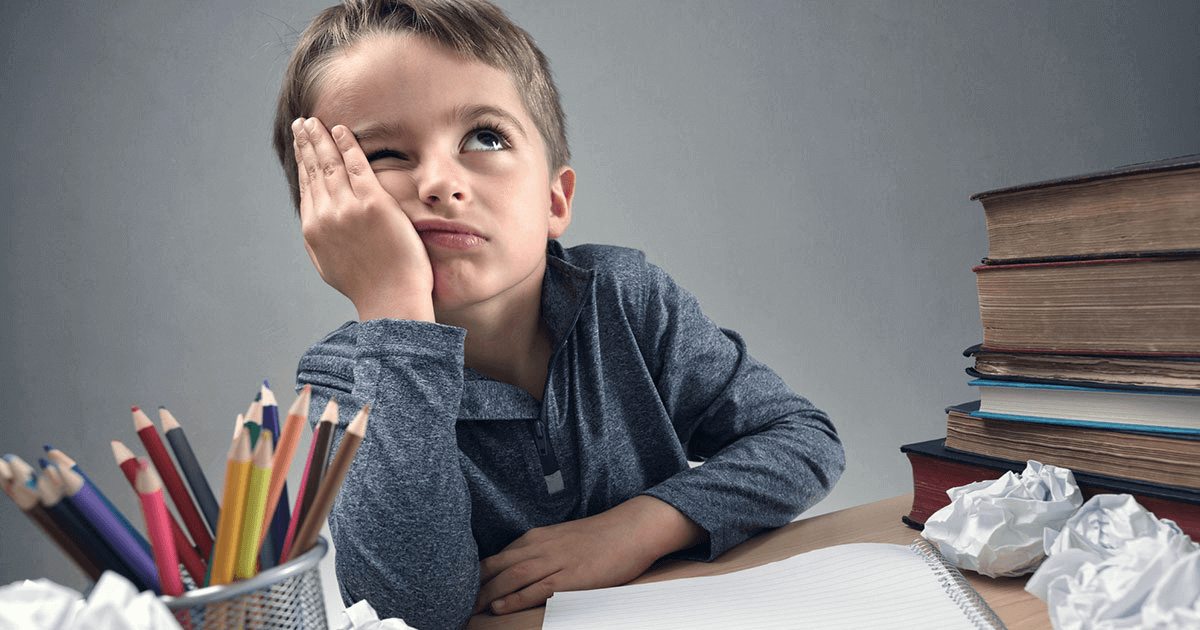 Image Source: justdomyhomework.com
Part 1: A Useful Tool for Developing Writing Skills - Graphic Organizer
While Wikipedia defines it as a pedagogical tool, housed with visual symbols, to best express one's thoughts, knowledge, concepts, and the relationship among them; to non-specialists, it's a learner's guide and a visual learning strategy for all those students, who are struggling with essays. So, as you can make out from the definition, it's used primarily for helping out students and achieving academic excellence.
Part 2: Why Use Graphic Organizers?
Alternatively, how can you think a graphic organizer can take the chore out of essay writing and develop confidence in students? Well, this is what the particular section is all about. Listed down are the advantages of investing in the same and the benefits reaped by pupils.
Structuring essays and making pupils understand where each of the paragraphs belongs.
Ensuring productive brainstorming sessions by connecting students to a group or by themselves.
Connecting random ideas for a cohesive write-up.
Identifying loopholes for editing work.
Keeping track of your research work.
Organizing one's random thoughts to arrive at a proper conclusion.
Preventing one from getting all confused.
Minimizing anxiety and prompting one to jump into an action plan.
In the end, it develops one's personality and builds up in one the skill that could take one through life with ease, no matter what the student aims to achieve in one's career. In addition, it crafts one into a better thinker. Moreover, the same along with how to improve writing skills begin with nothing but a simple graphic organizer template. The next section talks about the same in detail, so go ahead and get insights.
Part 3: Several Helpful Graphic Organizers to Improve Writing Skills
Given the straightforwardness of the tool, thereby enabling the correct display of information and the role played by it in developing visual thinking abilities in students, don't you think every parent must invest in graphic organizers? Absolutely! With Edraw Max's easily downloadable and user-friendly interface, bringing before all creative templates, writing essays no longer seems like a chore.
1. Sequence Writing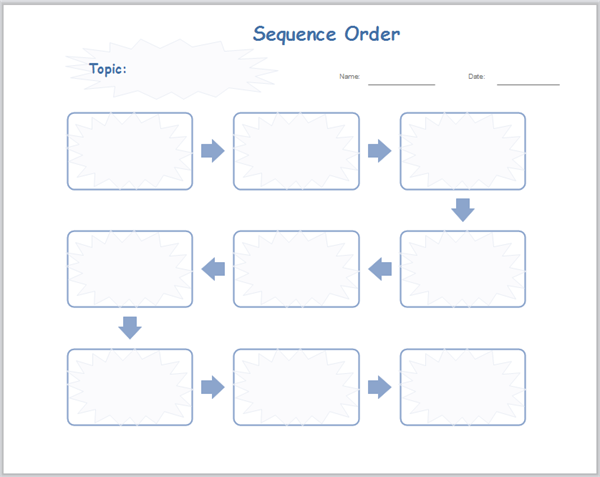 One of the best ways of developing writing skills is by understanding how to properly sequence a series of events and write it down for readers. It holds for processes and steps as well, whereby keeping track of all is a little complicated. The sequence writing template here is a resort, enabling students to jot down all the points one by one and effectively compose an essay.
The specialty of this template from Edraw Max is that it's easily downloadable and allows modification depending on the number of steps you actually have. Also, it supports color and format change as per your need.
2. Chronological Order Writing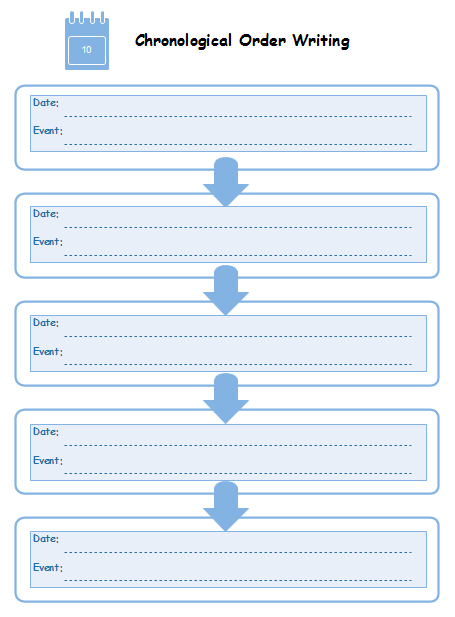 When it's a story to be narrated by a student, arranging of events according to time is necessary. The template here assists one in the same task without breaking down the chronological order by which an incident happened. Available for downloads both in EDDX and PDF format, it's exactly what a student desires for improving writing skills.
3. Main Idea And Details Writing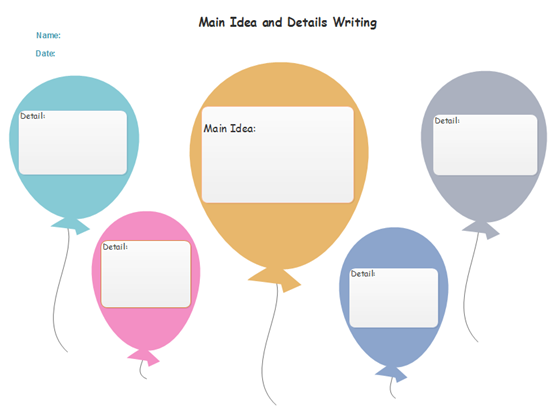 This particular Edraw Max template is a visually attractive framework for students searching "how to improve essay writing skills" on the Internet. By helping them identify the main idea and necessary details supporting the topic, it better organizes paragraphs.
4. Cause And Effect Writing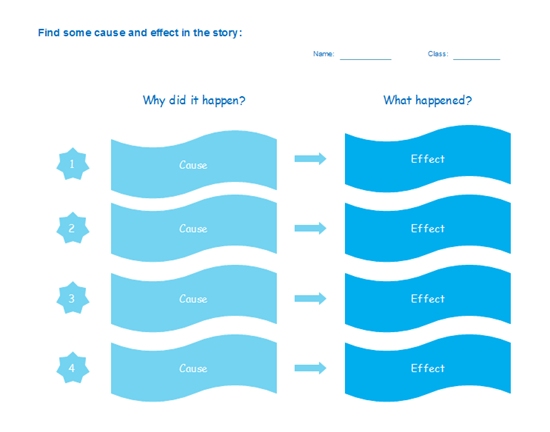 To students struggling to establish a cause-effect story in essays, it's a suitable solution. As you can check out from the illustration above, it has an instructive approach to composing an essay. While the left-hand side allows one to jot down the causes behind an incident, the right-hand side sections leave ample space for listing down the effects.
5. Brainstorming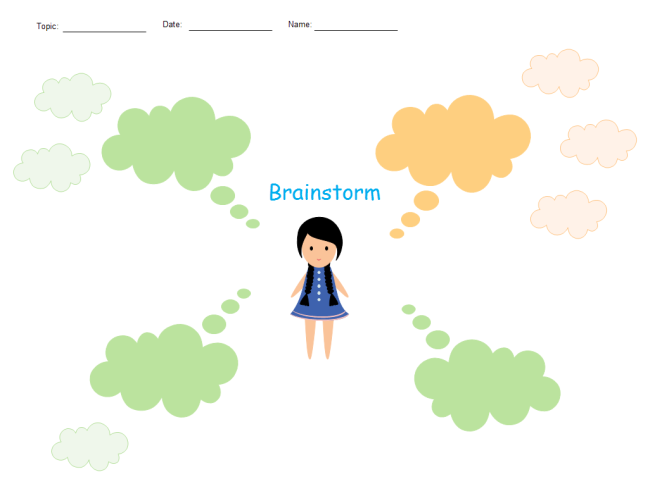 As you can check out from the picture above, it's popular among young students. Just fill in the content in the colorful clouds surrounding the cartoon figure and easily compose a piece of write-up.
6. Fact And Opinion Chart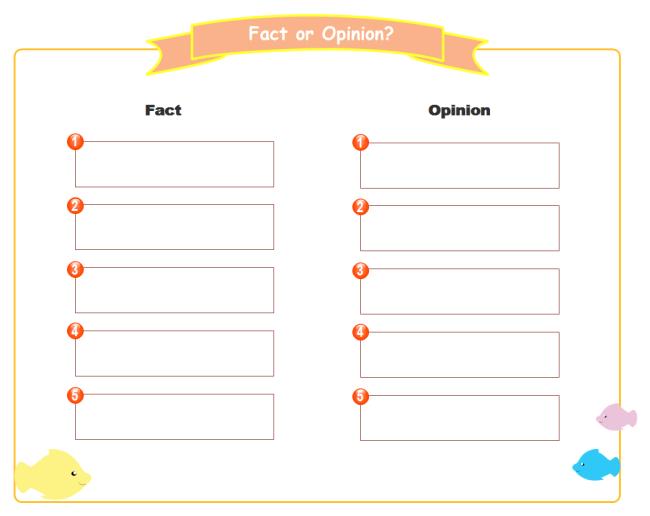 If your mind's brimming with facts and supporting opinions, this is the perfect template to start with. However, this is not the only predesigned framework available at Edraw Max. There are many others to choose from. So, cut down the chores of designing your own and pick out one from our collection.
7. Story Map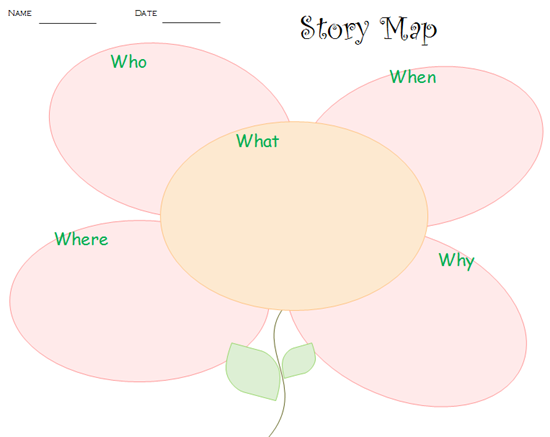 If you are struggling hard to write with clarity and logic, this is the perfect template teaching you how to enhance writing skills. Simply fill in the blank spaces to establish your story and practice hard to score an 'A+' in your next assessment.
8. Oreo Writing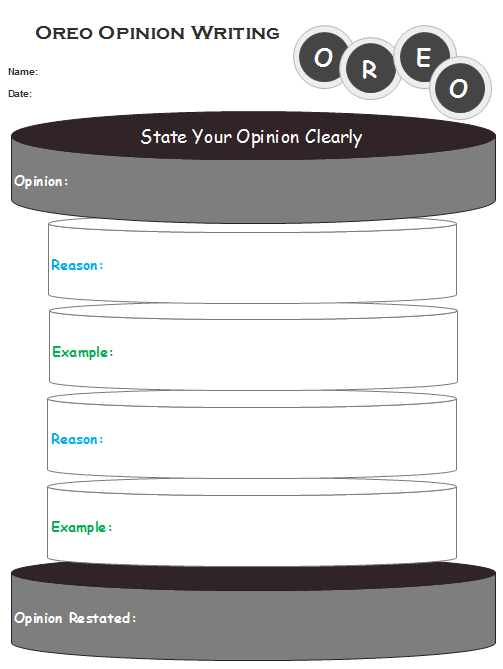 It effortlessly allows you to state your opinion and back up the same with supporting reasons along with examples. To teachers, it's the easiest way to educate pupils about the particular model. Do you know what's the best thing about it? Well, it's editable and allows formatting to arrive at something that's the best fit.
Part 4: How To Create Your Graphic Organizers?
It's just a 3-step approach to creating graphic organizers using Edraw Max! All you have to do is follow the step-by-step methods and arrive at something, which would immediately answer your most asked question on the Internet - how to improve writing skills? So, let's not beat around the bush and get started.
Step 1: Check whether your system supports Edraw Max software
If it's Windows, the tool would install right away in Windows 7, 8, 10, XP, Vista and Citrix. Ensure the same is either 32 or 64 bits. However, if it supports the Mac operating system, the X, 10.2 or later versions would be a perfect fit for the given software.
Step 2: Select a suitable template
As discussed earlier, there are quite a few templates to explore at Edraw Max. Just follow the steps below to arrive at an appropriate one.
New>Available Templates>Graphic Organizer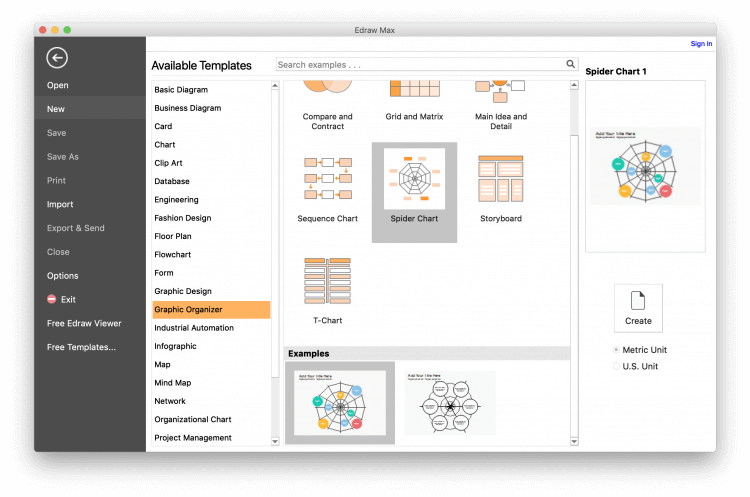 Image Source: connectioncafe.com
As illustrated above, there are many designs to pick from. Select one to proceed with the next step.
Step 3: Customize it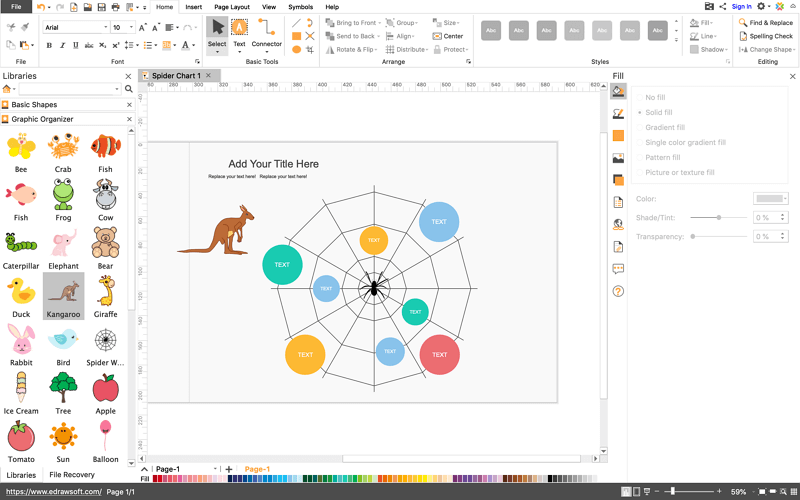 Now, for example, if you choose the Spider Chart and not quite happy with the elements, you can go ahead and customize it for achieving an impressive design. Almost everything is editable here, starting from fonts, icons to miscellaneous elements.
The best thing about it is that a student wouldn't require prior experience for bringing together elements and forming a diagram. The interface is much like MS Office application, as you can see from the picture illustrated above.
Step 4: Export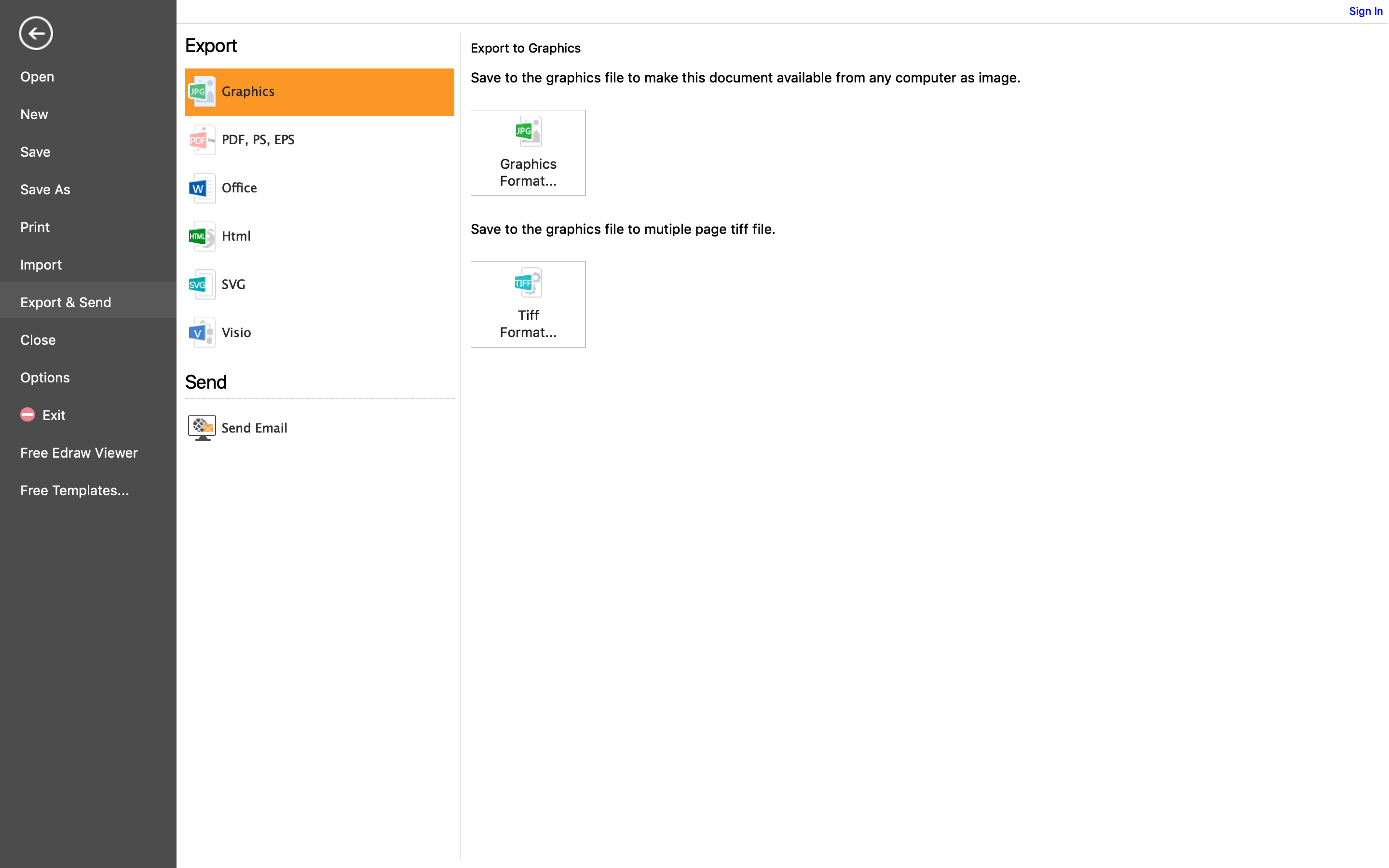 Once you are satisfied with the outcome, save and export it in any format - HTML, PS, PDF, JPEG and Visio.
So, what do you feel? Isn't it easy? We bet it is! So, if you are seeking answers to how to improve essay writing and planning to achieve academic excellence, go ahead and install Edraw Max to optimize the graphic organizer tool. You would benefit from it and score well in all your assessments.
Related Articles & Tips