A Beginner's Guide for Benchmarking
Here we take a look at the concept and approach of benchmarking, how it benefits organizations and the ways it can be implemented. It is a handy competitive tool for companies.EdrawMax has several handy templates to offer to create the right map or to help an audience visualize the benchmarking process.
What is Benchmarking?
Benchmarking can be defined as a process of setting down measurement or performance standards for products of a company, processes or services. These are standards that are set as per the best found in a particular industry or best in a certain category/ class. Benchmarking examples are diverse and they can also be defined as an approach. It is a way that companies can identify directions to improve and find internal opportunities for the same.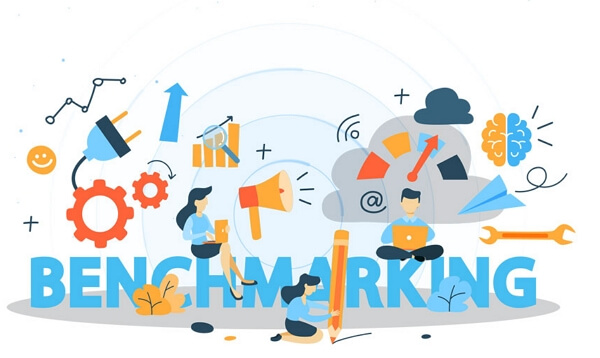 Image Source: nanyangdigital.com
Benefits of Benchmarking
This approach offers several advantages such as:
It fosters competitive analysis since areas are found where improvements are required and they are benchmarked against competitor businesses and performance of competitor businesses.
Monitoring is another advantage of this approach. It helps to define future trends and what is required to achieve in a product or process's performance or that in employees.
Continuous improvement is also brought about by benchmarking. Since standards are set there are defined parameters towards which a business can focus upon for improvement using benchmarking analysis.
Goal setting and planning are also essential to benchmarking. Performance metrics are easily set against benchmarks for process and performance improvement and planning for the same are carried out.
Other benefits include encouraging ownership where employees participate in setting goals and take pride in setting or exceeding benchmarks. Benchmarking analysis also helps in showcasing how a company is performing and where the demand points are.
Types of Benchmarking
There are different types of benchmarking that are categorized into competitive, internal and strategic.
Internal Benchmarking
This refers to teams or departments within a company establishing best processes and benchmarking the same against each other; they can find areas where they need to improve as well as become more efficient.
Competitive Benchmarking
This refers to the comparison of services, products, and processes as well as methods of industry-specific competitors. It provides insight into position within one's industry and how a company can increase its productivity or raise its edge over others in offering similar products and services.
Strategic Benchmarking
This, among types of benchmarking, signified how one can look beyond industry and identify performances as well as industry practices worldwide that are best and look at ways one can adapt their methods to such processes and procedures.
Benchmarking vs. Competitor Research
Benchmarking is often compared to competitor research. The latter refers to research done about a competitor company regarding its internal and external processes. Though there are similarities in both approaches, their certain aims, and purposes that differ in both.
| Competitor Research | Benchmarking |
| --- | --- |
| Focus is on performance metrics | Focus is more on best industry practices |
| Quick-fix solutions | Helps plan continuous improvement |
| Corporate spying is involved | Partnering is done for sharing information |
| Not crucial | Helps maintain a competitive edge |
| Helps mirror processes of other companies | Adapts to organization needs after examining best practices |
What are the Steps of Benchmarking?
There are eight steps that can be taken for benchmarking:
Selecting a Subject
This is the first step that senior management and executives should take to decide which processes are critical and require benchmarks for quality and performance standards.
Decide on Companies or Organizations for Benchmarks
If one wishes to benchmark different processes in their own company, it is best to choose a company or a competitor outside but part of the industry; one can select a single or several organizations to study in order to collect information required for benchmarking.
Document Current Processes
Once benchmark standards are defined as well as the processes that require benchmarking, an organization has to map out current processes and the different areas where improvements can be made. It becomes easier to compare against the chosen standards or processes of another organization in the industry.
Collection and Analysis of Data
This is the next step whereby one has to understand how benchmarking analysis is done. Gathering competitor data might be difficult, and different data collection sources can be used. Different kinds of secondary information sources are often available such as marketing materials, reports, websites and news sources which are proven useful.
Measure Performance Against Data Collected
One can look at data collected against metrics gathered. Among the types of benchmarking, one has to set down process improvements before which performance shortcomings can be found. Different people can be assigned tasks to find gaps.
Create a Plan
This helps to implement changes after types of benchmarking have been defined, parameters set and gaps found. Goals should be identified in liaison with the culture of a company.
Implement Changes
Once the types of benchmarking are defined, gaps found and plan formed, changes have to be monitored closely and employee performance gauged accordingly. Employees are to be assigned tasks accordingly and changes being brought about should be documented and training imparted to concerned departments.
Repeat Process
Once changes have been implemented successfully, benchmarking analysis has to be done to check on how close are the crosses to achieving the set standards. Repeated checks will help to ensure that all necessary changes are implemented and to overcome any gaps or make plans for further improvements.
Benchmarking Examples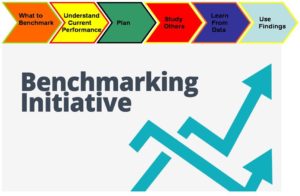 Image Source: bohatala.com
There are several benchmarking examples that can be looked upon from the corporate sector.
Sports Direct benchmarked their sports good retail business against the business model of Amazon. Amazon being the largest online retailer, Sports Direct carried out a benchmarking analysis that involved Six Sigma approach. With this organization was able to identify certain business processes and their performance levels that would help them perform belter and see greater sales and profitability.
Benchmarks for CTR for websites is another application amongst benchmarking examples whereby online publishers of CPC ads correlate ad CTR on websites. When CTR is higher it helps generate revenue much more. Benchmarks exist for industry specific online domains that showcase average CTR. This helps companies of the different domains to identify the benchmark standards applicable for their sector and realize how to improve their online ad strategies in order to reach such benchmarks.
Image Source: bernardmarr.com
Choose a Edraw Template to Fit your Needs
EdrawMax is a convenient software that has the right templates for showcasing benchmarks and progress against such standards. It offers benchmarking templates that are free and customizable. Accordingly one can download as well as print the same. The Edraw software application help users to use templates and finish benchmarking presentations along with different process diagrams incorporated as required.
The above sections showcase what is benchmarking, the different steps of doing so and the different kinds of benchmarking as applicable in different industries. Examples showcase the usefulness of this technique as well as how it differs from competitor research.
EdrawMax
All-in-One Diagram Software
Create more than 280 types of diagrams effortlessly
Start diagramming with various templates and symbols easily
Superior file compatibility: Import and export drawings to various file formats, such as Visio
Cross-platform supported (Windows, Mac, Linux, Web)
Security Verified |
Switch to Mac >>
Security Verified |
Switch to Linux >>
Security Verified |
Switch to Windows >>